Butter is that ingredient that makes good recipes great; it's literally the icing on the cake. Whether you're using it to spread on a sandwich, to balance and flavor your pasta, or for baking, finding a good vegan butter substitute should be a high priority for any vegan cook.
In this article, we're going to look at the best vegan butter. We'll look at margarine and dairy-free butter and pick out our favorite for spreading and cooking.
Read on if you're after a vegan butter that doesn't skimp on flavor...
Our Top Vegan Butter
1 - Terrasouls Raw Cacao Butter
It's raw, it's vegan, it's keto. Terrasoul is one of those brands that appeals to everyone by making simple, straightforward, no-nonsense products.
It should come as no surprise that it is substantially healthier than other substitutes on the list, but it's still filled with "good" fats, so expect about 130 calories a serving.
It is not intended for spreading on bread or cooking into savory food. This is strictly for baking and making homemade chocolate or coffee.
It smells almost as good as it tastes and is one of many versatile ingredients for a vegan kitchen.
2 - Artisana Raw Coconut Butter
Out of all the non-dairy butters, coconut would have to be a favorite. A lot of people like the texture of pureed coconut meat and the richness adds to the overall butter experience.
Think of pure vegan peanut butter, except this one tastes exactly like coconuts.
You can use it for cooking, as it definitely adds an interesting flavor to a dish. Surprisingly, it can also be used for a vegan version of bulletproof coffee or latte.
Reports say it makes your hot drink creamier. I haven't tried it personally, but it's interesting to see how versatile this vegan butter is.
3 - Nutiva Organic Coconut Oil
Coconut oil and coconut butter are two different things -- the oil is from the pressed coconut, while the butter is from the actual coconut meat.
Some prefer the oil, some the butter, and it's an entirely personal preference.
This coconut oil from Nutiva has a buttery flavor, which I find pleasant in my cookies.
Note that baking with coconut oil usually results in crunchier cookies, so if you want something that's more decadent and chewy, this might not be the best choice.
You can check out this list too of the best vegan cookie brands if you'd rather buy than bake your own.
4 - Kevala Organic Coconut Butter
Another coconut butter on the list, because who doesn't want them?
It has a subtle flavor and smell, which makes it ideal if you don't want your dish tasting like actual coconuts. It's made from pure coconuts without any artificial additives, which makes it great if you're on a paleo or all-natural diet.
The texture isn't as smooth as Artisana, but I find the "fuzziness" quite interesting, especially when used as a spread.
It's a little sweet for my liking, so I don't use it on my dishes quite often. But it's suitable for a quick morning coffee with bread.
5 - Binnie's Coconut Butter Organic Spread
Unlike some of the other options on the list, this isn't technically a butter substitute, and it's not even really a replacement. But in sweetness and spread, it is so much better.
Whether you want it on pancakes, toast, baked into a cake or icing, these sugary sweet coconut spreads pack a whole lot of flavor.
It feels decadently sinful while actually still being low in saturated fats and sugars, drawing its sweetness from natural flavoring.
There are a variety of different flavors to choose from, with vanilla being the standard; our personal favorites are the cinnamon and coffee macaroon, though. It comes in at 170 calories a serving with a serving being a generous two tablespoons.
6 - Zatural Therapeutic Hemp Butter
Hemp is quickly gaining popularity as a great natural superfood and this product perfectly showcases how versatile and useful it can be.
This butter is great as both a therapeutic aid for muscle and joint relief applied topically wherever you're aching, can be used as a moisturizer and also food grade spread on a sandwich or added to your favorite dishes.
It smells great, tastes even better and is a complete source of all nine essential amino acids. Not to mention also being rich in good fats omega-3 and Omega-6, as well as vitamin E.
This isn't a butter replacement, it's much healthier and with its many different uses a much wiser investment.
Other Resources You May Like:
Ingredients To Watch Out For
Regular butter and dairy-free shortenings like Crisco are usually high in saturated fat, whereas margarine use unsaturated fat, but may sometimes contain trans fat which is to be avoided if possible [1, 2]. You can opt for a vegan-friendly substitute like Smart Balance.
The most important ingredient to avoid when finding a butter substitute is margarine. It's highly processed and may include inflammatory trans fats.

- Brianna Elliot, Registered Dietician
Watch the video on how you can make your own vegan butter.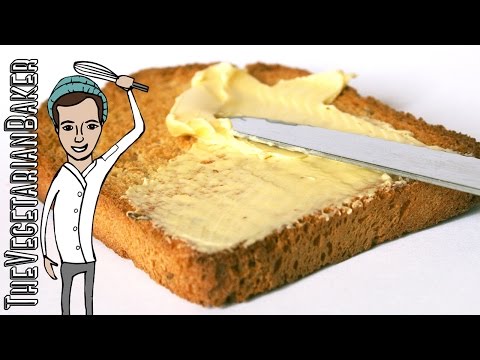 What Is The Best Vegan Butter?
Some people may say that the best vegan butter is one with texture and taste just like the real thing.
But the more important thing is that it should provide you with a rich flavor, and that no animals were harmed in its production.
When it comes to vegan butter, Terrasoul has all of that. It's natural, straightforward, and a good butter for your favorite vegan baked goods.
Regardless of whether you're on a vegan diet or a keto diet, this butter will work great on your recipes.
It tastes good, smells as great, and spreads like a real butter dream.
Have you got a favorite vegan butter or spread? Let us know in the comments below.
Terrasouls Raw Cacao Butter
Our #1 Vegan Butter
Made from the finest Peruvian Criollo variety cacao beans
Fresh and High-Quality
Non-GMO and Gluten-free
Check Current Price
About the author