Everyone is familiar with Smart Balance spreads. The brand makes vegetable oil spread that many vegans use as a dairy-free substitute for butter.
Smart Balance spreads are labeled as healthy spreads that give that well-known buttery taste with all the vegetable oil benefits. But are they vegan-friendly and healthy? I investigated, so read on to find out!
About Smart Balance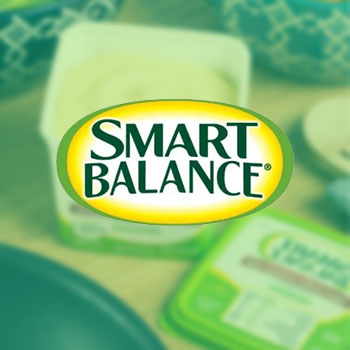 Smart Balance is a company that produces peanut butter, microwave popcorns, and butter and margarine substitutes. Their goal is to connect nutrition and good flavor.
According to the company, their spreads are the first on the market that has 0 trans-fats naturally.
Their spread also does not have hydrogenated or partially hydrogenated oils. These oils are known for raising the bad LDL cholesterol and lowering the good HDL cholesterol [1].
On the contrary, Smart Balance spread has vitamins, calcium, and omega-3s that do precisely the opposite — raise the good cholesterol levels and lower the bad cholesterol levels.
[thrive_leads id='11437']
Can Vegans Eat It?
Vegans can eat Smart Balance buttery spread. However, their choice is minimal. The company currently offers seven flavors.
If you look at the ingredients, you'll see that all flavors are almost vegan. Certain flavors are vegan-friendly. Some are even gluten-free, nut-free, peanut-free, and keto-friendly.
Why Are Some Flavors Non-Vegan?

The main reason is the ingredients, and here are some that make certain flavors non-vegan. Besides those, there are a couple of controversial ingredients, as well.
5 Problematic Ingredients
You may not be sure about these ingredients, so I'll explain them briefly:
1. Palm Oil
Palm oil isn't an animal product. However, many people following the vegan lifestyle avoid consuming it because of ethical reasons.
2. Vitamin D
Many wouldn't even think a vitamin can be non-vegan, but vitamin D, especially vitamin D3, is derived from lanolin, better known as wool fat.
3. Natural and Artificial Flavors
The trouble with natural and artificial flavors is that you can never be sure if they're 100% vegan. Natural flavors can be sourced from different animal products.
4. Lactic Acid
Even though "lactic" sounds like it comes from milk, this ingredient is dairy-free and vegan-friendly, as it's made from fermenting plants.
5. Vitamin A Palmitate
Vitamin A palmitate used to be derived from animal products, but nowadays, it's made in a lab and safe for a vegan lifestyle.
2 Smart Balance Vegan Flavors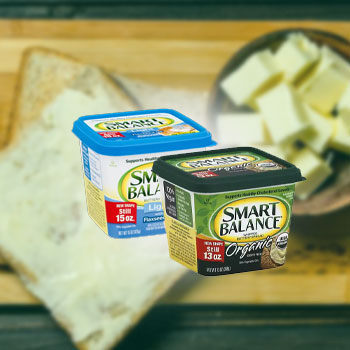 Only two Smart Balance flavors are vegan — Smart Balance Light and Smart Balance Organic. Let's see their ingredients:
1. Smart Balance Light with Flaxseed Oil contains the following: water, vegetable oil blend (palm, canola, flaxseed, and olive oil), less than 2 percent of salt, natural and artificial flavors, vitamin A palmitate, beta-carotene (color), vegetable monoglycerides, and sorbitan ester of fatty acids (emulsifier).It also contains potassium sorbate, lactic acid, TBHQ, calcium disodium EDTA (to protect flavor).
It contains palm oil, which some consider non-vegan.
2. Smart Balance Organic contains an oil blend (palm fruit, soybean, canola, and olive oil), water, salt, natural flavor, crushed soybeans, soy lecithin, lactic acid (non-dairy), and naturally extracted annatto (color). This flavor contains soy, so be careful if you're intolerant or allergic to it. It also has palm oil.
5 Non-Vegan Flavors
The rest of the flavors aren't vegan, and I'll mention the ingredients that make this non-vegan butter.
1. Smart Balance Original — contains vitamin D
2. Light Omega 3 — contains vitamin D
3. Omega 3 — contains vitamin D and fish oil
4. EVOO — contains vitamin D
5. Low Sodium — contains vitamin D
Smart Balance Alternatives
Now, if you're ok with palm tree oil, go on and enjoy this product line. I want to be 100% sure what I'm eating is vegan, so I choose alternatives, such as Earth Balance.
Earth Balance contains a natural oil blend (palm fruit, canola, soybean, flax, and olive oils), filtered water, contains less than 2% of pure salt, natural flavor (plant-derived from corn, no msg, no alcohol, no gluten), pea protein, sunflower lecithin, lactic acid (non-dairy), and naturally extracted annatto for color.
Earth Balance contains palm oil, but the producers use sustainable palm oil.
For those interested in other spreads & butters, read these:
Additionally, you can check out these best vegan-friendly butter brands.
FAQs
Is Smart Balance plant-based?
No, most of these spreads aren't plant-based and contain animal products.
Is Smart Balance dairy-free?
Yes, all Smart Balance spreads are dairy-free.
Is Smart Balance really healthier than butter?
In a way, yes. It contains less fat, trans fats and is free from partially hydrogenated and fully hydrogenated oils. So, as long as you watch your portions, you're good to go.
Is Smart Balance Vegan? The Final Verdict
To sum it up in one customer review, Smart Balance brings "Good taste, quality and value."
But, if you're looking for 100% vegan butter, this brand may not be the best choice for you. If you're ok with palm oil, go for it!
However, if you care about the environment and ethics and avoid palm oil, you should also avoid Smart Balance and choose an alternative like Earth Balance.
[thrive_leads id='11437']
Reference:
https://www.thespruceeats.com/do-hydrogenated-oils-contain-trans-fats-2246050
About the author