When you're preparing for a busy day of work, exercise and family life ahead, then having a stack of vegan protein pancakes for breakfast is one of the best ways to start your day.
But many people think that this is too much effort to prepare the pancake batter.
​The good news is that unlike most other recipes, this one is simple, meaning you can get breakfast sorted in just about 20 minutes. You can save even more time in the mornings if you go through the easy steps to prepare your vegan protein pancakes the night before.
First, make sure you have all the ingredients.
Start With The Right Ingredients
If you do a lot of cooking and baking, then you'll possibly have most of the ingredients you need to make this pancake batter from having done some other recipes.
Here are the essential plant-based ingredients:
Rolled organic oats (gluten-free)
Bananas
Unsweetened almond milk
Vegan protein powder
Baking powder
Baking soda
Organic coconut oil
Vanilla extract
I'll get to the exact measurements in a moment, but before I do that, let's get all the equipment ready.
[thrive_leads id='11437']
Watch the video for more pancake recipe...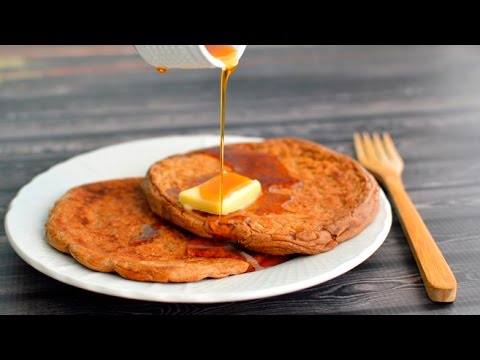 Other recipes you can check out:
Prepare Your Workspace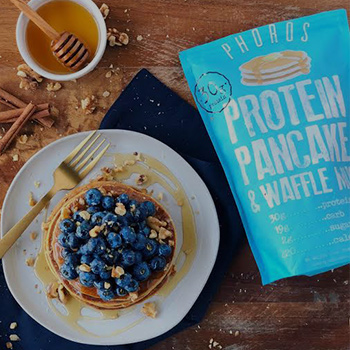 Before you just blindly start getting stuff out and throwing them in a mixing bowl, take a moment to get your equipment together.
First of all, get your food processor or blender out and make sure it's properly cleaned.
You don't want bits of that green smoothie you made the day before suddenly making an appearance in your pancakes (yes, that did happen to me).
You'll also need a non-stick frying pan. I picked one up a few months ago at my local Whole Foods store, and it certainly makes it easier and less messy.
If you make these more regularly, you can even buy pancake frying pans that are molded to the perfect size.
Get The Measurements Right
Before you start mixing everything, make sure you have all the measurements right and lined up.
The list below will make about 8 vegan protein pancakes, but you can easily adjust it to make more or less.
However, once you've tasted one, you're not likely going to want a small batch.
1 cup of rolled organic oats (gluten-free)
1 peeled ripe banana
1 cup of unsweetened almond milk
3 tablespoons of vegan protein powder
1 teaspoon of baking powder
1/4 teaspoon of baking soda
1 tablespoon of organic coconut oil
1/2 teaspoon of vanilla extract
Cooking Instructions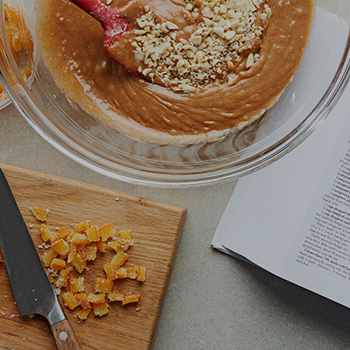 OK, so you have your equipment, and the ingredients are all measured out and ready to go.
It's time to get a step closer to those delicious vegan protein pancakes.
Add the oats, banana, almond milk, and protein powder in a blender or food mixer. Slowly increase the speed until the pancake batter is a smooth consistency.
Add the baking powder, baking soda, and vanilla extract and blend for another 20 to 30 seconds at medium speed.
If you want to create a more potent protein boost, then you can add another few spoons of protein powder.
Heat up a frying pan to medium heat and add the coconut oil. Once the pan is nice and hot, pour a small amount of batter.
When you see little bubbles appear at the top of the pancake, it's time to turn them around. Flip them if you're brave enough, otherwise, just use a spatula.
Both sides should be golden brown and slightly crispy.
Repeat the above instructions until the remaining batter is gone.
You're now ready to enjoy breakfast, and don't worry if you don't eat them all in one sitting. Just cover them and keep them in the fridge until tomorrow.
Serving Ideas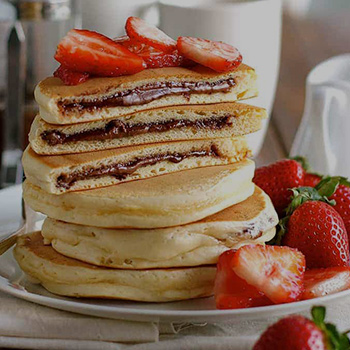 If you're like me, then over time, you might get a bit bored with the same vegan protein pancakes.
The easiest way to deal with that is to change around some ingredients and toppings from the original recipes.
​Try using corn or wheat flour to change the consistency if gluten is not a problem.
Mix in some blueberries or vegan chocolate chips.
Add some finely sliced apples and cinnamon, especially in the wintertime.
I've heard kids like making "sandwiches" with peanut butter or almond butter; tasty and healthy.
Get some fresh homemade maple syrup for the perfect finishing touch, plus some surprising health benefits.
Support your athletic diet with a few extra spoonfuls of protein powder.
Maple syrup contains many natural antioxidants. Several newly identified antioxidant compounds found in maple syrup are also reported to have anti-cancer, anti-bacterial, and anti-diabetic properties. Maple syrup also contains anti-inflammatory compounds.

- AcadianMaple.com
As you can see, there are tons of ways that you can make your breakfast more interesting. And you can always look at other recipes online for some new ideas for toppings.
---
Other Resources You May Like:
Nutritional Guide
To help you plan your diet effort and calorie intake, here are some nutritional details per serving:
Calories: 91
Fat: 3 g
Sodium: 75 mg
Potassium: 110 mg
Carbs: 12 g
Fiber: 2 g
Sugar: 2 g
Protein: 3g
Other Recipes You Need To Try:
What Are You Waiting For?
The first couple of times, it may take you a bit longer than 20 minutes to make your delicious breakfast, which is why I would suggest making up the batter the night before.
However, with just a little bit of practice, you'll be able to get this recipe done in 20 minutes.
If you have some tried and tested ideas for vegan protein pancakes using other recipes, then why not head over to our social media pages and share them with us.
​Tired of pancakes everyday? See more ​​high protein vegan recipes that can start-up your day.
[thrive_leads id='11437']
About the author