Many people tend to think that vegans miss out on all the pleasures in life.
However, take it from a former sugar addict, that you can still satisfy that sweet tooth, without a ton of sugar, and by only using plant-based ingredients.
One of the all-time favorite recipes for vegan muffins here at the office is this gluten-free option with chocolate chips. And with each muffin containing 13 g of protein, you might actually be helping your weight loss and fitness goals.
Let's start baking!
Ingredients For Your Grocery List
First of all, you'll need to make sure you have the right ingredients at home. I've modified the muffin recipe over the years to reduce what you need and to make the prep work as easy as possible.
Here's what you'll need:
Oatmeal: Rather than use ordinary flour, we will use oatmeal, which is naturally gluten-free, and I would suggest getting organic oats and not the highly processed cheap ones.
Bananas: Avoid bananas that are still green; you want really ripe ones as they will add more of a sweet flavor.​[1]
Chocolate flavored vegan protein powder: We have some recommended ones here; not only will it add some flavor, but also give that protein punch you're looking for.
Almond milk: Make sure it's unsweetened as you want to keep sugar and artificial sweeteners to a minimum.
Ground flaxseeds: You can buy whole flaxseeds, but you'll save a lot of time if you get the ground ones; they will act as a binding agent when mixed with water
Chocolate chips: Most health food stores will stock vegan chocolate chips, and you can pick them to your liking from light to dark chocolate. ​[2]​​​
Baking powder: This is a must if you do any kind of baking.
Non-contaminated, pure oats are gluten-free. They are safe for most people with gluten-intolerance.

- Faith Durand, Editor-in-Chief of Kitchn
[thrive_leads id='11437']
Preparational Steps
The good news is that you don't need a huge amount of prep work to get started.
And if you feel overwhelmed by baking stuff, then let me tell you that this recipe is fool-proof. If I can do it, then anyone can.
Creating the mix will only take a few minutes, so it's best to have all your equipment prepared.
What I usually do before I start mixing everything up is to turn on the oven and preheat it to 350°F.
Then, you can get your muffin tin ready by carefully placing the muffin liners so that they are ready to be filled. You can also use muffin cups, which I sometimes do if I'm only making 2 of them for a smaller batch.
Next, you just want to make sure that your blender or food mixer is ready to go and properly cleaned. Believe me, you don't want some leftovers from a green morning smoothie to end up in your vegan protein muffins.
Before you start the messy part, work out your measurements first.
Working Out The Measurements
I've based this recipe on making 6 muffins. The main reason for this is that they are completely delicious, and you don't want to end up binge-eating them. I'll get to the measurements shortly, but just a word of warning.
If you want to make a larger batch, then take the time to mix several smaller batches. I once tried to make 12 in one go, and the blender was so full that it all just went completely wrong with tops of blenders popping off and a smoking motor.
Anyway, here are the measurements you'll need:
¾ cup of rolled organic, gluten-free oats
2 medium size bananas (the riper, the better)
1 cup of vegan protein powder
1/2 cup of almond milk (sugar-free)
2 tablespoons of ground flaxseed and 1/3 cup water
1/2 teaspoon baking powder
1/2 cup of vegan chocolate chips
You can lay these out ready to go, as it makes it easier to add them to the blender at the right time.
Now you're ready for some action.
Step-By-Step Instructions
OK, I've listed these easy steps out to bake 6 muffins, but they will work just the same to make more.
Add the ground flaxseed to 1/3 cup of water and whisk together
Add gluten-free oats, almond milk, bananas (do I have to say they should be peeled?), and protein powder into a blender or a bowl if you're using a food mixer.
Start at a slow speed and gradually increase the speed until the mix has a nice smooth consistency.
Add the baking powder, flaxseed mixture, and blend it for another 20 to 30 seconds.
If it has the consistency of a rather liquid batter, then you probably added too much milk; try to add some more oats to thicken the muffin batter.
Add about 2/3 of the vegan chocolate chips, but don't hit the blend button! Just stir in the chocolate with a spatula.
Use the spatula or a serving spoon to scoop out the batter and fill the muffin liners or cups about 3/4 full.
Sprinkle a few more chocolate chips on top, depending on how much you love chocolate.
Place in the middle of the oven and bake for 35 to 40 minutes. Use a toothpick or baking fork to check if they are done.
​Other Resources You May Like:
Now for the most crucial part...
The All-Important Taste Test
Because the chocolate melts, you have to be careful that you don't try them too soon after the muffins come out of the oven. Leave the muffins cool down for about 20 to 30 minutes and then get ready for a delicious experience.
If your first batch doesn't quite turn out the way you expected, then you can experiment with the amounts of chocolate mixed in. For an extra chocolate flavor, sprinkle some Navitas raw cacao powder.
Alternatively, some other ingredients might work as well. Please watch this video.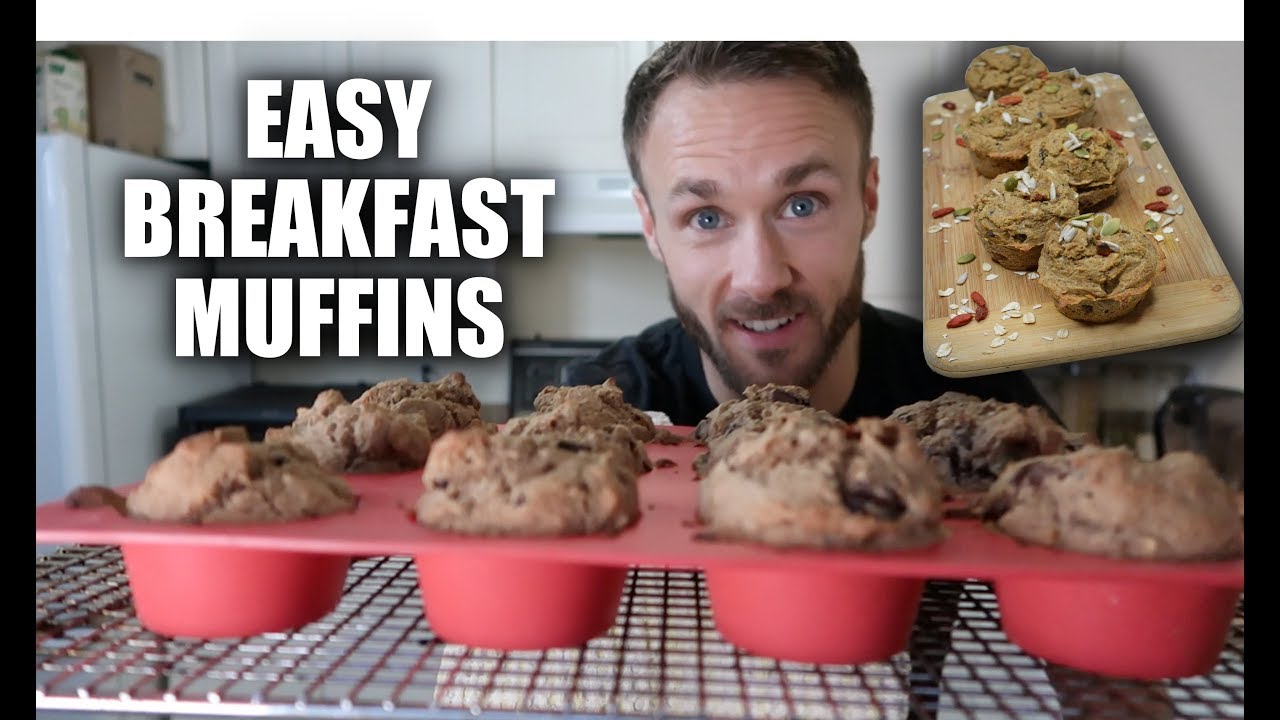 Ideas For Ingredient Variations
Instead of chocolate chips, you can make them a bit healthier by adding different fruits.
That can be any type of berries, but I've also made a delicious batch using apples, cinnamon, and hazelnuts.
If you're not gluten intolerant, then you don't have to use gluten-free oats. Instead, you could use just regular wheat flour.
I sometimes do this when I don't have oats at home, but personally, I prefer the texture the oats provide.
Your creativity is the only limiting factor.
Other Recipe Worth Trying: Vegan Homemade French Toast - The Ultimate Recipe
Nutritional Information
From a nutrition perspective, they are actually healthy enough not to mess up the majority of diets.
Here's what's in each muffin:
Calories: 220
Sugar: 11 g
Sodium: 355 mg
Fat: 8 g
Carbs: 29 g
Fiber: 6 g
Protein: 13 g
Get A Batch Ready To Share
If you like these muffins and the fact that they have a nice protein boost, then why not make some for your friends and colleagues at the gym.
I quickly became a favorite colleague here at the office with less than 10 minutes of actual work.
And if you've had some good ideas to change the recipe around a bit, then make sure you share those with us on social media.
​Are you doing some muscle building? Check out these vegan ​recipes that will help you with that. They are also nice to combine with your vegan muffins.
[thrive_leads id='11437']
---
​References:
https://www.thespruceeats.com/banana-equivalents-1807459
https://www.onegreenplanet.org/vegan-food/12-fair-trade-vegan-chocolate-chips-to-buy/
About the author