A recent study has shown that only 10% of Americans are eating enough fruit and vegetables [1].
Given that the health benefits of a varied diet of fruit and vegetables are at this point common knowledge [2], people have taken to smart and tasty ways to get as many into their diet as possible.
This is where greens supplements like Organifi and Amazing Grass come in.
In one daily green juice powder, you can get your R.D.A. of a wide range of the most beneficial ingredients. But how do you decide which one is best for you?
In this article, we're going to compare Organifi and Amazing Grass side by side and see which one is the best greens.
Read on to find out more.
What Is Organifi Green Juice?
Organifi Green powder has all the superstar ingredients you come to expect from a product like this apart from fruits and vegetables: wheat grass, chlorella, spirulina, moringa, and matcha green tea powder.
A serving of 5.1 grams provides a range of your daily essential nutritional needs, including vitamin B6, vitamin K, iron, and calcium.
This green juice powder also focuses on some other greens ingredients designed to improve cognitive function and mood, such as ashwagandha root, turmeric, red beetroot, and powdered coconut water.
They rely on natural flavoring from mint, lemon, and orange to make their juice taste better, as well as adding some additional prebiotic fiber.
Organifi Green Juice powder is vegan, organic, soy-free, keto-friendly, and gluten-free. Even those with a lot of different dietary restrictions can enjoy it safely.
Use code: VEGANLIFTZ for 15% off until the end of July
With multiple vitamins and minerals and antioxidants, super greens powder is an easy way to boost your nutrition. I recommend choosing fresh, fiber-rich produce when possible, but a high-quality greens powder is a great backup when you're on the go.

-Eliza Savage, MS, R.D., C.D.N.
What Is Amazing Grass Superfoods?
Amazing Grass is a health food supplement designed to give you a wide range of your daily nutritional needs.
The recommended serving of 5.7 grams containing enough vitamins and minerals from fruits and vegetables like barley, alfalfa, spinach, spirulina, chlorella, and broccoli -- good sources of vitamins A, C, and E, several B vitamins, calcium, iron, and a hefty dose of fiber.
The Amazing Grass isn't limited to greenery, though, and it also features healthy fruits like raspberries and pineapple working with other superfoods such as maca and rosehip.
They include some digestive enzymes in the powder that aids in digestion, as well as some probiotics and prebiotics to support overall digestive health.
The greens particles are gluten-free and wholly plant-based, and the company claim it is completely free of added sugars and GMOs.
Organifi Vs Amazing Grass Ingredients
Organifi Green Juice
Alkaline Organic Greens Proprietary Blend - Wheat grass, barley grass, alfalfa, spinach, spirulina, chlorella, broccoli.
Super Food Proprietary Blend - Coconut water powder, ashwagandha extract, red beet, turmeric.
Other Organic Ingredients - Prebiotic soluble dietary fiber, lemon juice powder, lemon flavor, monk fruit, spearmint powder, mint flavor, orange flavor.
Amazing Grass Superfood Powder
Amazing Grass Superfoods Blend - Wheat grass, barley grass, alfalfa, spinach, spirulina, chlorella, broccoli. We recommend you to add Now spirulina superfood powder to maximize your muscle gains.
Amazing Grass Antioxidant Blend - Rose hips, pineapple, carrot, acerola cherry extract, matcha tea leaf extract, acai berry, beet root, raspberry, maca root.
E.F.A. Fiber Blend - flax seed, apple pectin.
Digestive Enzyme And Active Culture Pre-Probiotic Blend - F.O.S. (fructooligosaccharide from chicory root) and probiotic enzyme blend (lactobacillus acidophilus protease (aspergillus oryzae), amylase (aspergillus oryzae), lipase (aspergillus niger, lactase (aspergillus oryzae), cellulase (trichoderma reesei)).
Nutritional Profiles
Organifi Green Juice
If you take a look at the content list for both products, you'll see that they are remarkably similar.
That is true for their vitamins and minerals content and overall nutrition profiles, as well but there are a few ways in which Organifi is actually better for your health.
First is that Organifi contains more fiber, which has numerous health benefits such as aiding in digestion and a reduction in overeating [3], and it is another nutrient that most Americans don't get enough of [4].
Amazing Grass Superfoods
Amazing Grass Superfoods boast a more extensive list than Organifi, but in this particular category, it does more harm than good.
Both products are obscured behind proprietary blends, which means we can't be sure exactly how much of each ingredient is in there, and it could be 99% broccoli and only 1% everything else.
The reason this hurts Amazing Grass more than Organifi is that even if there are fair amounts of each ingredient, they are unlikely to meet the amount necessary to feel the positive effect. Amazing Grass does provide a probiotic and prebiotic blend, but again it is limited and a minimal dose.
Taste
Organifi Greens
Organifi doesn't try to hide the natural and very green taste of its ingredients.
Instead of hiding them behind something syrupy sweet and upping the sugar content they have instead leaned into the earthy nature of the juice and accentuated it.
The lemon and mint work surprisingly well with the greens ingredients to provide something that has a zingy fresh flavor to it, and after you've gotten used to it, it's something that a lot of people look forward to drinking.
Amazing Grass Green Superfood Powder
Amazing Grass is relatively dull in taste, but that isn't necessarily a bad thing for a green juice or green superfood powder.
While some products will try to mask themselves in vanilla and sugar to make a sweet drink, Amazing Grass is happy to be what it is.
They've hidden some of the earthiness of the flavor to make it more palatable but not done much more than that. If you're planning to mix it into a smoothie, you can hide it pretty well.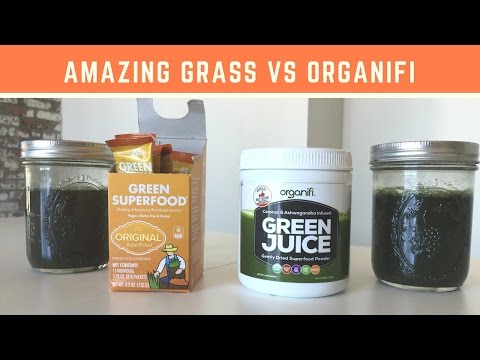 Cost
Organifi Green Juice
Organifi costs several times as much as Amazing Grass, and it works out to be about $2 a serving, which places it at the upper end of the market.
Most would still regard this as excellent value given the ingredients and supposed health benefits, but without knowing the precise amount of ingredients used, it's hard to justify the cost.
Amazing Grass
Amazing Grass is cheap, incredibly cheap. It can work out to be about 50 to 55 cents per serving, which dramatically undercuts the rest of the market.
While this can be an incredible draw to those on a budget, it also makes you wonder why it is so much cheaper than most other powders on the market. It could be due to a cheaper production cost being hidden behind the proprietary blend that we mentioned earlier.
Related Posts:
Organifi Vs Amazing Grass: Which Is Better Overall?
While both greens powders are supposed to provide a similar base amount of nutritional benefit and certainly an increase in your daily intake of fruit and vegetables, they differ in a few small but essential ways.
Amazing Grass organic greens is a good option if you're on a budget, and you're willing to take the proprietary blend gamble on its cost and ingredients list.
But in this Organifi vs Amazing Grass battle, I prefer Organifi green juice powder as it has:
Better reputation,
More believable and concentrated ingredients list,
and most importantly, I prefer the taste.
Read our full review about the Organifi Green Juice Powder here.
You can also read our full review of the Green Superfood by Amazing Grass.
Have you tried Organifi or Amazing Grass?
Which do you prefer?
Organifi Green Juice
Our #1 Recommendation
Convenient
Cost-effective
All-natural
Use code: VEGANLIFTZ for 15% Off
Click For Best Price
About the author