In a recent study done by the CDC, only 1 in 10 Americans is eating enough fruit and vegetables [1]. Even for those of us who label ourselves as diet conscious, it can be challenging to ensure ​getting all of the vitamins and minerals ​that a body needs.
Eating healthier is the reason I began the hunt for a good green juice.
I wanted something convenient, gave me all the nutrients I needed in one gulp, didn't taste like swamp water, and didn't require a mortgage for upkeep. That's not much to ask for, right?
​So did Organifi Green Juice fit the bill? ​Keep reading this detailed Organifi Green Juice review to find out.
What ​Is Organifi Green Juice?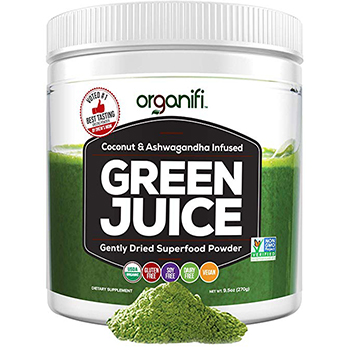 Organifi Green Juice​ is introduced by Drew Canole, Organifi's founder. His goal was to ​help increase ​people's intake of fruits and vegetables as well as the other nutrients that ​the body needs.
​Organifi Green Juice is just that: a well balanced green s powder ​aimed to help boost your immune system, increase mental clarity, and help ​you lose weight amongst other benefits to the body [2].
​Drew Canole and the Organifi ​​company now make a whole range of green juices with different health focuses, but in this review, we'll stay focused on their flagship - the Organifi Green Juice.
The benefits of ​using Organifi ​are many, but what makes one green juice better than another? What should you look out for in a high-quality supergreen extract?
​What Should You Look For In A Green Juice?
The Amount of Sugar in One Scoop
The first thing you should look for when scanning the label is if there is any added sugar or salt. A juice that has been pasteurized tastes different, and the process can also affect the level of nutrition the product provides [3], which may lead to salt or sugar being added to disguise the taste.
Even if they aren't actively adding sugar, fruits are naturally quite high in sugar, and if the blend is too fruit-focused, it can still have staggering sugar content.
You want to look for a green drink that is more focused on leafy greens and other ingredients much lower in sugar.
Filler and Fiber
The power of a green juice or any fruit and vegetable blend is in the ingredients. Take a good look at the ingredients list and where they're sourced. A good extract is sourced mainly from the earth or a tree. If there is too much filler, you want to stay away.
When looking for a supergreens drink, you also want to check the fiber levels. Dietary fiber has a wide range of benefits [4], and helps with weight loss efforts, yet it is lacking in a lot of juices and smoothies.
What Did We Think Of Organifi Green Juice?
I knew what I was looking for in my green drink, and I also knew what to look out for when comparing this product to other superfood powders on the market. I had heard a lot of great things about Organifi Green Juice and even had some fanatics recommending it to me in the office.
Let's ​stick into this Organifi review and see how it measured up.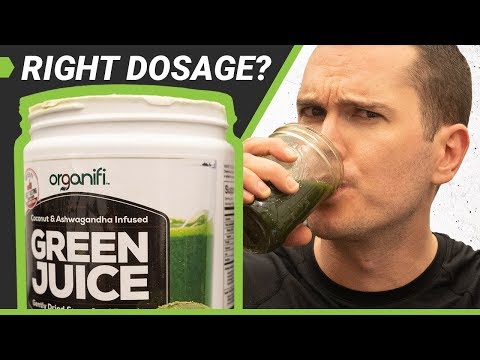 Taste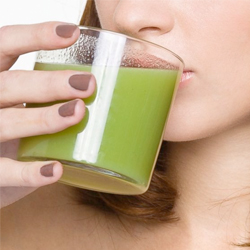 No one is reaching for that green powder and expecting a taste sensation.
When we talk about taste, we're fundamentally talking about how to minimize the earthy and very green flavor profile that the ingredients serve up.
This means that a great tasting green smoothie is more one that shies away from yuck rather than gives a great big yum.
Given the dedication to keeping the ingredients list wholly organic and fresh with no additives, Organifi has an impressive underlying sweetness derived from the moringa root.
However, just to be clear, this product still doesn't taste great.
Organifi does that well; after a period of adjustment, there is something vaguely enjoyable about the fresh, slightly minty taste of the juice.
Effectiveness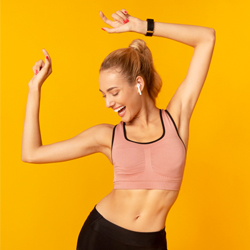 When we talk about effectiveness, I mean, we're focusing on how well Organifi lives up the rather grand list of claims of its supposed benefits.
The overall benefits manifest mostly in increased energy levels and mental acuity. I feel better for taking it, and on the odd day I don't, I can tell that I haven't.
I didn't take Organifi with the goal of weight loss in mind. I know this is one of the central claims to fame, and it was recommended to me by someone who used it for precisely that.
​Organifi has a good track record at helping users to make healthier dietary choices and aids in weight loss.
Organifi is also supposedly a one-stop-shop for vitamin and mineral needs, but looking at the nutritional information, I was skeptical and kept supplementing alongside it.
​Ingredients
We will go into the USDA organic Organifi ingredients in further depth a little later in the review, but the first takeaway to be had is the attention to the effect that Organifi has for each and everything included in their green powder. Each ingredient has a scientific health reason for being included, whether that be its high vitamin content, a superfood supplement, or something else.
There is also the fact that as mentioned in our what to look out for section, there is no filler in the Organifi ingredients list. Organifi is low in sugar, high in fiber, and even has enough dose of protein packed in there.
That being said, due to its actual nutritional make-up hiding behind a proprietary blend of coconut water, beetroot, and ashwaganda, among others, it's hard to gauge if you're getting enough of the good stuff to make it worth it.
​Organifi is also supposedly a one-stop-shop for vitamin and mineral needs, but looking at the nutritional information, I was skeptical and kept supplementing alongside it.
Value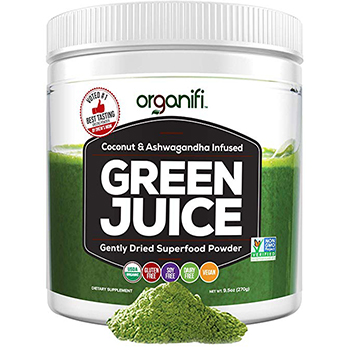 ​When working out the value of the product, you can't just look at the cost in bulk or even the cost per serving.
You have to consider the benefit the product provides and compare that to the cost of its competitors and alternatives.
In terms of value, I think Organifi offers a lot. It is more effective with a more varied ingredients list than I could ever make for myself, and if you work out the cost per day, it is considerably cheaper than the other greens.
It has 2 grams of protein, 6 grams of fiber, 1 gram of sugar, and 31 mg of Calcium.
In terms of nutritional value, Organifi does well compared to its competitors on a per-serving analysis of the market.
It provides a good base for an excellent superfood smoothie, but for me, Organifi lacks some of the other micronutrients I expect.
I sometimes have to combine it with other supplements, though, which significantly impacts the cost.
About the author