Thanksgiving is a beloved American holiday where we can gather with family and friends, enjoy delicious food, and spend time being grateful for one another. While this holiday is known for its traditionally non-vegan recipes, such as turkey and stuffing, it's easy to make vegan Thanksgiving main dish recipes and vegan Thanksgiving sides everyone will enjoy. These vegan fall recipes are rich in nutrients and satisfyingly filling.
10 Best Vegan Thanksgiving Recipes
Vegan Stuffed Acorn Squash
If you're looking for a hearty entrée stuffed with delicious fall goodness, stuffed acorn squash is an excellent choice. High in vitamin C and fiber, acorn squash has a subtly sweet, nutty taste. It's also surprisingly easy to prepare.
You'll need to roast the acorn squash first for 30 to 45 minutes by cutting the squash in half, placing it facing up on a cooking sheet, and drizzling with olive oil. The stuffing is the fun part–we recommend a mix of quinoa, onion, celery, apple, mushrooms, cranberries and savory spices including thyme, sage, cinnamon, and garlic.
Vegan Stuffed Shells
Another vegan Thanksgiving entree favorite, stuffed shells have that warm, comforting feel everyone will enjoy. Instead of using ricotta and milk, vegan stuffed shells use dairy alternatives such as:
Raw cashews or macadamia nuts soaked in water
Sunflower seeds
Almond milk or cashew milk
Extra-firm tofu
These alternatives can be blended for a wonderfully creamy mixture that can also be blended with spinach, kale, garlic, and other ingredients. Additionally, this recipe is high in protein thanks to the nuts and tofu. People often ask how vegans get their protein, but there are so many plant-based alternatives that offer nutritious protein sources. Top sources of protein include seitan, lentils, tofu, tempeh, and nut butters.
Vegan Mashed Potatoes
What's Thanksgiving without mashed potatoes? Mashed potatoes are one of the easiest vegan Thanksgiving sides to make and only require a few ingredients. This recipe from Minimalist Baker only uses 5 ingredients: Yukon gold potatoes, vegan butter, roasted garlic, sea salt, and black pepper. You can garnish with chives for an added touch.
Vegan Stuffing
Stuffing is known for being doused in butter, but a vegan stuffing works best with a generous amount of olive oil. The beautiful thing about cooking Thanksgiving stuffing is that you can be creative and work with a variety of ingredients. You'll want to sauté the veggies first (try onion, celery, and mushrooms with garlic, sage, and rosemary), then add the bread along with a hefty drizzle of olive oil. From there, simply add the vegetable stock and bake until it's lightly brown and crispy on top.
Stuffing is known for being doused in butter, but a vegan stuffing works best with a generous amount of olive oil.
Vegan Green Bean Casserole
One of the best vegan Thanksgiving casseroles, green bean casserole, is rich with flavor and nostalgia. The vegan sauce is made with non-dairy milk and flour to thicken the texture.
Additional ingredients include:
Olive oil
Salt
1 ½ lbs trimmed green beans
2 tbsp vegan butter
1-2 chopped shallots
2 garlic cloves
2 tbsp all-purpose flour
2 cups unsweetened non-dairy milk (soy, oat, almond work well)
1 ½ cups store-bought fried onions (check labels to make sure they're vegan)
Vegan Sweet Potato Casserole
Sweet potatoes are highly nutritious root vegetables that help strengthen your immune system, support eye health, and contain anti-inflammatory properties. A heaping plate of sweet potato casserole is a healthy addition to your vegan Thanksgiving meal. After roasting your sweet potatoes, you can blend with almond milk to make the filling nice and smooth. Top with your favorite garnishes, such as pecans, walnuts, maple syrup, dried thyme, or even old-fashioned oats.
Vegan Creamy Corn Dressing
Who knew you could get decadent richness from pureed corn? This vegan Thanksgiving dressing goes well over mixed greens, potato salad, or macaroni salad. You could even drizzle it over your mashed potatoes. To make this dressing, you'll need:
Frozen golden yellow corn
2 tbsp lemon juice
Finely chopped dill
Finely chopped chives
1 tsp Dijon-style mustard
Garlic powder
Black salt
Fresh ground pepper
Vegan Oil-Free Balsamic Dressing
This dressing only takes two minutes to make and goes perfectly over mixed greens. Balsamic vinegar adds a tangy taste to any salad and contains antimicrobial compounds, antioxidants, and acetic acid. Ingredients include:
2 tsp balsamic vinegar
1 tsp Dijon mustard
1 tsp nutritional yeast
Dried basil (or other herbs)
Sea salt and black pepper
Vegan Pumpkin Pie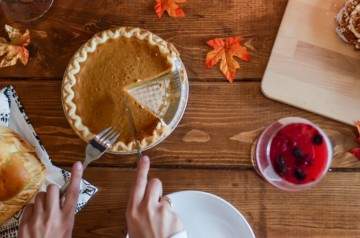 Pumpkin pie is so easy to make vegan, we wonder why most people don't do it anyway! You can still get the rich, creamy filling and delectable crust using all vegan ingredients. Coconut cream makes the perfect alternative for pie filling as it's high in fat and has a smooth texture. It's made by skimming off the thick layer of cold coconut milk and is high in potassium. You can make your own crust using vegan butter and vegetable shortening, or buy a store-bought vegan crust.
Pumpkin is also rich in fiber and vitamin A, and packed with antioxidants to help fight cancer-causing free radicals in your body. While the added sugar doesn't necessarily add any health benefits, eating dessert in moderation is fine. You can also swap for less processed sugar alternatives, such as coconut sugar or maple syrup.
Vegan Apple Pie
Another Thanksgiving favorite, apple pie can easily be made vegan by swapping out eggs and butter in the crust for plant-based alternatives. Apples are also incredibly nutritious and rich in fiber and antioxidants. In fact, their phytochemicals have been linked to reduced risk of cancer and cardiovascular disease.
Vegan Thanksgiving FAQs
What do vegans eat on Thanksgiving?
A vegan diet is plant-based and consists of fruits, vegetables, legumes, nuts, seeds, breads, rice, dairy alternatives, and vegetable oils. Vegan diets are high in fiber, rich in antioxidants, and receive protein and fats from plant sources. During Thanksgiving, vegans will eat lots of seasonal fruits and veggies, including squash, sweet potato, carrots, brussel sprouts, and cauliflower. You can turn almost any traditional Thanksgiving recipe into vegan fall recipes with some simple swaps.
Is stove top stuffing vegan?
Stove top stuffing is not vegan, as it contains butter, eggs, and chicken stock. You can make a vegan stuffing recipe using olive oil or vegan butter, vegetable stock, and a chia or flax egg binder. There are plenty of recipes available, and you can experiment with different toppings and ingredients.
What's the best vegan gravy recipe for thanksgiving?
A Thanksgiving meal isn't complete without the gravy. The key to a good gravy is its texture–you don't want it to be runny, but you also don't want it to be too thick. This vegan gravy recipe by Nora Cooks uses vegetable broth, onion powder, nutritional yeast, soy sauce, dijon mustard, and flour to create a smooth, savory gravy. The nutritional yeast and flour are key for adding thickness and texture to your vegan gravy.
About the author