Tortillas have become extremely popular, whether they're used in traditional recipes like tacos and enchiladas or roll-up sandwiches or pizzas. Tortilla wraps are a great way to spice up your lunch or dinner. After all, why eat a plate of beans, rice, and veggies when you can pile them all into a wrap, twist it up, and eat it without trying to get every last bite of the meal onto your fork? However, it may be challenging to obtain ready-made gluten-free wraps at your local delis and restaurants if you practice a vegan diet, either out of preference or due to a dietary limitation.
Why are Tortillas Good?
Vegan flour tortillas can be eaten in a variety of ways. They can be used for desserts as well as savory foods. Vegan cheesecake chimichangas, for example, can be made using only vegan cream cheese, sugar, tortillas, vegetable oil, vanilla, strawberries, and cinnamon. Vegan tortilla french toast, dessert nachos, and peanut butter breakfast roll-ups are among the other tasty desserts made with tortillas. Tortilla chips vegan & salsa, burritos, quesadillas made with non-dairy cheese, tostadas, tiny vegan pizzas, Mexican lasagna, cannelloni, taco salad in a tortilla bowl, and taquitos are some of the delicious savory vegan recipes that use tortillas.
All of these recipes are simply adaptable and may be made vegan by using non-dairy alternatives such as soy milk, almond milk, and plant-based butter and cheese in place of dairy.
Where to Find Vegan Tortillas?
Vegan dairy alternatives can be purchased at your local grocery store or made from scratch using nutritional yeast and cashews. When done correctly, a plant-based diet has been demonstrated to have numerous health benefits.
Vegan tortillas are an excellent vegan staple food. Vegan choices abound in Mexican food in general. A substantial and healthful meal includes burritos with vegetables, rice, and guacamole.
If you're a vegan, you know how difficult it can be to find a place to eat with people who don't follow the vegan lifestyle. Fortunately, all widely accessible eateries cater to vegan consumers by providing tortillas free of animal products. This enables you to dine out with your friends and family.
Mexican food, in general, brings people together since it is excellent and appealing to a wide range of tastes. It's also a healthy option in general. But it can be more difficult to gather nutrition information in sit-down Mexican restaurants because the components fluctuate or the nutrition facts are not readily available.
This is especially true if the eatery isn't a franchise. It is easy to collect nutrition information from chain restaurants as it is often available on their website. It's much more challenging when it comes to family-owned restaurants. In many cases, you'll need to specifically ask your waiter/waitress or the chef what vegan-friendly products are available.
Types of Tortillas
If you go to Mexican restaurants, you're likely to order a meal containing tortillas as a main ingredient.  Tacos, enchiladas, burritos, and nachos are all made with tortillas, a cornerstone of Mexican cuisine. The flat flour tortillas ball used to wrap the filling of a taco, burrito, or fajita is probably the first image that comes to mind when you think of a tortilla. We'll go over the differences between the several types of vegan tortillas that have started to appear on grocery shelves.
Flour Tortillas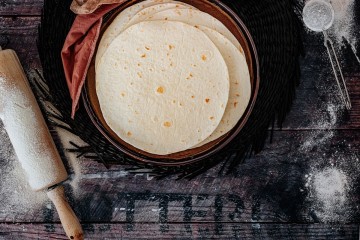 This is by far the most basic and common type of tortilla. Flour tortillas are made with all-purpose flour, a bit of salt, water, and fat. Classic Mexican recipes use lard, but modern versions utilize shortening or vegetable oil instead.
All-purpose flour comes from wheat; therefore, flour tortillas are technically wheat tortillas; whole-wheat tortillas use whole-wheat flour instead of all-purpose flour. When it comes to the flavor of Mexican-style meals, this tortilla normally takes a back seat. Until the Spanish brought it when they bought over wheat flour, this type of tortilla was not included in Mexican food diets. This type of tortilla is ideal for burritos and quesadillas. These tortillas are frequently baked, reheated in a skillet, or steamed.
Choosing whole wheat tortillas over refined flour tortillas will reduce your risk of getting disorders like diabetes and metabolic syndrome. The bulk of nutrients, such as folic acid, iron, and fiber, are removed during the milling process for white flour. Although some nutrients are added back into the flour, the end-product does not pack the same nutrients as whole wheat foods and will not provide you with the same benefits. Whole wheat vegan tortillas can be used in a variety of dishes.
How to Make Flour Tortilla 
4 cups all-Purpose flour
1 tsp of salt
2 tsp of baking powder
2 tsp of lard
1 1/2 cups of water
Step 1: In a mixing basin, combine the flour, salt, and baking powder. With your fingertips, combine the lard until the flour becomes cornmeal. Mix in the water until the dough forms; place on a lightly floured board and knead for a few minutes until smooth and stretchy. Make 24 balls out of the dough by dividing it into 24 equal parts.
Step 2: Heat the oil over medium-high heat in a large skillet. Roll a dough ball into a thin, circular tortilla with a well-floured rolling pin. Place in a heated skillet and fry until golden and bubbling on one side; turn and cook until golden on the other side. Continue rolling and cooking the remaining dough while keeping the cooked tortilla warm in a tortilla warmer.
Corn Tortillas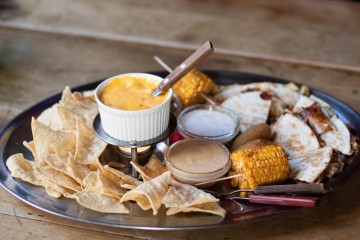 Corn flour tortillas are usually a thin, dry flatbread commonly used to make tacos and other wraps. But are corn tortillas vegan?  Yes, the majority of corn tortillas are vegan. A corn tortilla is made with a combination of ground corn, water, and additives. Corn tortillas are always vegan because they are made entirely of ground corn. Corn tortillas have a tiny diameter since they are gluten-free and would break if made any larger.
What Is Masa Harina?
To make the cornflour tortillas, you'll need Masa Harina, a type of cornflour. This component resembles finely ground cornmeal; however, it is an entirely different substance. Masa Harina is made from maize kernels that have been soaked in limewater, an alkaline solution that alters the physical structure of the corn, softening it and releasing more of its nutritional value. If you try to replace Masa Harina with cornmeal, your tortillas will become brittle instead of malleable.
Step 1: Combine the masa and salt in a mixing bowl and mix with oil. Slowly drizzle in the water while mixing the dough with your hands or a wooden spoon until it forms a ball.
Step 2: Place the dough on a floured work surface and knead for a minute or two until it is smooth and elastic. Cover it in plastic and set it aside for at least 30 minutes or up to several hours at room temperature.
Step 3: Break out pieces of dough and lightly flour them. Stretch them out or flatten them with your hands to a diameter of 4 to 6 inches between two sheets of plastic wrap, or flatten them in a tortilla machine. As soon as you've finished flattening or rolling the tortillas, start cooking them.
Step 4: Cook for 4 to 5 minutes over medium-high heat in a big skillet, preferably cast iron. 1 or 2 tortillas at a time, cook until brown spots develop on the bottom, about 1 minute. Flip it over and repeat on the other side. To keep the tortillas warm, cover them in a towel and serve right away, or cool and store firmly wrapped in the fridge for a few days.
Blue Corn Tortillas
Fresh, simple, and stunning blue corn flour tortillas are a nice change of pace. Blue corn tortillas are similar to white and yellow corn tortillas, but they're manufactured from a different variety of corn. With so many different corn species to choose from, each has its own flavor, color, and texture.
You can use a particular sort of maize flour called Masa Harina Azul rather than the white or yellow versions you're used to speeding up the process. If you live anywhere near a tortilla maker or Latin market, you can usually buy fresh dough (masa) or even attempt grinding your own if you're feeling adventurous.
Since they're produced with several blue corn varieties, these tortillas are blue in color (more on this in the key ingredient section). Anthocyanins, a natural pigment found in many foods that gives them red, purple, or blue colors, are present in blue corn.
Step 1: For around 4 minutes, whisk together the blue corn flour and warm water. Divide the dough into 16 little sections, roughly the size of golf balls. Use a tortilla press lined with wax paper to flatten the dough into 6 inches (15 cm) round forms, or use your hands to flatten the dough without the wax paper.
Step 2: Transfer to a skillet that has been preheated to a high temperature. Cook for about 20 secs before flipping. Cook for 20 to 30 seconds more. Depending on the thickness of the tortillas, further turning may be required to cook them properly.
Are Tortillas Vegan?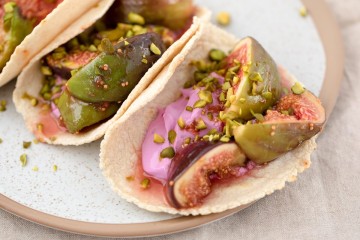 Most vegans and vegetarians have the same concerns when it comes to tortillas. Are tortillas vegan? Including Chipotle tortillas, wheat tortillas, and mission tortillas? Tortillas are vegan generally.
Wheat flour tortillas were not always vegan before the 1990s because they had lard as one of their ingredients. Due to an increase in health concerns, this is rarely the case nowadays. However, numerous animal-derived components are now used in a variety of processed meals. Some wheat flour tortillas may still include lard; however, this is becoming less common as the bulk of tortilla manufacturers now use vegetable oil.
Furthermore, because corn flour tortillas are typically vegan and vegetarian, they are manufactured without oil.
Top Vegan Tortillas Brands
There are several famous tortilla brands that you find in most stores and famous restaurants, where you'll commonly be eating tortillas. Let's take a look at which tortillas are vegan and which ones aren't vegan!
Are taco bell tortillas vegan?
Taco Bell is the go-to fast-food chain for cheap burritos and tacos, but you might be surprised to learn that their tortillas are totally vegan. That's right, they have vegan tortilla wraps, and you can easily customize existing items on the menu to ensure that you're ordering vegan products.
Taco Bell aims to be inclusive, so its vegan menu may be expanding in the future. When you're ordering, just say no to cheese and sour cream, and double up on the beans!
Are Chipotle tortillas vegan?
One question for sure you might ask when going to Chipotle is that are tortillas vegan? Chipotle is another popular Tex-Mex restaurant that ensures that all of its tortillas are vegan-friendly. That's correct, both flour and vegan corn flour tortillas are okay to order at Chipotle, and they even have a few non-dairy cheese options to go with them! Chipotle tortillas vegan and other components and dishes are also vegan-friendly, and you can easily customize your burritos with your vegan tortilla of choice for a vegan-friendly feast.
Are Mission flour tortillas vegan?
Mission flour tortillas are vegan and one of the world's most popular tortilla brands, and you can find them not only in stores but also in restaurants and food trucks. Like many other manufacturers, Mission tortillas have made sure that all of their tortillas are vegan-friendly, so don't be hesitant to buy them if you find them at the store.
Dishes that Best Go Along with Vegan Tortillas
Many traditional Mexican tacos aren't vegan. This might turn vegan taco night into a bland nightmare, but fear not, we've got you covered. Vegan taco night can be just as good with these delectable vegan tortilla ideas!
Tofu Tacos
In Asian cuisine, tofu is a good meat substitute! This is just one delectable example of incorporating tofu into Mexican cuisine. Crisp-baked tofu, fragrant Mexican flavors, and a variety of toppings make vegan tofu tacos simple to create. There's no need to marinate or press the tofu!
How to Make Tofu Tacos
Whisk together the olive oil, soy sauce, tomato paste, maple syrup, onion powder, garlic powder, smoked paprika, and chili powder in a bowl.
Toss the tofu into the paste after crumbling it on top.
On a parchment-lined baking sheet, spread the tofu mixture.
Bake for 15 minutes, then toss and bake for another 15 minutes. It should be golden, crispy, and chewy when the tofu is done.
Serve the hot taco tofu meat in tortillas with your favorite taco toppings on the side, as well as rice and beans.
Vegan Tortilla Pizza
This thin and crispy vegan tortilla pizza is a fun way to spice up pizza night. This vegan tortilla pizza dish is easy to create on your own or with friends and family. Simply combine the sauce ingredients, spread the sauce over a tortilla, sprinkle with your desired toppings, and bake until the vegan cheese is melted.
Preheat the oven to 400 degrees Fahrenheit.
To make the sauce, mix together tomato sauce, water, olive oil, garlic powder, onion powder, and seasoning in a mixing bowl until smooth.
Season with salt and pepper to taste (optional).
Evenly spread pizza sauce on all tortillas.
Top with your preferred toppings and a sprinkling of cheese.
Bake for 3-5 minutes, or until cheese is melted, in a preheated oven.
Cut into slices and serve.
Vegan Tortilla Enchilada
Enchiladas are undoubtedly the ideal food. We all know that tacos are popular these days (and rightfully so), but don't forget the enchiladas! Vegan enchiladas can easily be made gluten-free or nut-free if necessary.
How to Make Enchilada Sauce
Enchilada sauce may be made quickly and easily. Gather all ingredients as soon as possible because this will go quickly. In a small bowl, combine all dry ingredients (flour + spices). In a medium pot, heat a few tablespoons of water, pour in the flour/spices combination and whisk continually for a minute.
Whisk the tomato paste, then slowly drizzle in the vegetable broth while constantly whisking. Bring to a boil, reduce to low heat and continue to whisk constantly to eliminate any lumps. Remove from the heat, whisk in the apple cider vinegar, and season to taste with salt.
How to Prepare the Filling
Combine the vegetables and walnuts in a large pan and heat over medium-high heat. Combine the vegetable broth, spices, and soy sauce in a mixing bowl. To incorporate everything, give it a good stir. Cook for another 10-15 minutes, stirring occasionally. Season with salt and pepper, then add the black beans. Once
Wrapping Things Up
So are tortillas vegan? Luckily tortillas give vegans access to a whole new world. They allow us to eat many of the dishes we used to eat before we became vegans. Furthermore, because tortillas are so widely available, they benefit a large number of people. Due to the growing popularity of veganism, it was clearly a prudent option for companies to discontinue manufacturing tortillas that contained animal products. After all, the vegan and vegetarian communities are rapidly expanding.
About the author