This hot sauce happens to go great with vegan recipes. But is sriracha vegan?
The answer is simple — most of the time, sriracha is vegan, but it may surprise you to find out that some of the most popular brands aren't.
Keep reading this article to find out everything there is to know about this chilli sauce.
What is Sriracha Sauce?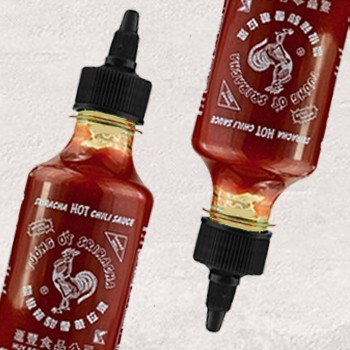 Sriracha is a world-famous red chili sauce. It also goes by the name "rooster sauce." And, as you might know, the most popular brand is Huy Fong Foods from California.
This hot sauce got its name from the city it originates from — Si Racha, on the eastern coast of Thailand.
The rooster sauce maker was Thanom Chakkapak, who initially shared the hot sauce only with her friends and family.
However, the feedback was positive, so she started commercially manufacturing the sauce.
The original sriracha sauce was produced under the Sriraja Panich label and was mainly sold in Thailand [1].
[thrive_leads id='11437']
You can still find it under this label, in Thailand at least, and maybe with some online retailers.
The sriracha sauce we all know and love came to the US in the 80s. It happened when a Vietnamese immigrant, Davit Tran, founded Huy Fong Foods.
He started making his version of the sauce — the Huy Fong Sriracha Sauce.
Even though a couple of brands make what is known as sriracha sauce, the Huy Fong is still the best-known and most popular.
Typically, when someone mentions sriracha sauce, the Huy Fong Sriracha Sauce with the green cap and the famous rooster is the first image that pops into everyone's minds.
How is It Made?
Sriracha is made by grinding jalapeño-chile hybrid chili pepper into a paste. Then, vinegar, sugar, salt, garlic, and a couple of preservatives are added to the paste, and that's it.
Is It Vegan?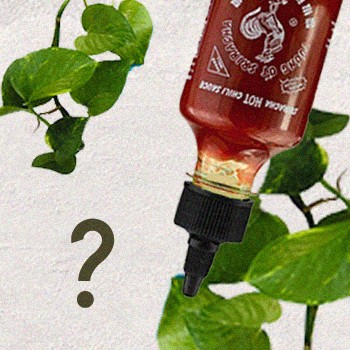 Yes — sriracha is vegan, and vegans can freely consume it. If we take a look at the ingredients list, we'll see that the typical sriracha ingredients include: chili, sugar, salt, garlic, potassium sorbate, sodium bisulfite, and xanthan gum.
All of these ingredients are vegan-friendly!
However, keep in mind that the sriracha mayo, or the samurai sauce, isn't vegan.
Even though sriracha doesn't contain animal products, mayo is made with eggs. Hence, vegans should avoid it unless it's marked as vegan.
Is It Healthy? (3 Problematic Ingredients)
The answer isn't that simple. Sriracha may be vegan, but that doesn't mean that it's 100% healthy and good for you. There's also vegan chocolate, but that doesn't mean you should stuff your body with it every day. So, let's get into more details.
1. Sugar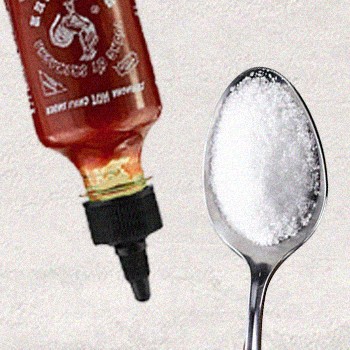 The recommended serving of sriracha is one teaspoon. That one teaspoon will contain, on average, about 100mg of sodium and one full gram of sugar.
Just for comparison, one teaspoon of ketchup contains 50mg of sodium and 1.2 grams of sugar.
This may sound disheartening since almost everyone uses ketchup, and we know it isn't the healthiest condiment.
But think about how we use each condiment.
We would typically limit ourselves to 1–2 spoons when using sriracha sauces or any other chili sauce. On the other hand, when using ketchup, we'd probably slather it over our food.
2. Xanthan Gum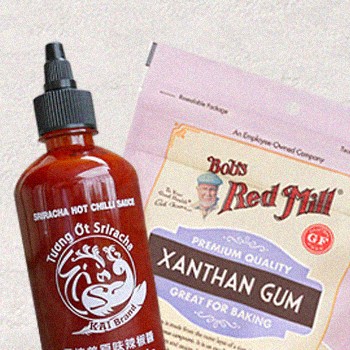 Another issue is the xanthan gum. Xanthan gum is a popular food additive.
It's typically added to foods to stabilize or thicken them [2]. It can be derived from soy, corn, or wheat.
This means that people with soy, wheat, and corn allergies and intolerances can experience allergic reactions depending on the xanthan gum source.
What's worse is that there's no way for a buyer to know where the ingredient is sourced from unless the producers note it.
Furthermore, xanthan gum can sometimes be made with a lactose base. Luckily, this is rare, and the manufacturers must state it on the label.
3. Sulfites and Other Allergens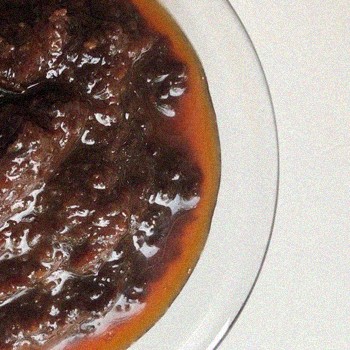 Many people are allergic to sulfites, so pay close attention to the ingredients to avoid unnecessary allergic reactions.
Sriracha isn't the healthiest condiment out there, but you should be ok if you consume it in moderation.
Huy Fong also makes a chili garlic sauce with no sugar, so you can opt for that one if you're trying to keep your sugar intake low.
Some brands also use shrimp paste.
Not only is this an allergen, but it's also not vegan.
Huy Fong Sriracha Sauce isn't Vegan
As I said, the most famous sriracha sauce isn't vegan.
Even though the Huy Fong Sriracha Sauce is available in many stores and restaurants, the statement the representatives released in 2017 clearly warns vegans to stay away from their sauce:
"Unfortunately, our products are not vegan because of the process our sugar goes through during its production." — Huy Fong representatives
This means that they use sugar that's processed through bone char. This also means that Huy Fong supports the meat industry by paying for products like bone char that the industry would otherwise have to pay to get rid of.
As with other products you're unsure about, always read the label carefully. Google the ingredients before you buy the sauce. Visit every brands' website to find the most suitable sauce for you.
If you're still unsure, call or email the manufacturer's customer service and ask all the questions that bug you.
Vegan Sriracha Brands

Luckily, vegan sriracha sauces with high-quality ingredients and sugar are not processed with animal bones.
When it comes to sriracha, vegan sauces that will satisfy your taste buds include:
Waitrose Sriracha
Blue Dragon Hot Sriracha
Sauce Shop Sriracha
Eaten Alive Smoked Sriracha
Ninja Squirrel
Some more vegan, plant-based chili sauces with high-quality vegan ingredients include:
Tabasco

Frank's Red Hot

Cholula
Reggae Reggae

The Coconut Kitchen

Chilli Mash Co
Vegan Homemade Sriracha Recipe

If you want homemade vegan sriracha on your menu, you can easily make it yourself. There are tons of vegan recipes on the internet. I'll share with you my favorite out of all vegan sriracha recipes. It's simple to make, and you'll need only a couple of ingredients.
All vegans that have tried it love it! So here's what you'll need:
Ingredients: 
200g red jalapeños
100g red serrano chillies*
Two cloves of garlic
15g vegan brown sugar
6g salt
35ml water
50ml white vinegar
Instructions:
Put all the ingredients, apart from the vinegar, in a blender. Blend until you get a smooth mixture. Place the mixture into a glass jar and cover it with a clean cloth.
Put the jar in a dark and cool place and stir the content every day. You should also replace the cloth every day.
Then, add the vinegar and mix to a saucepan, bring to a boil, cook for some five minutes to reduce its consistency. If you want a thicker sauce, you can cook it for longer. The more you cook it, the thicker it'll be.
Finally, put the sauce in a sterile jar, seal it tightly, and put it in the fridge. When you make the sauce this way, you can keep it in the refrigerator for weeks.
The more time it spends in the refrigerator, the more it will ferment.
Some people also like to strain the sauce before cooking it to remove the bigger chunks of seed and pulp.
Enjoy your vegan sauce!
*Please note that the unmarked/unnamed chilies in supermarkets are typically serrano.
Is Sriracha Vegan? The Final Verdict
Even though the original and most popular sriracha sauce isn't vegan, that doesn't mean you can't enjoy this delicacy.
There are many vegan options, and I'm sure you'll find the right thing for you.
And if all else fails, you can make your own vegan sriracha!
[thrive_leads id='11437']
---
References:
https://www.thrillist.com/news/nation/history-of-sriracha-origin
https://www.healthline.com/nutrition/xanthan-gum
About the author