Given the popularity of the snack, there are high chances that you are familiar with Cheetos. These cheesy American snacks are sold all over the world, so most probably you've eaten them at least once in your life before. They are very famous with a high brand recognition associated with its mascot, the cool Chester Cheetah.
In fact, these finger-licking cheese puffs are produced in 22 countries, and they come in no less than 50 different flavors.
These delicious cheese puff snacks are iconic and probably take you right back to your childhood. Ok, they're not the healthiest, and are even categorised as junk food, but they feel really regressive, and there's something comforting about that.
If you've recently turned vegan, you might wonder if these finger-licking snacks will suit your plant-based diet. Well, that's what you'll find out if you continue reading this article.
You'll also learn much more about Cheetos, what types are there in the market, what the ingredients are, and finally, if they're vegan.
What are Cheetos?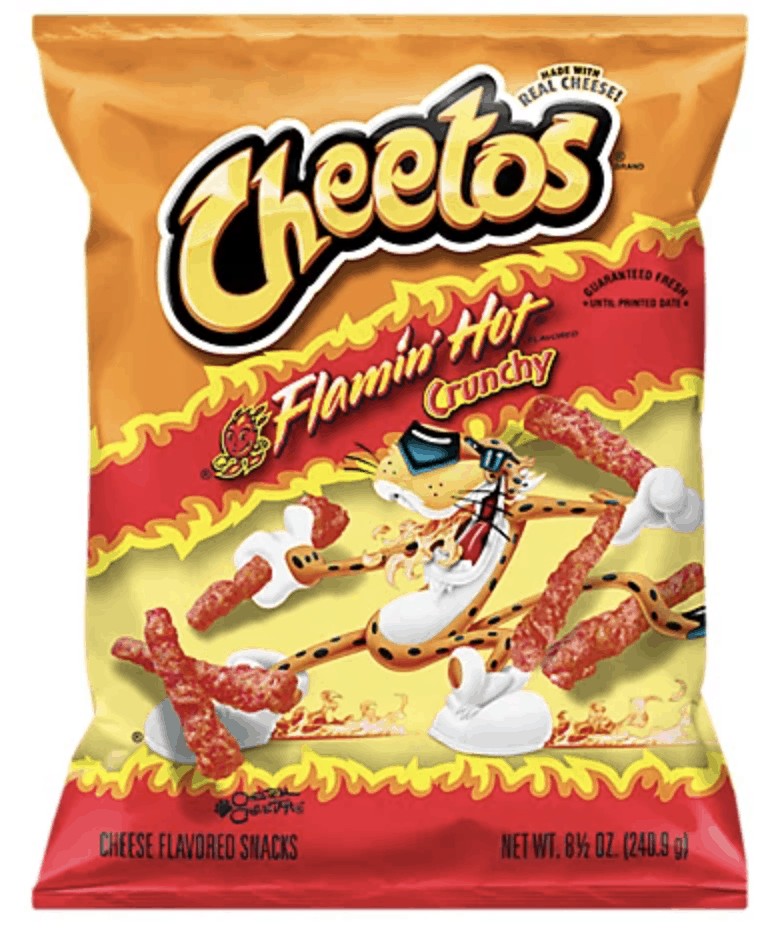 If you don't know what Cheetos are, firstly, you're missing out big time. These are delicious puff-cheese snacks, which will get your fingers covered in orange cheese dust.
In fact, they were actually designed to stain your hands. There's even a type of Cheetos that first emerged in 2001, which was curated to stain your tongue the same way they stain your fingers now.
But for this flavor, it wouldn't leave an orange stain, but a green or blue one, depending on the pack you got.
These were called Cheetos Mystery Colorz.
There's so much more trivia about this iconic brand, whose mascot Chester Cheetah you probably are already familiar with.
For example, these are scientifically designed to be addictive. I'm not kidding. This is a more obscure bit of trivia about Cheetos. Your synapses don't realize how many calories they're ingesting since Cheetos are designed to be airy, making you want more of these snacks without getting full.
Other addictive foods employ a similar method by not making you realize how many calories your body is actually consuming. These include other popular snacks such as Oreos. A lot of big brand names and chains like Coca-Cola and McDonalds,also employ this same method .
Types Of Cheetos
There are many Cheeto flavors that are currently on the market and plenty that were discontinued. In fact, there are already a total of 50 flavors in the world, but the brand is always creating more.
Some of the more random current flavors include Pepsi, strawberry, ketchup, Japanese steak, and peanut butter. So as you can see, there's a flavor for everyone. Literally.
If you want the more classic flavors, you can choose between flamin' hots--which are the most popular ones, paprika spinners, white cheddar puffs, crunchy, munchies, baked, cheesy jalapenos, and chipotle ranch. There are so many others that it's impossible to list them all.
There are actually several categories of Cheetos flavors, and each category will have several different flavors. As listed on this brand's website, the main categories are crunchy, puffs, flamin' hot (this used to be my personal favorite), baked, fantastix, and simply.
But they also have different types of mac' n cheese you can make and popcorn. As you can see, they have a huge selection, so there will be something for everybody. As for all the discontinued flavors, there have been some weird ones. For example, mental floss.
There are also some discontinued Cheeto types that some people would like to make a comeback, such as pizza puffs, honey BBQ, crunchy nacho, salsa with cheese, and Cheetos zig-zags, to name a few.
There are also some Facebook groups out there who want to bring back a few old flavors, like Cheetos Paws or X's and O's. As you can see, there's a real following for this brand.
Overview Of Standard Cheetos Ingredients
Ingredients Overview
Sure, Cheetos are delicious and scientifically addictive. But, as you can imagine, the ingredients aren't good for your health at all. It has over 12 ingredients, which aren't too natural. So what exactly are the ingredients of standard Cheetos?
Earlier, it was really hard to find out what was actually in these American cheese puff snacks, but the FDA (Food and Drug Administration) laws made food companies declare their ingredients. So we now know what the Cheetos' ingredients are. Not surprisingly, they're not the best for you.
Standard Cheetos, which are simple cheese seasoning, usually have sugar in them, as well as salt, vitamin B, vegetable oil, whey, yellow 6, enriched cornmeal, and MSG.
So let's talk about some of these ingredients, except for the vegetable oil, which we'll talk about a bit later.
So first, there's sugar, and not how you know it: it's maltodextrin. It's actually worse than sugar. Already, the name doesn't sound natural. And that's because it's not. It's used to stabilize and thicken the snack's structure.
Maltodextrin is a long chain of sugars that are made out of other sugars such as glucose, which is a simpler sugar. Do you still follow me? This is made from corn and is very cheap to produce, but is not good for your health at all, as you can probably imagine.
Did you know that glucose actually has twice the glycemic index of sugar? Your blood sugar can really spike with that, and maltodextrin is especially dangerous for people who have diabetes.
Did you know that the iconic color of Cheeto, Yellow 6, aka Sunset Yellow FCF, is made from petroleum? So that's already shocking on its own, but the yellow and orange dye comes with other problems too.
According to the Center for Science in the Public Interest (CSPI), this particular dye, Sunset Yellow FCF, can provoke tumors of the kidney and the adrenal gland. The FDA says that Yellow 6 is fine to use in small quantities. So as long as you don't eat huge quantities of Cheetos, you're in no danger. But just know that it won't be good for your health, especially if you don't work out.
Just don't eat Cheetos if you have diabetes or high blood sugar in general.
It will be fine if you exercise regularly and don't suffer from diabetes, but still. Maltodextrin won't provide you with energy and will actually do the opposite since it's transformed into bad fat in your body and is stored there.
Another bad ingredient is monosodium glutamate, aka MSG. Its role is to amplify other flavors, but it's natural. Then, you have salt--lots of it, vitamins, and other artificial and natural ingredients.
Official list of ingredients for Flamin' Hot Cheetos
The ingredients for the Flamin' Hot Cheetos, probably the brand's most popular flavor, are:
'Enriched Corn Meal (Corn Meal, Ferrous Sulfate, Niacin, Thiamin Mononitrate, Riboflavin, and Folic Acid), Vegetable Oil (Corn, Canola, and/or Sunflower Oil), Flamin' Hot Seasoning (Maltodextrin [Made From Corn], Salt, Sugar, Monosodium Glutamate, Yeast Extract, Citric Acid, Artificial Color [Red 40 Lake, Yellow 6 Lake, Yellow 6, Yellow 5], Sunflower Oil, Cheddar Cheese [Milk, Cheese Cultures, Salt, Enzymes], Onion Powder, Whey, Whey Protein Concentrate, Garlic Powder, Natural Flavor, Buttermilk, Sodium Diacetate, Disodium Inosinate, Disodium Guanylate), and Salt.' (US Pack information).
So not very natural and not healthy at all, as you can see. Flamin' Hot Cheetos have artificial flavors, colors, preservatives, and lots of unnatural additives.
So for a moment of pleasure, your body will suffer later. Sure, it's not the worst mainstream snack out there, but it's still junk food.
What type of fat do they use?
The fat in Cheetos comes from vegetable oil, which can be sunflower oil, corn oil, and/or canola oil. It's usually a combination of these three oils, which are not healthy sources of fat at all. All of them are high in calories and low in nutrients.
As you can imagine, the flavor is artificial, and the shape is heavily industrialized.
Are Cheetos Vegan?
As you might have guessed by now, Cheetos often have cheese powder in them and are therefore not vegan. These are often vegetarian, which is not the same as vegan.Since they contain dairy products; whey,milk and cheese, they're not vegan.
So Cheetos aren't vegan. There is one exception, though.
Although it's not stated on the pack, flamin' hot Cheetos is one category of Cheetos that is vegan. So good news for vegan Cheetos fans! The flamin' hot flavor is vegan-friendly and vegetarian since they don't contain any meat, fish, or animal products such as dairy.
Unfortunately, you can only find these in the UK, and they're also pretty hard to find, as they won't be stocked in every supermarket. In the US, these are vegetarian but not vegan, as you saw in the ingredients list in the above section.
If you manage to find the UK Flamin' Hot Cheetos, check the ingredients list just to make sure you can eat them as a vegan. They're vegan by accident, let's say.
Also, not all Cheetos are vegetarian, which is a bit shocking. Some of the Cheetos you get have cheese that has rennet in them, which comes from the stomach of baby animals, such as cows, goats, or sheep.
The only product that is generally safe to eat on a plant-based diet, both vegetarian and vegan, will be the Flamin' Hot Cheetos in the UK. But please always check the pack for more information and to make sure that all the ingredients are vegan-friendly.
Making A Cheetos Alternative At Home
If you don't want to risk running into dairy or animal products, you could make your own vegan Flamin' Hot Cheetos alternative at home.
If you want a vegan Cheetos recipe that is easy to make, try this out.
Ingredients
You will need two cups of plain white flour, one bag of vegan shredded cheese, some garlic powder, 4 ounces of vegan butter, 0.5 ounces of cornflour, and half a cup of water. That's all you need.
You can adjust these indicatory measurements until you find the right recipe for you for the consistency and taste you want for this Vegan Cheeto alternative.
If you want to make these vegan Cheetos taste like Flamin' Hot Cheetos, you should add a quarter teaspoon of sugar, a quarter teaspoon of salt, half a teaspoon of onion, half a teaspoon of lemon pepper, a bit of garlic, cayenne, and paprika.
The amount you will need for the spices will depend on your personal taste and preferences. So maybe try this recipe out a few times to get the flavor you're after.
Method
First, mix both flours together with garlic and salt, and combine that with the vegan butter. Then, add the water progressively until you get a dough. Then, you should shred the vegan cheese into a powder (I recommend you use a powerful food mixer).
Add the powder to your dough until it's mixed in. Then, plastic wrap your Cheetos dough and leave it in the fridge to cool for about two hours.
Afterward, break the dough into little pieces and shape it into little Cheetos form. You can then bake them at 350 degrees Fahrenheit for 15 to 40 minutes, depending on how thick you want them to be.
Or, if you want something quick but a little less healthy, you could fry them until they're really crispy. Healthwise, it's best to bake them in the oven.
Once your vegan Cheetos are done, you can spray them with some oil, coat them in the cheese powder and roll them in the spice mixture.
Conclusion
Unfortunately, Cheetos aren't vegan. Sometimes, they're not even vegetarian. Flamin' Hot Cheetos can sometimes be vegan, but that is only in the UK.
Since there's a low chance of you finding Cheetos that are adapted to a plant-based diet, you could just make a vegan version at home, which is really easy to make.
This will be healthier than a regular Cheetos pack, but it will still be a calorific treat. So if you ever want a vegan version of this nostalgic pack, you should try it at home yourself, and let us know what you think of the results!
About the author