Busyness tends to be a modern status symbol. However, life on the move can often lead to unhealthy eating habits. Think takeouts and microwave meals, which have been known to cause numerous health problems if overindulged.
Luckily, Territory Foods might offer a solution to this modern-day dilemma. This is a company that delivers nutritious pre-made meals directly to your door, ensuring you stick to a much healthier diet and spend a lot less time in the kitchen.
In our Territory Food review, we will find out if this service really is worth the hype.
Let's get cracking!
What Is Territory Foods?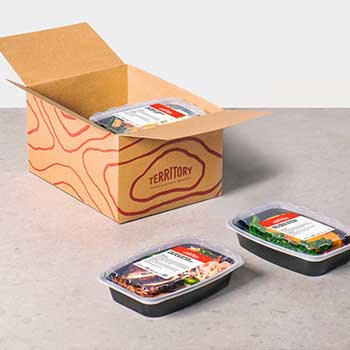 Territory Foods is a company that provides locally sourced meals across 4 territories in the USA (San Francisco Bay, Southern California, Dallas/Fort Worth, and Washington D.C./Baltimore/Virginia).
The meals themselves are designed by nutritionists and crafted by local chefs. Each dish is gluten-free and dairy-free, contains no refined sugars, and all ingredients are responsibly sourced.
Their menu options are also suitable for some of the most popular diets, including keto, paleo, whole30, and vegetarian/vegan options.
With over 35 healthy and delicious meals on the menu, lots of customers feel like they are being spoiled for choice - which is always a big plus.
Save $50 on Your First 2 Orders. Valid until end of May
These meals will then be dispatched to your door twice-weekly, ensuring your fridge is always well-stocked.
Benefits And Highlights Of Territory Foods?

There are plenty of reasons to sign up for this offer, let's look at some of them:
Healthy meals created by nutritionists and professional chefs.
Numerous menu options for a range of diets.
Over 35 meals to choose from every week.
Delivered twice a week, which ensures the food is fresh on arrival.
Positive user reviews.
Meals themselves are prepared fresh, well-packaged, and tasty to eat.
You can pause your subscription if you wish to skip a week of deliveries.
Other meal delivery services with vegan meal plans:
Territory Foods Shortfalls
Let's look at some of the potential problems of this service:
It is cheaper to buy from the grocery store. Paying premium dollars gets you the convenience of someone preparing these meals for you.
There seems to be a few issues with the delivery of the food boxes.
This service is only available in certain areas of the country.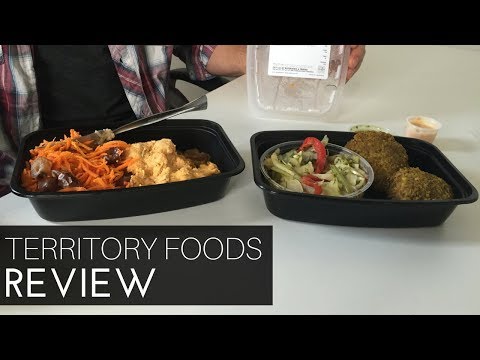 Customer Reviews

Territory Foods reviews from actual customers are overwhelmingly positive, with many impressed with the flavor of the food that has been sent, and how convenient the service is.
"Territory is a great option for delicious, nutritious, gluten-free, dairy-free meals that you can choose. They are reliable and provide responsive customer service." - Katherine A, Yelp Review
"My favorite meal delivery service with vegan options. By far the best vegan meals and food quality I've had, and I've tried them all."

- Joyana H, Yelp Review
However, not everyone is so pleased with the service they have received. Unfortunately, a few customers have found that their deliveries have gone missing. This is likely an issue with the courier who provides the shipping, but it is still a worry.
"They completely failed to deliver my meals despite their "technology" saying that it did. When I notified them 3 times, nobody followed up."

- Mark T, Yelp Review
"We had ordered for meals to be delivered last week (Sun night). Come Tuesday STILL NOTHING."

- Vivian N, Yelp Review
How Much Does Territory Foods Cost?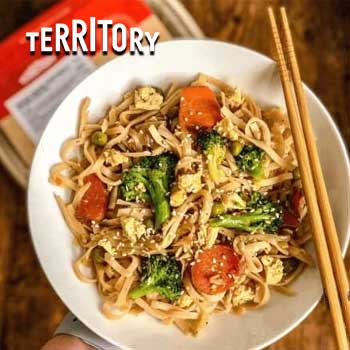 The cost of each Territory meals delivery will depend entirely on what you order. The meal plans are customizable and are priced per meal and by size.
Prices for individual meals on their official website are as follows:
Boost Size - $9.95+/meal
Standard Size - $12.95+/meal
It is worth noting that there is a 5% discount on your order if your order is a recurring one.
The cost of delivery also varies depending on what your order is. One time delivery fees will range between $7.95-$8.95. If you have multiple orders going to your address then the cost of shipping will drop to $2.95-$3.95 per delivery, per order.
How Flexible Is Territory Foods?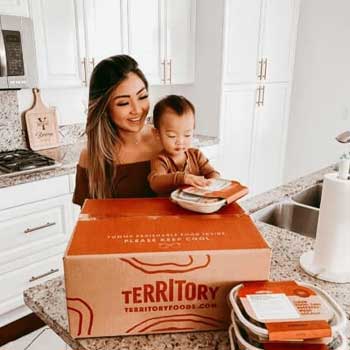 They are quite flexible, with 2 meal plans available, as well as the option to customize the shipment days for your orders.
The first meal plan delivers 10 meals weekly divided into 2 separate deliveries sent to ensure the freshness of your food. 5 meals will be delivered on Sunday or Monday, with the remaining 5 sent on Wednesday or Thursday.
Choosing the second meal plan dispatches a total of 18 meals each week. Again the deliveries will be split in 2, with 9 meals sent Sunday or Monday, and the remaining meals delivered on Wednesday or Thursday.
Your meal preferences are also flexible, and once logged into your account you can toggle between different filters and meal types to choose from.
Another thing you can customize is the size of the meals you receive, something that many other similar companies do not offer.
At present they have 2 options available (boost size and standard size), with the boost size containing between 250-450 calories while the standard boasts 400-650 calories per meal.
Are The Meals Tasty?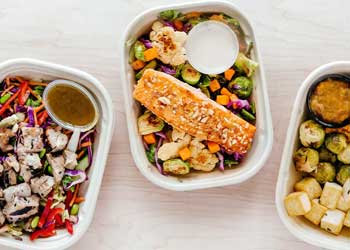 The meals are designed by nutritionists and cooked by local chefs. While the flavor of food can be subjective, looking at the customer reviews tells us that most customers are quite pleased with the taste.
Each meal is delivered fresh rather than arriving frozen, which can sometimes ruin the flavor of the meals.
A common issue with meal delivery services is that the packaging causes the food and their flavors to sort of blend into each other. Luckily, this is not the case here.
You will find that the individual ingredients that go into making a meal have been placed into separate containers.
Save $50 on Your First 2 Orders. Valid until end of May
Is There Much Choice?
Each week you will have over 35 delicious to choose from. This will ensure you do not become bored with what you are eating, and thus are more likely to stick to your healthier food choice.
They also have a menu that's chock-full of meals suitable for some of the more popular diets.These include the paleo diet, keto, mixitarian, Mediterranean, low fat, low carb, whole30, as well as vegetarian and vegan options.
The Perks Of Meal Kit Delivery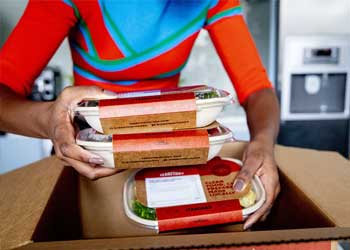 Most of us nowadays tend to lead busy lifestyles, which explains why we can't seem to visit the local grocery store, or regularly cook healthy home-cooked meals.
Luckily, opting for a delivery service like Territory Foods can have a massive impact on your life.
Instead of buying unhealthy takeout or heating a microwave meal packed of sugars and trans fats, you can ensure healthy meals made by local chefs are dispatched to your door.
Note that too much sugar and trans fats are incredibly bad for your health, with heart disease and type 2 diabetes being some of the most common resulting issues [1][2].
FAQs

Is Territory Foods Organic?
No, their meals are not certified organic, however, the ingredients used are responsibly sourced.
They work hard to find quality vegan protein sources as well as sources that are naturally raised without the use of antibiotics and other hormones. All seafood has been fished or farmed in a way that minimizes the harm caused to the ocean.
How Long Do Territory Orders Stay Fresh?
The delivered food will remain fresh for 3 days after the date of delivery.
You can choose to skip a week of Territory Foods deliveries (up to 4 weeks at a time) by clicking on 'Your Deliveries' while logged into your account.
From here you will need to click 'Manage Weekly Plan' and then under 'Order Status' you can click 'Skip a Week'. Simply select the weeks you wish to skip. Once toggled they will turn from gray to red. Finally, click 'Update' and no deliveries will be sent on those chosen weeks.
Where Do Territory Foods Source Their Produce?
Some of the farms used by Territory Foods to source their produce include:
Free Bird Chicken (DC)
Force of Nature Regenerative Farm (DC)
Jidori Chicken (LA)
Creekstone Pork (LA)
Niman Ranch (SF)
Safe Catch Tuna (SF)
Berkeley Bowl Produce (SF)
44 Farms (DFW)
Wayne Farms (DFW)
How Many People Does A Grocery Box Serve?
Their boxes will serve the following number of people:
A large box will serve 4 people for 1 week
A small box will serve 2 people for 1 week
How Do You Cancel Territory Orders?
To cancel Territory orders use the following steps:
Log into your account and select 'Your Deliveries'
Click on 'Manage Weekly Plan'
You will either default to 'Order Status' or you will have to click 'Order Status', which is found on the left-hand menu
Choose 'Cancel Your Order'
You must make sure that if you are canceling your account that you do so before the order deadline (Thursdays at 11.59 pm Eastern Daylight Time). Otherwise, you will be shipped another weekly box of meals.
Would I Use Territory Foods Again?
Even though Territory meals offer an ample choice of meal, I wouldn't say they are the best.
Yes, they offer a range of healthy and delicious meals created by nutritionists and professional chefs, but they also seem to be having a few issues with local shipping. Worst of all, their offers are limited to certain parts of the country.
The company we would recommend as an alternative would be Trifecta Nutrition Meal Delivery.
They offer a huge selection of plant-based meals designed for those looking to lose weight and improve their overall fitness. Their meals are highly recommended and have a number of endorsements from world-class athletes as well.
What do you think about our review? Got any experiences with vegan meal delivery services you'd like to share?
Let us know in the comments below.
Trifecta Nutrition Meal Delivery
Our #1 Recommendation
Offers large meal plan varieties - Keto, Paleo, Vegetarian, Vegan, and Classic
​Organic ingredients
​Utilizes low carbon footprint
​Delivers fully-cooked meals at your doorstep
Get the BEST PRICE until the end of May
Click For Best Price
About the author