Oatmeal can be a terrific alternative for breakfast. It provides long-burning energy and can help you feel fuller for longer - a favorite among athletes and strongmen, too.
Pictures of beautifully prepared overnight oats or a bowl of porridge topped with delicious fruits and nuts have become an Instagram breakfast staple.
But is it vegan? And if it is, what should we look out for and why?
In this article, we're going to take a deep dive into a steaming hot delicious bowl of oatmeal. Metaphorically, of course. Let's get started.
Is Oatmeal Vegan?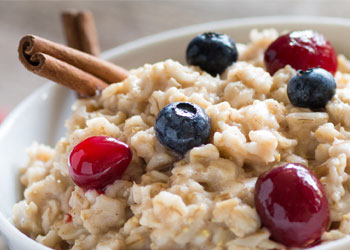 Yes, oatmeal is vegan. There is nothing about the basic recipe of rolled oats that isn't vegan. So if you're planning to make yourself a bowl the old fashioned way at home, go right ahead.
When it comes to more convenient forms of oatmeal, say store-bought, readymade, or microwave oatmeal, things get a little more tricky.
It's always a good idea to give the ingredients list a thorough scan.
Additionally, if you were going to order oatmeal at a restaurant or for a hotel breakfast, it would be a good idea to ask if it's made with butter or milk.
[thrive_leads id='11437']
What Is It Exactly?
Oatmeal is as simple as it comes. It's a meal made from groats, which is what we call the whole oat plant. The outer layer, called the hull, is removed and the oat seed is dried and prepared for use.
The most common use for oatmeal is making porridge. This is done by soaking the oatmeal in liquid and heating it through until it becomes an ooey-gooey chewy delight. If you prefer your breakfast cold, that is. However, overnight oats are a great meal alternative and perfect for soaking in those fruity flavors.
You can also use oatmeal in your baking to add some hearty flavor to your favorite cookie or cake recipes.
4 Different Types Of Oatmeal

There are a few different ways to prepare your oatmeal, which will affect its texture and taste.
1. Old Fashioned Oats (Rolled Oats)
This is what most would consider being the classic oat. It's what your Nanna would have made for you in the morning (and likely SEVERELY overcooked, thanks Nanna).
After the hull is removed from the oat grain, it is steamed before being rolled flat and flaked into the shape we know and love. They aren't rolled completely flat, though, and this gives them more of that chewy texture.
2. Quick-cook Rolled Oats
Another product that tells you everything you need to know in its name alone. These oats are for those amongst us that value speed above all things.
Quick-cook rolled oats are prepared the same way as old fashioned rolled oats with just one difference. They are rolled out much thinner, which dramatically reduces the necessary cooking time and impacts their texture, making a porridge that seems much thinner with less chew.
3. Instant Oats
When quick-cook rolled oats aren't quick enough, you might be in the market for instant oats. As you might guess, these are the fastest and easiest oatmeal to prepare.
The other rolled oats are steamed before being rolled out. Instant oats are completely cooked and then dried before being rolled out as thin as possible, even thinner than quick-cook. This results in oatmeal that can be prepared instantly (oh, we see what they did there). Unfortunately, you lose a lot of the texture, and instant oatmeal is considerably less healthy for you. More on that later.
4. Steel Cut Oats
Steel-cut oats are for the raw eaters or the health nuts amongst them. They're as close to natural as an oat can be.Steel-cut oats are unprocessed; once the oat grain is removed from the groat, it is left as nature intended and cut up into small rice sized chunks.
There is no steaming or cooking as there is with rolled oats or instant oats. While it might be more natural, it takes considerably longer to cook steel-cut oats, but it does provide a much chewier and denser porridge for that investment.
4 Non-Vegan Ingredients
1. Butter
If you are ordering oatmeal at a restaurant or diner, you should always clarify that you don't want any butter mixed. It does provide a richness to the breakfast, which is why it is a commonplace to add it into a bowl. In Scotland, where oatmeal for breakfast is all but mandatory, they often have it savory with butter and salt.
2. Milk
Milk is the most common ingredient that will make oatmeal, not vegan. If you are buying instant oats or oatmeal from an eatery, it's best to check if it comes with any milk or milk derivatives already added into it. Luckily as lactose is common, allergen menus and ingredients lists normally make it extra visible with bold lettering.
3. Sugar
It's not just for health reasons that you should add your own sugar. Often white sugar is bleached with bone char, and a growing number of vegans are avoiding the ingredient completely because of this. If you have a sweet tooth, bring your brown sugar or agave syrup from home.
4. Honey
Honey and oatmeal go together like a match made in heaven, but if you don't BEE-lieve in the ethics of it, you'll want to avoid it. Check your ingredients list and consult with a waiter on how the oatmeal is prepared, so you're accidentally surprised with it.
5 Best Vegan Instant Oatmeal Brands
Like ramen noodles, I will always recommend making your oatmeal fresh overusing instant oatmeal. It's healthier and much more satisfying in flavor and texture to take your time and make your own. However, as a busy modern man, I also fully appreciate that time is a limited resource, especially in the mornings. So if you need something quick, here are 5 of our favorite instant oatmeals for vegans.
1. Dr. McDougall's Right Foods
I talk a big game about instant oats being less healthy, but I still keep a cupboard full of Dr. McDougall's Right Foods just in case. If a morning gets derailed and I need something delicious, nutritious, and super quick, this is what I reach for.
These instant oats come in different flavors such as hemp peach, organic mighty omega, cranberry almond, chia berry, fruit flax and nuts, and the gluten-free, organic apple flax, and organic maple.
2. Bob's Red Mill
I love the marketing for Bob's Red Mill; it's super simple and looks as warming as the vegan oats inside. If a lumberjack were going to eat oatmeal, he'd probably eat Bob's, Red Mill. These gluten-free cups are all plant-based and vegan friendly. They focus on fruit flavors as well as fan favorites such as maple and cinnamon.
3. Love Grown
Simple, straightforward, wholesome, and delicious. Love Grown focuses on the basic flavor with classic flavor options such as blueberry banana walnut, apple cinnamon, strawberry raspberry, and peach vanilla almond. All of their instant cups are gluten-free, certified non-GMO, organic, and even make a point to point out that they use brown sugar, which is more vegan friendly.
4. Dave's Naturals
You cannot get more instant than this. These vegan overnight oats are stored in the fridge and all you have to do in the morning is grab a cup and tuck right in. Their vegan-friendly flavor selection includes cinnamon raisin, apple nut, and blueberry vanilla.
Dave's Naturals are as delicious as the chewy chunks of real fruit and crunchy nuts, and it's texturally one of the most wholesome and filling there is.
5. MUSH
Ready to eat straight from the fridge, MUSH is the perfect morning oat. As the name implies, they are going for flavor over various textures. The dark cacao, wild blueberry, and vanilla bean porridges are as smooshy as they come, and if you're into that baby food kind of breakfast, this is definitely for you. I prefer a bit more crunch and chew, if I'm honest.
2 Easy Vegan Oatmeal Recipes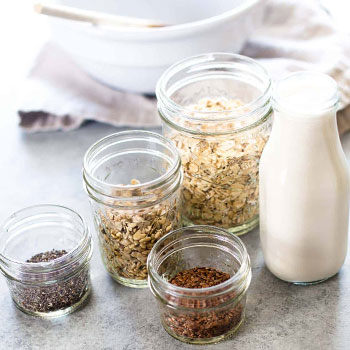 This is my favorite vegan oatmeal recipe, as well as my favorite simple overnight oats. It couldn't be easier.
All it takes is a basic oatmeal recipe with a little flourish of cinnamon and vanilla, and then you can top it to taste differently every morning. I like mine with blueberries, pecans, and a little extra maple syrup.
2. Classic Vegan Overnight Oats (from Fit Foodie Finds)
Oats, chia seeds, almond milk, that's pretty much all it takes to prepare yourself a super healthy and super easy breakfast.
Make up a couple of jars at a time and put them in the fridge for a couple of easy but satisfying, delicious morning treats.
Check this video for more vegan oatmeal ideas: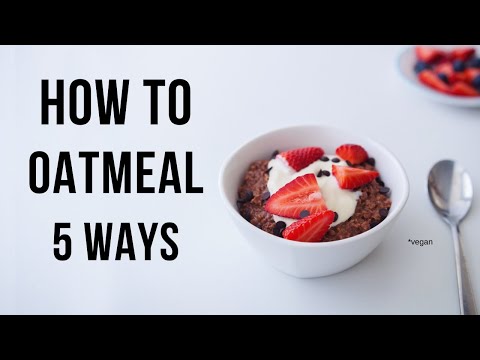 For those who are looking for healthy vegan recipes made with affordable and protein-rich nutrients, read these:
Nutritional Benefits
There is a reason that oatmeal has a reputation as the breakfast of champions. Well, there are a few. The Scotsman's favorite provides nutrition at a level that a couple of slices of toast never could.
First of all, a diet filled with healthy whole-grains such as oats has been shown to significantly lower cholesterol [1]. Oats are also a great source of iron, B vitamins, zinc, phosphorus, and other essential minerals and vitamins.
Moving on from micronutrition, they are also a great way to get healthy fats, protein, carbohydrates, and fiber all in one handy bowl. This is why porridge has such a great reputation as providing slow-release energy that keeps you feeling fuller for longer [2].
The complex carbs in oatmeal have a low glycemic index, which means they will help keep your blood sugars consistent throughout the day, which means no midday sugar crash!
For those of us looking to be "gettin swole with it brotha," the protein content in oats is very high for a breakfast food with a staggering 13 grams of protein per half a cup of oats [3].
It should be noted that not all oats are created equal, though, and instant oats will provide much fewer nutritional benefits than steel-cut, rolled, or quick-cook oats. If you are looking at oats for breakfast for nutritional gain, skip the instant oats.
Final Words on Vegan Oatmeal
Next time you hear someone ask "is oatmeal vegan?" you give them a straight up YES!
In fact, oatmeal is a great breakfast choice and provides a good amount of nutritional benefits that you might struggle to find in other vegan breakfast options.
Not only that: if you are looking to hit the gym, oats are one of the most protein-rich breakfasts you can find. Just make sure to check that ingredients list.
What is your favorite vegan oat recipe? Let us know in the comments below.
[thrive_leads id='11437']
References:
https://pubmed.ncbi.nlm.nih.gov/26269373/
https://www.ncbi.nlm.nih.gov/pmc/articles/PMC4757923/
About the author