There's nothing quite like the chew and flavor of some good beef jerky. Well, now there is. Vegan jerky is the low carb, high protein snack that we've all been waiting for.
It's healthier, just as flavorful, and after all the chewing is done, you don't have to swallow the rotten carcass of murdered animals or pull stringy fat from your teeth.
If you're looking for a road trip snack or something to pack a punch to an empty tum after the gym, here are our picks of the best vegan jerky products around.
Our Top Vegan Jerky
1 - Louisville Vegan Jerky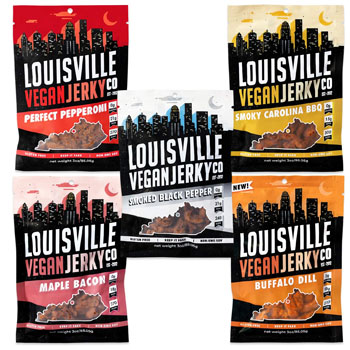 If vegan jerky is an accepted alternative to the famously meat-based snack [1], Louisville Vegan Jerky paved the way. They've been serving up a product that would even give the most diehard meathead something to chew on since 2012.
These gluten-free, non-GMO, soy-based marvels are a great protein source [2] and come in a drool-worthy selection of flavors like smoked black pepper,Sriracha Maple, Carolina BBQ, Smoked Chipotle, and maple bacon.
With around 5-7 grams of protein with no cholesterol and being low in fat and carbs, Louisville Vegan Jerky has become my go-to gym snack.
PROS
A respectable amount of chew with every bite
A fantastic array of delicious flavors, each better than the last
Low in fat and carbs
Healthy snack perfect for on-the-go or your gym bag
CONS
As the trendsetting product, they have a price tag to match.
2 - Pleather Vegan Jerky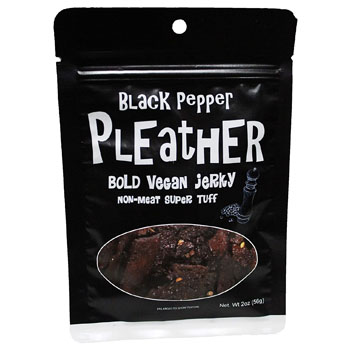 If you're after a beef jerky replacement to gnaw on, I have to say that the bold black pepper is the best bang for your buck. It's tough, it's textured, and it's got just the right amount of spicy kick and flavor.
As well as that badass cowboy feeling of chewing on leather, the seitan base has also got an impressive amount of protein per serving at 16g. Unfortunately, the seitan base also means that it isn't gluten-free.
PROS
The best there is for an incredible chew and dynamic flavors
Excellent authentic taste and texture
Powerful protein per serving
CONS
Gluten based and not as allergy-friendly as other options
"Vegan Jerky makes a great road trip snack because it's easy to store, filling, and it's packed with portable protein. Not to mention, vegan jerky is free of cholesterol and animal fats, so it's also healthy for you."

- Heather McClees, writer and onegreenplanet.org
3 - Sam's Harvest Jerky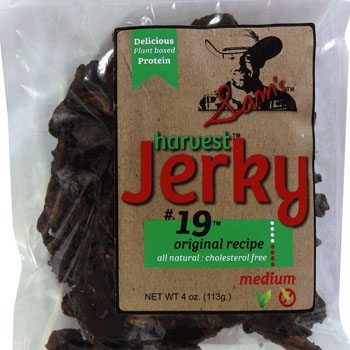 If you're here to board the chew chew express heading straight for flavor town USA, then Sam's here to be the conductor. This plant-based jerky is made from Butler Soy Curls and is liberally flavored with an authentic coating with variable spice and intensity.
It's a hot spicy lip-smacking experience that sticks to the roof of your mouth and stays there, meaning you get to continue enjoying it even after you've devoured the whole bag. It's not my favorite in terms of texture; it's a little too soft, but it's right up there in flavor.
PROS
Incredible mouth-watering flavors
Proves jerky made from the simplest vegan ingredients still works
Looks the part with classic quality jerky packaging
CONS
Lacks the chewiness of another vegan jerky
4 - Primal Spirit Vegan Jerky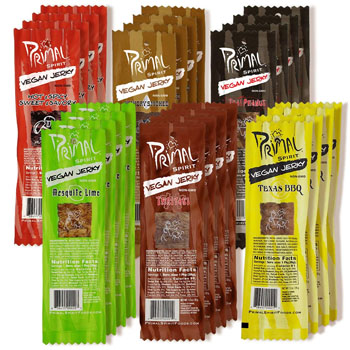 I love this jerky; if you don't love this jerky, you're a jerk. It's 10g of protein and 1000g of texture and taste that bitch slaps you across the tongue and then cuddles your tum, leaving you feeling full and content... even a little kinky.
If you get the 24 sample pack of the Primal Spirit primal strips, then you're getting an incredible value. You also get to try all the delicious flavors like mesquite lime, Thai peanut, and the fan-favorite hot and spicy mushroom jerky.
The hot and spicy flavors of the Shiitake mushroom jerky will leave you needing to call the fire department for your mouth.
PROS
Incredible value with significant savings for buying primal strips in bulk
Fantastic range of different textures, taste, and a great source of protein
Comes pre-portioned in bars, so you don't overindulge
CONS
Some people don't like some of the different textures
5 - Noble Jerky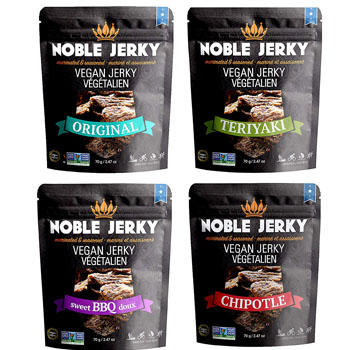 This jerky comes from Thailand, and it has to be said that Asia has been making meat-free meat snacks for a long time. Tofu was the OG Impossible Burger. We've come a long way since then, though, and this jerky could even convince the most cantankerous carnivore.
A few reviews claim they had to double-check they'd got the meatless jerky and not been sent the real thing by mistake. But what is even more impressive than the texture is the taste. This jerky comes loaded with flavor.
PROS
Incredibly convincing texture
BIG on flavor
Non-GMO and vegan certified ingredients
6 - It's Jerky Y'all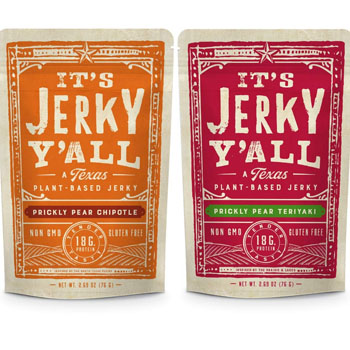 I'm a big fan of this Texas-based jerky company. They make a point to list how vegan jerky is not only a valid alternative but better than beef jerky. Then they put their money where their mouth is and deliver some of the best tasting jerky I've ever tried.
The prickly pear teriyaki is otherworldly, and the authentic hickory-smoked Texas bbq vibe of all the flavors is unbeatable. The traditional black pepper and sea salt flavor is hard to beat.
The company also donates some of the profits to a Texas-based animal sanctuary, which means not only are you not eating cows, but you're looking after them.
PROS
Donate profits to a cow sanctuary in Texas
Texas-based, and they know their jerky
Excellent tasting jerky with a great chew and bold flavors
CONS
A little bit more expensive than other brands
7 - Wild Joy Goods Banana Jerky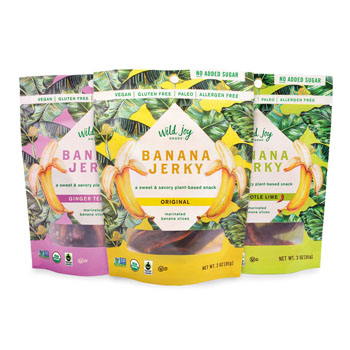 For the novelty alone, I would recommend this product. But if you're looking for a healthy snack, it doesn't come much cleaner than this. There are no fats or sugars, and the ingredient list is impressively slim.
The texture is meaty with an impressive amount of chew, and the chipotle lime flavor is my personal favorite with just enough kick to balance the naturally sweet banana. If you want your vegan jerky to be protein-based, though, this isn't it at only 1g of protein per serving.
PROS
Super healthy snack
No added sugars and 0g of fat
A surprisingly tasty vegan type jerky
CONS
Not a decent protein serving
8 - Su Mama Roasted Vegan Jerky Hot and Spicy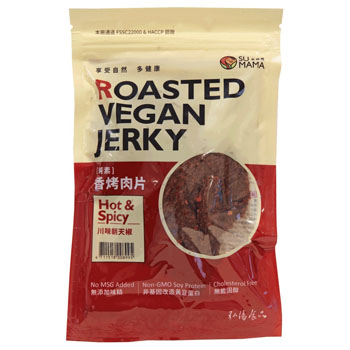 Okay, now this is one of those where it's probably vegan, but not definitely. The sugar isn't vegan certified, and there is a lot of it, 4g of it per serving, which is equal to the 4g of protein. The vegetable protein is clean, though, and not from GMO crops.
The taste and texture of this jerky have many people hooked, especially the hot and spicy flavor. As mentioned before, the flavor comes mostly from the sugar bomb chucked right into the middle of the ingredients list.
PROS
The hot and spicy flavor has a real tasty kick
Unique moreish texture and taste
Can be found real cheap in Asian supermarkets
9 - Hoya Vegan Jerky Sweet & Grilled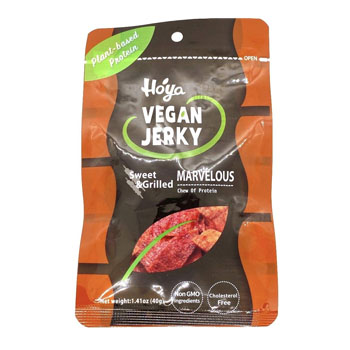 This is another import that you can hopefully find in your local Asian supermarket but, it's a little pricey online. It can feel a bit oily, and the ingredients aren't the cleanest, with multiple forms of different added sugars.
This isn't your average gas station jerky co type snack. It's its own thing, but it has excellent chew and some lip-smacking flavor.
PROS
Cheap if bought in store
Big flavor and a nice chew
Sweet but savory
CONS
Definitely not "health food" with a long list of additives
10 - Vegan Dream Jerky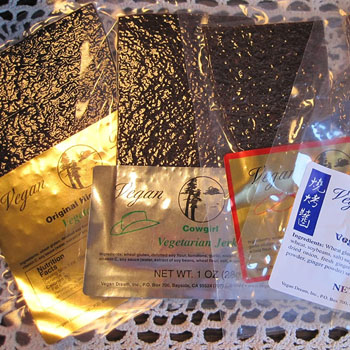 If you like your jerky to feel like you're chewing through the side of a cowboy boot this jerky is tougher than a two-dollar steak, but it's vegan, so tougher than two-dollar tofu?
I will say that the texture is excellent, but the taste is far from the best. They're a little bland compared to other entries on this list.
PROS
Meaty and tough texture
Gives you that real cowboy feeling
Simple but stylish packaging
Which Is The Best Vegan Jerky?
I love that we live in a world where we are now a little spoiled for choice when it comes to great-tasting vegan jerky.
But if I had to pick just one to chew and chew on until the end of the world, Louisville jerky made it to the top of the list.
For me, they are the company that started the trend, and they've ridden the top of the market like a seasoned cowboy at the rodeo.
It's healthy, it's protein-packed, it's delicious, it's all American. Please give it a go and let us know what you think.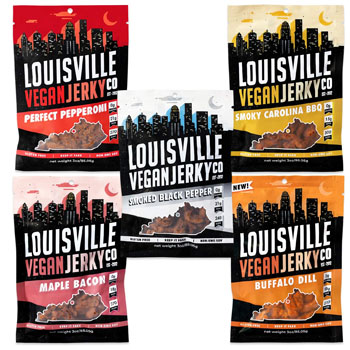 Louisville Vegan Jerky
Our #1 Recommendation
A respectable amount of chew with every bite
A fantastic array of delicious flavors, each better than the last
Low in fat and carbs
Healthy snack perfect for on-the-go or your gym bag
Get the BEST PRICE until the end of May
Check Current Price
About the author