I'll be honest with you, there is nothing on this earth that makes me happier than waking up to the smell of french toast and a big cup of coffee. My partner knows that if they need to butter me up, then they should do it quite literally with the best french toast recipe for breakfast in bed.
There is something simultaneously homely and luxurious about excellent vegan french toast recipes. The recipe can have you salivating before you've even seen it. The aroma wafts from the kitchen and pulls you in, drifting on a cloud, hooked by your nostrils.
But can you make vegan French toast? And more importantly, are the vegan recipes good?
Why French Toast Isn't Normally Vegan?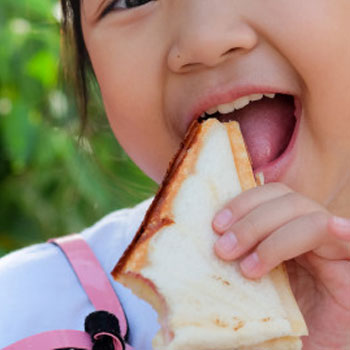 French toast is a great vegetarian recipe, but it's about as non-vegan as you can get. This easy to make toast main ingredients in the recipe being egg and milk.
While milk is relatively easy to replace in a vegan kitchen with the prevalence and availability of nut, oat, and soy alternatives, eggs prove to be a lot more complicated.
Eggs are an ingredient that is particularly difficult to substitute. This is due to the texture, taste, and behavior when cooked.
There are very few vegan alternatives readily available, and so if you want to make something with egg as the main ingredient vegan, you have to get creative or you can use vegan eggs as a substitute.
[thrive_leads id='11437']
How To Make Vegan French Toast
As I mentioned before, I'm a bit obsessed with making french toast and vegan recipes, always have been. This has meant that since my switch to being vegan, I have been on the hunt for the best vegan recipes and vegan french toast! I've tried them all.
Now I'm no culinary whizz or chef myself, but I can follow a recipe. So below, I've collected some of my favorites, each recipe utilizing a slightly different egg alternative so that you can find your favorite recipe too. I highly recommend all of the blogs featured, and you should check out their other great recipe also.
1. Basic Vegan French Toast

Ingredients:
One heaping Tbsp chia seeds (whole or ground into a fine meal, so they're undetectable)
1/2 Tbsp agave nectar or maple syrup (or sub honey if not vegan)
1 cup unsweetened almond milk (or any non-dairy milk)
1/2 tsp ground cinnamon
1/2 tsp vanilla extract
4-5 slices bread (it's essential to use a sturdy, rustic bread, or it can turn out soggy/soft)
Instructions:
Mix all recipe ingredients except the bread in a large, shallow bowl. Place in the fridge to activate for 10-20 minutes.
Preheat griddle to medium heat (~350 degrees F / 176 C) and grease with 1 Tbsp vegan butter or coconut oil.
Dip each slice of bread in the batter for about 20 seconds on each side (If your batter is too thick, thin with a bit of dairy-free milk). If your bread is dry, leave it in a little longer. If you're using sandwich bread, it should only need 25-30 seconds total to soak.
Place on a griddle and cook until golden brown on the underside. Carefully flip and cook until the other side is golden brown as well – 3-4 minutes.
Top with desired toppings: I made this recipe with coconut whipped cream, strawberries, and maple syrup for this great recipe [1].
Nutrition Facts:
Serving: 1 slice
Calories: 165
Carbohydrates: 29.6 g
Protein: 6.1 g
Fat: 2.4 g
Trans Fat: 0 g
Cholesterol: 0 mg
Sodium: 343 mg
Fiber: 2 g
Sugar: 3.9 g
2. Vegan French Toast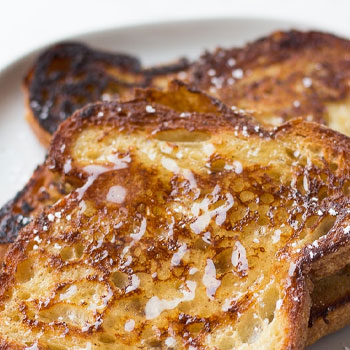 Ingredients:
1 cup unsweetened soy milk (or other non-dairy milk)
1/4 cup cornstarch
One teaspoon ground flaxseeds
1/2 teaspoon baking powder
One teaspoon ground cinnamon
Two teaspoons pure maple syrup
One teaspoon vanilla
6-8 slices thick-sliced quality bread, such as ciabatta or french
2-3 tablespoons vegan butter or coconut oil for frying
For serving: maple syrup, powdered sugar, or fresh fruit
Instructions:
A shallow bowl, wide enough to hold a piece of bread, whisk together the soy milk or coconut milk, cornstarch, ground flaxseeds, baking powder, cinnamon, maple syrup, and vanilla.
Add a little bit of vegan butter/coconut oil to a pan over medium-high heat and melt. Whisk the batter again right before dipping bread, as the cornstarch will settle to the bottom of the bowl.
Dip each side of the bread in the batter and let soak for about 10 seconds, then add the bread to the pan and cook for 2-3 minutes on each side, until golden brown. Add more vegan butter/oil to the pan as needed in between pieces of bread.
Serve with maple syrup, powdered sugar, and fresh fruit, if desired [2].
Nutrition Facts:
Serving: 1 serving
Calories: 404kcal
Carbohydrates: 69g
Protein: 12g
Fat: 8g
Saturated fat: 2g
Sodium: 648mg
Potassium: 165mg
Fiber: 2g
Sugar: 3g
Vitamin A: 524iu
Calcium: 141mg
Iron: 1mg
3. (Gram Flour) Vegan French Toast
Ingredients:
3 tbsp maple syrup
150g blueberries
2 tbsp gram flour
2 tbsp ground almonds
2 tsp cinnamon
200ml oat milk or rice milk
1 tbsp golden caster sugar
1 tsp vanilla extract
Six slices of thick white bread
grapeseed oil for frying
icing sugar for dusting
Instructions:
Gently heat the maple syrup and blueberries in a saucepan until the berries start to pop and release their juices, then set them to one side in the pan. Whisk the flour, almonds, cinnamon, milk, and vanilla together in a shallow bowl.
Heat a little oil in a frying pan. Dipping the bread into the milk mixture, shake off any excess, and fry the sliced bread on both sides until it browns and crisps at the edges. Keep the slices warm in a low oven as you cook the rest. Make this recipe with the blueberries spooned over and dust with icing sugar [3].
Nutrition Facts:
Calories: 210 kcal
Fat: 6g
Saturates: 1g
Carbs: 32g
Sugars: 16g
Fiber: 2g
Protein: 5g
Salt: 0.3g
4. The Best Vegan French Toast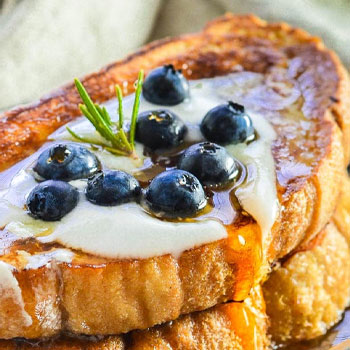 Ingredients:
240mls / 1 cup plant-based milk
130g / 4½ oz / ½ heaping, very packed cup extra firm tofu (not silken)
Two teaspoons vanilla extract
Two tablespoons sugar, cane, turbinado, or white (not brown or coconut sugar)
¼ teaspoon ground cinnamon
⅛ teaspoon salt
One tablespoon OPTIONAL vegan butter, plus a little extra for brushing on the griddle/pan
Six thick (around 1 inch) slices of crusty, sturdy, white bread, it should be a couple of days old
Instructions:
Add everything except the bread to a blender and blend until completely smooth.
Preheat a griddle or a pan over medium/low heat.
Brush the griddle/pan with a little vegan butter (oil can be used instead, but butter tastes better). Even if it's a non-stick surface, I recommend doing this as it makes it much easier to keep the golden crust that develops on the bread intact when turning it.
Pour the blended 'custard' into a wide bowl and dip the bread in it. Please leave it to sit for around 20 seconds, then turn over and leave for another 20 seconds. Ensure all areas are covered, then lift it out and quickly dip the crust around the edges.
Carefully place the custardy bread slices onto the preheated griddle or pan. Cook for around 4-5 minutes or until deeply golden, then flip carefully and cook for another 4-5 minutes on the other side, or until deeply golden. Try to leave it alone and not peek while it's cooking. If you move it too early, the golden surface can get damaged and not look quite so pretty.
Remove from the pan and serve this vegan breakfast immediately [4].
Nutrition Facts:
Serving: 1 thick slice
Calories: 238kcal
Carbohydrates: 38g
Protein: 10g
Fat: 5g
Sodium: 420mg
Fiber: 1.5g
Sugar: 7g
Vitamin A: 100IU
Calcium: 120mg
Iron: 2.9mg
Vegan French Toast Toppings
There are as many ways to top your french toast as there are different recipes. Below I'll list a few simple options which you can mix and match as the mood takes you for the best french toast ever.
Banana
Blueberries
Strawberries
Whipped Coconut Cream
Nutritional Yeast
Maple Syrup
Cinnamon
Vegan Butter
Powdered Sugar
7 Common Vegan French Toast Mistakes

1. Too Much Milk
With traditional french toast, if you add too much milk, the custard's egg won't cook really good. This is just as true for the vegan alternatives, and you'll be left with a soggy kind of bread. The perfect french toast should be dry on the outside and crispy at the edges. Less is more when it comes to the milk in the mixture.
And speaking of vegan alternatives, here's a step-by-step process on how to make vegan evaporated milk.
2. Not Mixing
Another common mistake when making your french toast custard mix is not combining the ingredients well enough. With an egg-based mixture, this can mean visible egg whites on the outside of your bread, which is an obvious sign of an amateur whisker. It will leave clumps for vegan mixes, and the spice and flavor will not be as well spread over your toast.
3. Choosing The Wrong Bread
If you are making gourmet french toast and not using up what you already have, then some breeds are better than others. You want bread that is between ¾ to 1 inch thick. This means it can soak up the mixture and still cook through. The bread that is too thin or not spongy enough runs the risk of falling apart.
4. Undertaking 
This is the most common mistake of them all and completely ruins the texture of your french toast. Many people dip their bread in the mixture and then put it straight in the pan. It would be best if you let the bread soak for 15-20 minutes, applying gentle pressure to properly absorb the mixture into the center of the bread for that unique french toast texture.
5. Too Much Or Not Enough Heat
Like many egg-based recipes, French toast is best over medium heat, and this is just as true for the vegan varieties. If you have it at too high a heat, it will caramelize and burn quickly but won't cook properly in the middle, meaning you'll have a soggy but burnt piece of french toast. Conversely, not enough heat will dry out, which will ruin the texture in the opposite direction.
6. Cold Pan
You have to preheat and prepare your pan for french toast. If you put your french toast into a non stick pan that isn't up to heat, it will allow the mixture to seep out of the bread before it has a chance to cook and seal inside. This will dry out your french toast and form an "eggy" foot around the bottom of your bread.
7. Only Using Butter/Spread
When I make delicious vegan french toast, I use a combination of vegan spread and a little coconut butter. I let the coconut oil melt and coat the pan's bottom and then add my vegan butter for flavor. The oil stops the butter from burning and sticking to the bottom of the pan. You should also clean the pan and use fresh butter/oil each round of toast to avoid burnt bits on your bread.
Can You Make A Vegan French Toast Recipe?
At first, I was skeptical that I'd ever find a regular french toast recipe that I loved as much as the traditional recipe. I am thrilled to have been proven wrong.
All the recipes above are tried and tested multiple times, and each of them provides its unique take and twist on the eggy bread classic.
Personally, A Virtual Vegan tofu toast recipe is my number one vegan recipe as the texture is just as I remember it. It goes perfect under maple syrup and blueberries with a slightly savory flavor to balance it.
Have you tried the best french toast? Do you have a recipe or tips or tricks? Let us know in the comments below.
[thrive_leads id='11437']
About the author