Years after becoming a vegan, I still get many comments about my lifestyle. People are concerned that I don't have enough energy for cycling or general exercise just because I don't eat meat.
I decided to end the myth that it's impossible to be a vegan cyclist once and help you become one yourself.
Can a Pro Cyclist be Vegan?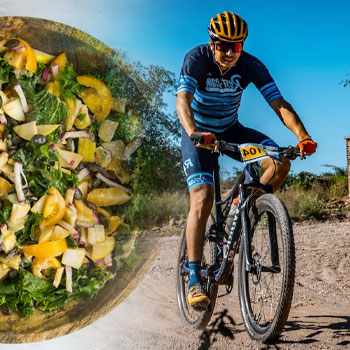 Yes, a million times yes - a pro rider can be a vegan. The vegan athlete is on the rise, and I couldn't be happier about it. Long gone are the days of a pale, weak vegan athlete who lives only on limpy, sad salads and lentils.
Now, I can bet on my life that there's no vegan on this planet that hasn't heard the following words: "But, where do you get your protein?".
People blindly believe that they need to eat meat to get protein, and it's not true. All plant-based foods contain protein — the essential thing is to eat a variety of them.
You can get your protein from nuts, legumes, seeds, iron from squash, beans, and leafy greens, while the best source of calcium is soy and almonds.
[thrive_leads id='11437']
If you're still not sold on the idea of a vegan athlete, let me mention a couple of world-class vegan cyclists:
Christine Vardaros, world-known biker
Adam Hansen, Lotto Soudal
Catherine Johnson, Elite CX champion
David Smith MBE, Paralympian
They've all achieved incredible results and made a change in the world of sport while following the vegan diet. But, I want to share more information on Christine Vardaros since she significantly impacted vegan cycling.
Meet Christine Vardaros — World-Class Vegan Cyclist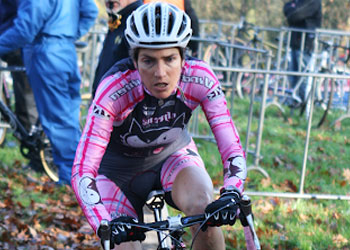 Christine has been a vegan athlete for more than 20 years. She started her cycling career in 1996 as a mountain biker in her hometown — Manhattan.
She relocated to California after a couple of years to pursue the dream of becoming a professional mountain bike rider. One day at a time she trained and honed her riding skills.
In late 2002, Vardaros ditched the mountain bike and took up road riding and cyclo-cross, what a change!
She is now known as a vegan cyclo-cross specialist.
She represented the USA at three World Cyclo-Cross Championships and more than 25 Cyclo-Cross World Cups throughout her whole career. Truly impressive!
When asked why she became a vegan, she said:
"I originally became vegan to benefit from its sporting advantage, as I had just become a professional cyclist.  Once I changed my diet, I quickly realized the ethical ramifications of my choices and this is what keeps me 100% strict with how I eat and how I live. I want to be able to say that nobody was hurt for me to achieve my successes on the bike. Thanks to my vegan diet, I am still racing at the top professional level well into my mid-forties."
What may impress you even more, is that Vardaros is a spokesperson for The Vegan Society, In Defense of Animals, Physicians Committee for Responsible Medicine, and Organic Athlete. It's her way of spreading information on the benefits of veganism.
So, what does a vegan athlete eat in a day? I looked into Christine's favorites, and recommendations and I'd also like to share some of my own. You may want to check them out if you're training for your first race.
What to Eat Pre-Ride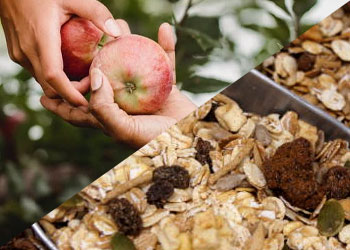 You don't need special sports drinks, power bars, or other supplements. Yes, they're useful and come in really handy, but plain food can also make a significant difference.
Your muscles mainly use fat and sugar for energy, so about an hour before you start cycling, eat your usual breakfast. Avoid pancakes and other high-sugar added foods to avoid crazy blood sugar level spikes.
High-sugar breakfasts like pancakes can make your blood sugar level spike up. An insulin level spike usually follows it.
Then, there's a sudden drop in the blood sugar level, which results in you being tired. Not to mention that consuming added sugars can result in insulin resistance [1].
Christine eats muesli and oats with an apple or a banana and warm water. This is an excellent idea for a breakfast that will fill you up and keep your energy levels steady.
Furthermore, you can try spreading nut butter on whole-grain bread and topping it with 100% natural fruit spread if you can't live without a sweet breakfast. That way, you'll satisfy your sweet tooth and avoid the sugar spikes.
If you're looking for other perfect vegan pre-ride meal, check out this video: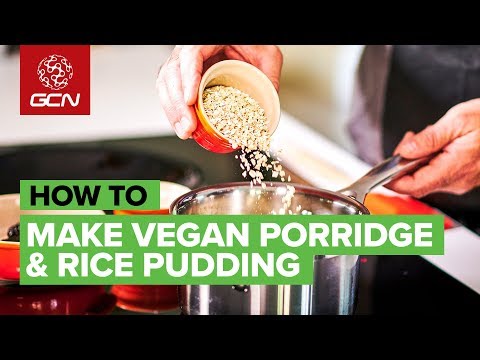 What to Eat During the Ride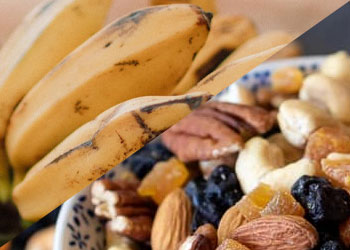 If the ride lasts for a long time, you'll need a mid-ride snack, as well. You may want to add some carbs here to replenish your energy levels. Carbs break down glucose that your body can use as fuel.
Your body can also break down carbs into fats and store them for later use [2], which is particularly useful during long cycling sessions.
Opt for energy bars that contain carbs, fat, and protein. You could also go for dried fruit and nuts mix, bananas, and other fresh fruit. I personally like dark chocolate.
Please, be careful not to overeat and drink plenty of fluids to stay hydrated. I'd recommend eating about 30–60 grams of carbs per hour if your race or training will last for a longer time.
What to Eat Post-Ride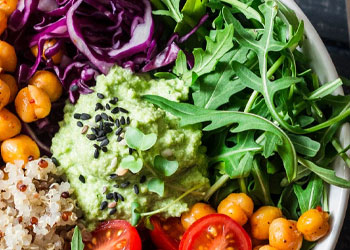 What you eat after the cycling session isn't the only thing that determines your recovery. It would be best if you got the timing right, too.
Some thirty minutes after cycling, your body starts the recovery process, so aim to eat within the hour of getting back from your cycling session.
The best way to help your body recover is by getting more carbs and protein. The right amount of carbs and protein will stimulate your muscle protein synthesis.
It'll also improve your recovery and improve your performance during the next cycling session [3]. If you happen to be unable to eat something within the first hour, make sure you don't go more than two hours without replenishing your protein and carb needs.
I should also remind you to drink lots of water and take electrolytes to enhance recovery.
But, no matter which meal is in question, make sure you're consuming enough calories. People who switch to a vegan diet often feel they don't have enough energy to make it through the day, so getting enough exercise seems impossible. When you replace calorie-packed foods with foods that have fewer calories but more volume, it may seem like you're eating the same. You're not, and you should eat more.
I'd also advise you to ditch the fake or faux meat. Processed foods like Tofurkey claim to be made from "natural vegetarian flavors." This means that they're packed with canola oil, wheat gluten, and flavoring, which aren't the healthiest ingredients. Instead, it would be best if you went for tempeh and tofu. They're rich in protein, calcium, and iron.
Some vegan athlete cupboard staples also include:
Quinoa — an excellent source of B vitamins and minerals. It has twice as much protein as barley or rice.
Nut butter — a great source of fats, minerals, and protein. It's particularly rich in selenium.
Flaxseed oil — an important Omega-3 source.
It's Easy to Become a Vegan Cyclist
As you've seen, being a vegan athlete isn't impossible. All you need is will and determination. You can easily conquer cycling races if you put your mind to it. Just be sure to get enough calories from your meals and snacks.
Be mindful of what you'll eat before, during, and after riding, to maximize your strength. Pack on those carbs, fats, and protein, and you'll have the energy to do anything!
[thrive_leads id='11437']
---
References:
https://www.healthline.com/nutrition/blood-sugar-spikes#TOC_TITLE_HDR_4
https://www.healthline.com/nutrition/good-carbs-bad-carbs#TOC_TITLE_HDR_2
https://www.healthline.com/nutrition/eat-after-workout#:~:text=Consuming%20a%20proper%20amount%20of,hours%20before%20eating%20a%20meal.
About the author