One thing many ethical eaters agree on is that McDonald's is pretty much anti-food. Even by fast-food standards.
Not only are their burgers packed with ingredients that aren't particularly healthy, but they also have the dubious honor of once being named the "least ethical company in the world".
Sadly, for us vegans, the most popular item on their menu also happens to be ridiculously delicious and decadent, and now all I want is a Big Mac. The craving is real.
The good news is that there are ways to emulate their signature sandwich's flavor with plant-based ingredients. Let's have a look at how.
Vegan Big Mac Ingredients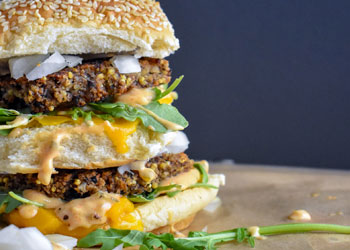 Here's what you're gonna need to recreate that signature Big Mac flavor with your vegan burger. This recipe is for two big mac burgers, and the total time of preparation is about 25 minutes.
4 vegan burger patties - Use some ground Beyond Meat for a burger patty that tastes as close to the real thing as possible.
4 sesame seed hamburger buns
½ small minced onion
½ cup shredded iceberg lettuce
4 slices of vegan cheese - You have plenty of options when it comes to vegan cheese for your big mac.
6 slices of regular pickles
Vegan Big Mac Sauce - Check the "Sauce" section below for the ideal vegan Big Mac sauce recipe.
[thrive_leads id='11437']
Vegan Big Mac Recipe
Preheat a grill pan on medium heat.
Get the vegan burger patties onto the pan once it's hot enough for a sizzle.
If you're using a thin Beyond Meat patty for your burgers, about 3 minutes on each side should be sufficient.
Chop the pickles, onions, and lettuce.
Prepare the signature "middle buns" by slicing the bottom and top off your third and fourth buns. You can use the leftover bun parts to make other sandwiches later.
Slice your two buns in half and toast them lightly along with the middle buns. For added flavor, do the toasting in your grill pan after cooking the patties.
As soon as the patties are cooked, get your cheese slices onto them. This is the best way to create that signature Big Mac melted cheese texture.
Build the burger in this order: Bottom bun, special sauce, lettuce, patty, cheese, a sprinkling of onions, middle bun, sauce, lettuce, onions, patty, cheese, 3 pickle slices, top bun.
Serve each burger with a side of french fries.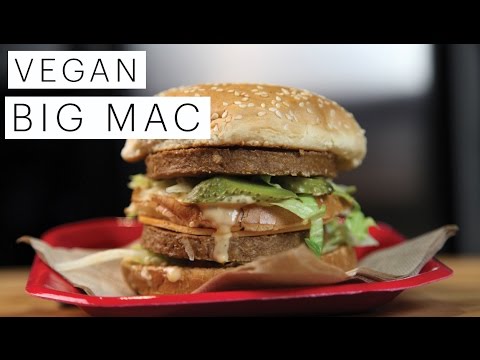 How to Make the Vegan Big Mac Burger Sauce

This plant-based special sauce is a great topping or dip for pretty much anything. When I'm feeling particularly decadent, I cover my french fries with it also! It's a super easy recipe to follow; total prep time is no more than 5 minutes.
Ingredients
½ cup vegan mayo
¼ tsp garlic powder
¼ tsp onion powder
½ tsp paprika
1 tsp apple cider vinegar
1 tsp white sugar
2 tsp yellow mustard
1 tbsp sweet pickle relish
¼ tsp salt
Recipe
Making the special sauce is easy as pie. Simply take all the ingredients listed above and mix them in a small bowl. Chill it in the fridge for a while before spreading onto your vegan Big Mac.
Just a quick note on the recipe - be careful with the garlic and onion powder. Too much of either of these ingredients will overpower the sauce.
Put any leftover vegan Big Mac sauce back into the fridge, where it will stay fresh for another three to four days.
What About the French Fries?
You probably won't be surprised to hear that McDonald's' french fries aren't vegan. Sure, there's no meat being used; they're just basically sliced potatoes cooked in vegetable oil.
But to get that signature savory taste, the company adds natural beef flavoring to the potato before cooking.
Fortunately, when you're making vegan food at home, you can omit this step to ensure the vegan police don't show up at your door.
Ingredients
2 potatoes
1 tsp - 2 tsp salt
4 slices of bread - This is purely to eliminate excess oil from the fries; you won't be eating this bread.
4 cup vegetable or sunflower oil - Neither of these oils is particularly healthy, but they're ideal for creating that delicious, thick crust you get from deep frying.
Recipe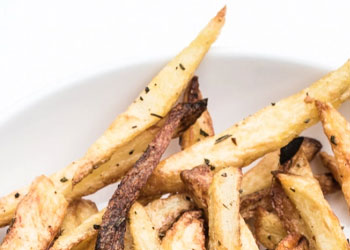 The key to emulating McDonald's' fries is to slice the potatoes correctly. Cut the potato lengthwise to get longer fries and aim to get them as thin as possible.
Preheat the oil to 350° - 400° F.
Carefully submerge the sliced potatoes into the oil.
Fry for five to six minutes, but make sure to taste test one before removing from the heat.
Place the cooked fries onto the slices of bread and let them cool there while the excess oil drains off.
If you're craving sweets after you finish eating Big Mac, you can make some healthy vegan ice cream from this list of recipes.
Is The Vegan Big Mac Legit?
I love burgers.
In fact, I know almost no one who doesn't love burgers. Whether you're a fan of Big Macs or not, this burger recipe rocks. It's a substantial meal made from ethical products, and it's a fantastic throwback to a taste you've probably never forgotten.
[thrive_leads id='11437']
About the author