Vegans and vegetarians have many options at the popular food chains! Whether you're trying to bulk up or cut back, the right choice of sides, entrees, and even desserts give plenty of choices.
Jimmy John's Vegetarian Options
Vegetarian and vegans now have more options than ever when dining out. Many of your favorite chains and drive-thrus are helping provide customers what they're asking for, and that is healthy, vegetarian or vegan foods.
With up to 40% of Americans looking to reduce meat consumption, business savvy restaurant owners know their demographic wants delicious and convenient vegetarian meals. From meat substitutes to entree salads, smoothies, and avocado toast, casual restaurants are bringing plant-based, vegetarian and vegan options to all of their locations.
Vegan and vegetarian food options boost revenue for restaurants. In the past four years, demand for plant-based options has soared 800%. Some restaurants devote up to 15% of their menu to plant-based options. For one, it reduces costs for the restaurant. 30% of the cost of meat is in purchasing it, while plant-based options are only 15%. Read on to see some of the exciting vegan and vegetarian options found at popular restaurants all over the country.
Jimmy John's Vegetarian Options
Jimmy's John's #6, the Veggie, is a favorite for vegetarians and omnivores alike. You have the option to order it in a slim size, lettuce bread, or giant. Also, you can remove meat from any of the other sandwiches to customize it to your taste. The chips, cookies, and pickles are also vegetarian.
Shake Shack Vegan options
Shake Shack has limited vegan menu items. The french fries are vegan. It serves the veggie shack, which is a plant-based burger. Take off the cheese and replace the bun, which isn't vegan, with lettuce or a gluten-free wrap and it's vegan.
Sonic Vegan Options
Sonic provides vegan options for its clients to enjoy. The French fries and tots are a vegan side, cooked in a separate fryer. Also, the pretzel twist is vegan. However, you need to order it without butter or cheese to make it fully vegan.
Vegetarian Options at Sonic
Cinnasticks
Ched'r Peppers
French Toast
Fritos corn chips
Mozzarella Sticks
Vegan sauces
Asian Sweet Chili Wing Sauce
Ketchup
Mustard
marinara
salsa de sonic
sweet and sour sauce
grape jelly
bbq sauce
salsa de Sonic
sweet relish
Vegan toppings
Vegan toppings are: avocado, dill pickle spears, dill pickle spears, hatch green chilies, jalapenos, lettuce, sauerkraut, diced onion, sweet pickle relish, sport peppers, and tomatoes.
Vegan Drinks at Sonic
Sonic is well known for its slushes and other drinks. If you want to order a vegan specialty drink, you have options.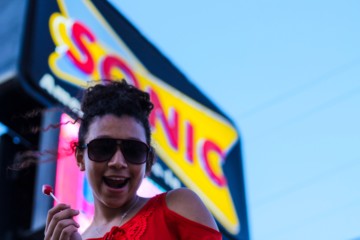 Try the lemonade slush or the limeade slush. You can also add syrups.
Vegan syrups are:
blackberry
blue raspberry
blue coconut
grape
cherry
diet cherry
French vanilla
mango
grape
peach
Raspberry
Texas Roadhouse Vegetarian Menu
Texas Roadhouse offers many vegetarian options for its guests. However, its vegan options are lacking.
The country vegetable plate lets you choose four of its vegetable sides. Also, the side salad is vegetarian. To make it vegan, ask them to leave out the cheddar and eggs. Steak fries are vegetarian when you order them without bacon bits. Order it with one of the vegetarian dressings: thousand island, honey mustard, or ranch.
Buttered corn is another vegetarian option. Order it without butter to make it vegan. The applesauce is vegan. There are also sauteed mushrooms, fresh vegetables, and sauteed onions.
Ruby Tuesday Vegetarian Menu
Ruby Tuesday, well known for its salad bar, has more than 50 vegetarian options on the menu. The complimentary garlic biscuits served with your meal are vegetarian-friendly. The spinach artichoke dip is also vegetarian.
Other vegetarian appetizers are the fresh guacamole dip, fried mozzarella, and the avocado quesadilla.
You can order the burger with a veggie pattie and with vegan toppings.
Vegetarian Sides at Ruby Tuesday
Baked potatoes
Buttered corn
Roasted baby bellas
House-baked soft pretzels
Sweet potato fries
Tater Tots
Steamed broccoli
Marinara pasta
Grapes
Grilled Zucchini
Garlic Breadsticks
Roasted Tomato Soup
Mashed Potatoes
Vegetarian Desserts
New York Cheesecake
Pineapple Upside Down Cake
Most vegetarian meals can be made vegan with a few changes, but in general, there are more vegetarian options.
TGI Fridays Vegetarian Options
Friday's vegetarian options can be found especially if you alter the menu. However, they have done a great job in these recent years to add more vegetarian options for guests, probably in part by hiring former Ruby Tuesday's CEO, Ray Blanchette.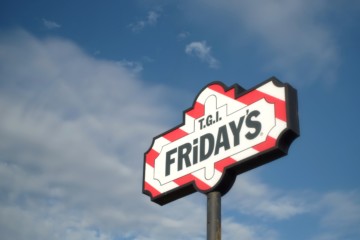 Friday's offers a Beyond Burger meat patty to make your meal vegan or vegetarian.
Also, there are many vegetarian side items. Here is a list!
Amazing Blazing Pound Of Cheese Fries (no bacon)
Broccoli Alfredo Tortelini (no chicken)
Cajun Pasta (no shrimp or chicken)
Chips & Salsa
Carlo's Bakery Rainbow Cake
Carlo's Cookies & Cream Tsunami Cake
Chedder Mac & Cheese
Coleslaw
Basket Of Breadsticks
Brownie Obsession
Cinnabon Caramel Pecan Cheesecake
Fried Mushrooms with Tangy Remix Sauce
Giant Onion Rings
Green Bean Fries with Wasabi-Ranch
Jasmine Rice
House Side Salad
Loaded Potato Skins (no bacon)
Mozzarella Sticks with Marinara
Spinach & Artichoke Dip
Kids Mac & Cheese
Kid's Pasta
Warm Pretzels
House Side Salad
Seasoned Fries
Lemon-Butter Broccoli
Lemon-Butter Broccoli & Cheese
Mashed Potatoes
Oreo Madness
Arby's Vegan Menu
Arby's has no vegan main dishes. There are a number of vegan sides, sauces, and even desserts to choose from.
Arby's Vegan Sides
Apple Slices (Kids Menu)
Apple Sauce (Kids Menu)
French Toast Sticks
Homestyle (Traditional) French Fries
Potato "Cakes"
Sauerkraut
Seasoned Curly Fries
Side Salad (No Cheese, see dressings below)
Arby's Vegan Sauces
Arby's Sauce
Balsamic Vinaigrette Dressing
Bronco Berry Sauce
Light Italian Dressing
Marinara Sauce
Red Ranch Sauce
Smoky Q Sauce
Vegetarian Options at Cracker Barrel
Cracker Barrel's classic, homestyle menu offers many vegetarian choices.
Breakfast choices:
Eggs
French Toast
Biscuits
Oatmeal
Red skin potatoes
Coarse Ground Grits
Pancakes
Fried Apples
Fresh Seasonal Fruit
Multigrain Toast
Hatch Valley Green Chiles
Lunch and Dinner
Country Vegetable Plate
Mashed potatoes
Tater Rounds
Steak Fries
Fried Apples
Breaded Fried Okra
Sweet Whole Baby Carrots
Fresh Seasonal Fruit
Fresh Apple Slices
Mixed Green Side Salad
Fresh Steamed Broccoli
Whole Kernel Corn
Coleslaw
Baked Sweet Potato
Baked Potato
Red Robin Vegetarian Options
Red Robin has many vegetarian options. Its salads can be made vegetarian by removing meat. There are also many vegetarian sides, like broccoli, all of their fries, onion rings, and pretzel bites. There is also a veggie patty options. Finally, their dessert menu is fully vegetarian.
FAQs
Which restaurant has the most vegetarian options?
Ruby Tuesday has the most vegetarian options. With its salad bar and variety of options, it offers a lot.
Is it better to eat vegan or vegetarian?
Many people will argue about either side, and it's up to you.
Do restaurants have more vegan or vegetarian options?
Most vegetarian meals can be made vegan with a few changes, but in general, there are more vegetarian options.
Sources
https://sarasveggiekitchen.com/vegetarian-and-vegan-at-jimmy-johns/
https://www.vegknowledge.com/vegan/shake-shack-vegan-options/
https://www.vegknowledge.com/vegan/sonic-drive-in-vegan-options/
https://www.vegknowledge.com/vegan/sonic-drive-in-vegan-options/?elementor-preview=956&ver=1563812865#sauces
https://cookgem.com/texas-roadhouse-vegan-vegetarian-options/
https://sarasveggiekitchen.com/best-vegetarian-and-vegan-options-at-tgi-fridays/
https://fastfoodnutrition.org/arbys/french-toast-sticks
https://crueltyfreereviews.com/arbys-vegan-options/
https://www.treehugger.com/vegan-guide-to-cracker-barrel-best-menu-options-swaps-and-more-5201839
https://approvedeats.com/cracker-barrel-vegetarian-menu-options/
https://dietmenus.com/restaurant/cracker-barrel/vegetarian/
https://thatnerdysciencegirl.wordpress.com/2016/01/27/eating-vegetarian-at-sonic/
About the author