I'm a busy person, and cooking and eating healthy isn't always simple. It's hard to find the time to go grocery shopping, prep meals, make meals, and do all the clean-up afterward.
A plant-based meal service that delivers right in to your doorstep sounded like the answer, but could I find a tasty vegan-friendly option?
Veestro has been featured in popular magazines like InStyle and PopSugar, so I decided to check out if they were as great as the reviews said they were with their meal service.
What Makes Veestro Different From Other Meal Kit Delivery Services?
Veestro is plant-based cuisine with freshly cooked organic items that get delivered to your home.
They offer a variety of plant-based meal kits that can fit your diet including gluten-free, soy-free, kosher, nut-free, and high-protein. They make healthy eating easy.
Veestro even ​offers a weight loss menu option. It's simple to lose weight with their plant ​foods and vegetables. The​ plan consists of a variety of ​food options designed to reduce calorie intake while still getting all of your nutrition. (1)
Unlike other meal delivery ​services, Veestro ​exclusively offers vegan meals as opposed to ​them being just an option on their menu. They only use 100% plant-based ingredients that are free from meat, chicken, fish, dairy, eggs, and honey.
All of the prepared meal options are organic with over 96% of the ingredients meeting the organic standards.
They also don't use preservatives on their food, which gives them an extra layer of overall health. They can be kept up to 8-10 weeks in the freezer or 1 week in the fridge. (2)
Veestro meals can be microwaved, or heated up in the oven or skillet. It makes it simple to prepare healthy meal options fast in your kitchen
It's also affordable because shipping is always free with auto-deliveries.
Other Meal Delivery Services:
How Does Veestro Work?
You can use Veestro in 3 easy steps:
Build your box: Choose from over 50 different ​vegan-friendly ​food.
Check your doorstep: Meals are made fresh and delivered frozen.
Heat and eat: Heat up your meal in 5 minutes with no chopping.
Every week, you can order your Veestro ​box online from their website. They have 3 meal plan options; A La Carte, Chef's Choice, and the Weight Loss ​menu.
Choose an option that works best for you and what you want to eat. You can get 10, 20, or 30 meals delivered to your home weekly, bi-weekly, or monthly.
It doesn't come with any recipes since the ​food is already made and simply need to be heated up. This offers a quick and easy fully prepared meal.
How It's Packaged And Delivered?
Veestro offers fresh-frozen meals to ensure long-lasting quality per meal. The box is packaged with meals that come in various options, such as the Chef's Choice, a la carte, or weight loss, which arrive with insulated shipping and dry ice to keep it frozen. If no one is home, then the package gets left on your door since no signature is required.
Veestro recommends picking up the package as soon as possible so that it won't thaw on your doorstep, especially if you order a box that contains more than 10 meals. The dry ice may last for up to 24 hours​.
What Kind Of Meals Are Available With Veestro?
You can order from the Veestro menu for breakfast, lunch, or dinner. You can choose the A La Carte option to individually choose every meal that you want. For ultimate convenience, pick the Chef's Choice.
They will choose prepared meals for you. You can even request high protein, dairy free, or gluten-free meals.
It's great because you can get amazing ​vegan-friendly meals delivered to you without ever thinking about it.
Another convenient option is the Weight Loss plan. Choose a 5-day or 7-day plan to get 3 daily meals with approximately 1,200 calories per day. It's a good way to get healthy preservative-free foods delivered to you.
Also, ordering every meal one time is much more expensive than ordering for instance 10 meals at once. And since Veestro offers the a la carte option, it is always profitable to order in bulk.
Some of my favorites include the breakfast burrito, mushroom risotto, country fried chicken, pad Thai, pasta bolognese, and enchilada casserole. They have a wide variety of choices, and it will expand your view on the different culinary options ​on a diet that's completely herbivorous.
Here are some other delicious meals that you could try:
South Indian Coconut Stew
Shepherdless Pie
Kale and Quinoa Salad
Spanish Torta
Lentil and Spinach Tagine
Red Curry with Tofu
Soba Noodles
Compare Veestro meals with ones from other meal delivery services:
Do Veestro Meals Taste Good?
Since the kits are frozen, you have to wonder if a frozen meal will still taste good without artificial ingredients or preservatives. And unfortunately, the food being bland was a deal-breaker for me. Some of the meals are okay (i.e. meatless chicken nuggets and red curry) but the rest were just flavorless (i.e. kale and quinoa salad). ​
Is Veestro Environmentally-Friendly?
Veestro cares about the environment. The whole food vegan meal delivery system even has packaging that is environmentally-friendly.
The plant based meals are packed in 100% compostable carton trays or recyclable BPA-free plastic. It's reassuring to know for people who want to recycle the materials that are sent to them.
What Do Other People Say About Veestro?
I enjoyed the convenience of Veestro. You simply pick out what you want, get it delivered, and heat up the meal packs to enjoy.
You couldn't make it any more simple. ​However, the flavors could be better.
My research into Veestro reviews has shown a​ mix of experiences. A lot of reviews ​ love the convenience like myself. It makes it easier to eat healthier and maintain a plant-based diet.​
It's perfect for those with busy schedules that don't always have the time to think about their meals. Just open the fridge and voila!
A vegan-friendly meal that only takes minutes to heat up, serves up all your nutritional needs and tastes great to boot.
Whenever I eat a frozen meal, I always hope it tastes like a homemade dish.

- Genevieve Farrell, PopSugar Magazine
However, I'm somehow relieved that I'm not the only one who thinks that most of the meals are not as tasty and flavorful as I want my food to be.​ There are other meal delivery services that offer better tasting kits.
Other subscribers also mention about the inefficient heating instructions that end up with​ the food being unevenly cooked. I personally have to experience this, but it's worth taking note of.
You can also watch this unboxing video to know more about Veestro.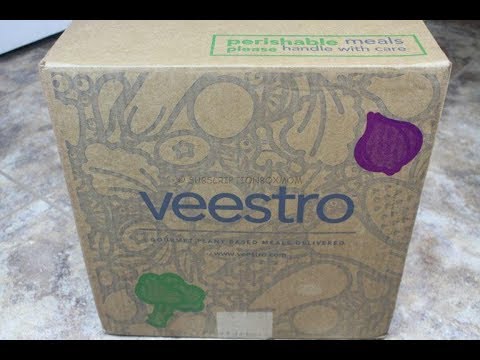 Does Veestro's Menu Change?
Veestro's menu does not change week to week or month to month. The menu stays the same year round offering a dozen options for you to try over time.
Veestro Meal Plan: Our Final Thoughts
Veestro is a life-saver for busy people who struggle with finding the time to ensure that they are eating healthy and getting the best plant-based meals nutrition possible.
There's hardly any clean up involved due to not needing to chop or prepare anything. However, as much as I love the convenience, the meal flavor is what turned me off.
I personally enjoy Trifecta more. The meals are more palatable and easy to cook as well.
If you're struggling to cook and come up with nutritious and delicious meals for yourself every day, I highly recommend trying out the Trifecta delivery service.
TRIFECTA
Our #1 Vegan Meal Delivery Service
Offers large meal plan varieties - Keto, Paleo, Vegetarian, Vegan, and Classic
Organic ingredients
Utilizes low carbon footprint
Delivers fully-cooked meals at your doorstep
Get the BEST PRICE until end of June
Click For Best Price
About the author