Probiotic supplements are many these days, and it can be a tricky task to pick a product that's not only gluten-free and soy-free, but also effectively improves your immune system and overall wellness.
Up4 probiotics is one such brand that's specifically designed to promote good health in women. In the following review, we will look at the benefits this vegan probiotic provides, potential side effects and whether we would ultimately recommend it or not.
What Is Up4 Probiotics?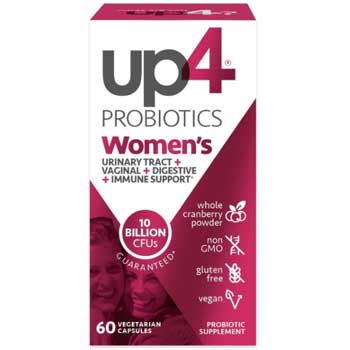 Up4 Probiotics for women is made from a selectively chosen probiotic blend that has been designed to address numerous female health concerns, including:
Your urinary health
The health of your vagina
Digestive health
Immune support
Women have unique health concerns and the ingredients found in this probiotic reflect this belief.
It contains whole cranberry powder that will help support the health of your urinary tract, as well as probiotic cultures chosen to promote a healthy bacteria and yeast balance.
List of Ingredients

Up4 is guaranteed to have 10 billion CFUs (colony forming unit), made up of the following Lactobacillus cultures:
Acidophilus DDS-1
Plantarum UALp-05
Rhamnosus UALrh-18
Gasseri UALg-05
Bifidobacterium lactis UABla-17
These cultures offer the following benefits:
"The majority of diseases begin in the digestive tract when "good" bacteria are no more able to control "bad" bacteria."

- Elie Metchnikoff, The Father of Probiotics and Nobel Laureate
Lactobacillus plantarum may help lower the cardiovascular risks in postmenopausal women with metabolic syndrome [6].
Research has found that Lactobacillus gasseri may help to reduce abdominal fat and may support your own weight loss efforts [7].
A few of the probiotics strains have been shown to relieve GI system issues, for example, diarrhea, abdominal pain, and bloating [8].
The ingredients of up4 women's probiotics also contains 500 mg of cranberry powder that offers numerous benefits as well, including:
Helps prevent urinary tract infections. Cranberries are packed full of proanthocyanidins, which are a type of compound that can prevent E. coli from attaching to the lining of your urethra and bladder [9]. Research has found that supplementing with proanthocyanidins could significantly lower the frequency of UTIs in women [10].
Prevents heart disease and diabetes. Cranberries are full of antioxidants that can help to protect you from the damage caused by free radicals. This damage may lead to chronic problems like heart disease and diabetes [11], so increasing your intake of antioxidants may help.
How Does The Probiotic Taste?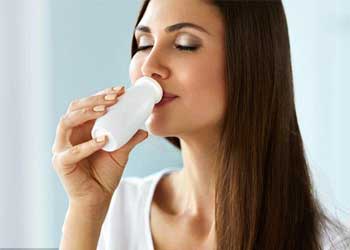 The probiotic comes in capsule form, so when taking the recommended capsules daily, you should not experience any taste.
The capsules themselves can be opened and the powder it contains can be mixed with a food or drink of your choice.
In this case, you may get a hint of cranberry due to the cranberry powder it contains. This may leave a slight taste that most likely won't overpower the other flavors.
PROS
Aimed specifically at the wellness of women
Vegan product
Product is gluten-free, non-gmo, soy-free and free from dairy
CONS
Only 10 billion CFUs
Only 5 strains of probiotics used
No money-back guarantee
Potential Side Effects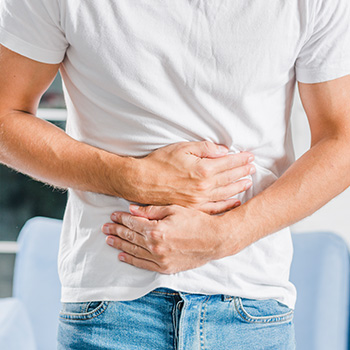 While there are plenty of health benefits you can experience when supplementing with probiotics, you would also be remiss if you thought that there are no side effects associated with their use.
Most of the side effects might be minor and will only affect a small number of people, but it is still worth mentioning them (with our own little commentaries):
Stomach problems. It has been reported that using a bacteria-based probiotic like this one may cause a temporary increase in gas and bloating [12]. This particular side effect is usually temporary and will subside after a few weeks of use. To reduce the chance of experiencing this issue you should start with a lower dosage of probiotics and to increase this dosage over time.
May cause an allergic reaction. It is important that you read the label of any probiotic supplement to check that it does not contain anything that you are allergic to. It is pleasing to see that Up4 Probiotics is non-dairy, gluten-free, soy-free, non-GMO and free from preservatives.
Increased risk of infection. While this is an incredibly rare occurrence. It is possible that the bacteria found in the probiotic can cause an infection in those who are susceptible [15], such as those with a suppressed immunity and those who have recently undergone surgery.
In case you wonder if you can take probiotics and digestive enzymes at the same time, the answer is yes. It's totally OK to use them together since they are two different things. We did a review of the top vegan digestive enzymes on the market.
For those experiencing side effects, read our probiotic supplement reviews:
Where To Buy Up4 Probiotics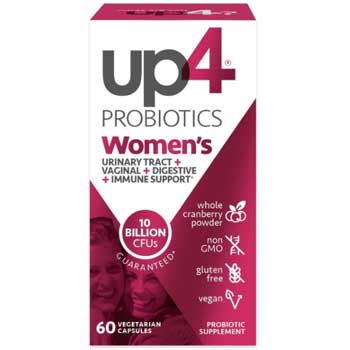 You can buy Up4 Probiotics from a number of online stores and its own official website.
In our opinion, the best place to purchase this probiotic supplement is from e-commerce sites, as shipment services usually come at no charge.
A one-time purchase costs moderately, two Jeffersons tops, but if you do choose to buy from certain e-commerce sites, you will be provided with a "subscribe and save" option as well. This will ensure a 5% discount off the RRP, and you will be able to get a fresh delivery of this product whenever you want.
There is no charge for this service and you can cancel it whenever you want. One big issue when buying this supplement is that there's no money-back guarantee available.
User Reviews

Customer reviews of this probiotic are generally positive, with a high percentage of 5-star reviews being submitted:
"I've struggled with chronic yeast infections for quite some time now. I tried numerous probiotic products, but looks like lactobacillus acidophilus dds 1 in Up4 does the job for me. My yeast infections went away a few days after I started taking my probiotic capsules. I really like them and would recommend to anyone who is suffering from BV or chronic yeast infections."

- Babygotback
"I can safely say this probiotic has made a great difference in my bowel movements. Really helped me prevent constipation, plus I really love the fact that it's vegan-friendly and made specifically for women. 5 stars!"

- Gio2020
However, not everyone is happy with the Up4 women's probiotic. With some customers experiencing uncomfortable side effects:
"I first switched to this probiotic because of the extra womanly features. However, after merely a few days of using, I began experiencing painful discomfort in my tummy - I developed extreme bloating and excessive gas. Luckily, the moment I stopped taking the probiotic, my symptoms faded."

- JAW
"I am no stranger to using probiotic products and this one made me feel sick and nauseated. In fact, I see lots of other reviews complain about that issue. Would I recommend or take them again? No, maam."

- Cami M
FAQs
Can The Up4 Probiotics Capsules Be Opened?
Yes, the Up4 Probiotics capsules can be opened. The powder found inside can then be mixed with your favorite drink or food.
This is perfect for those who struggle to swallow capsules but still want to experience the health benefits.
Are Up4 Probiotics Safe For Vegans?
Yes, Up4 Probiotics are safe for vegans as it does not have any animal ingredients in the formula.
Does This Probiotic Require Refrigeration?
No, Up4 Probiotics does not require refrigeration.
Some probiotics will need to be refrigerated as the bacteria will die if left out in room temperature. This particular product is safe to be left out without any issues.
Should You Buy Up4 Probiotics?
While Up4 probiotic for women is not necessarily a bad product (on the contrary), it is still not something that we would recommend.
The problem is that this women's probiotic only contains 10 billion CFUs and just 5 strains of probiotics. Frankly, there are much better options available.
Our suggested alternative would be 1MD Complete Probiotics Platinum. It is made to provide an ample probiotic dose - a guaranteed 51 billion CFUs and 11 potent probiotic strains, including lactobacillus acidophilus dds 1.
Also, 1MD's product is not tailored specifically as a women's probiotic, so it can be used by both sexes. And considering it's gluten-free and non-GMO, it's definitely a better vegan probiotic - one that we would highly recommend to anyone.
What do you think? Got a probiotic supplement review to share?
Hit us up in the comments below.
1MD Complete Probiotics Platinum
Our #1 Recommendation
​Helps relieve you from gas, bloating, and indigestion
​Includes 1 NutraFlora Prebiotic Fiber to enhance nutrient absorption
Contains 51 billion living CFUs
Gluten, soy, and preservative-free
Get the BEST PRICE until the end of May
Click For Best Price
About the author