While the right leg workout meme can encourage you to exercise, but having the right exercise gear is even more motivating. It's hard to exercise in poorly fitting clothing that doesn't let your skin breathe. Investing in the best leggings for runners can help you stick with your workouts, even when things get tough.
What Is the Difference Between Runner Leggings and Yoga Pants?
The term "leggings" is used to describe any type of skintight pant. While some leggings are specifically designed for athletic activities, like running, others are worn as an undergarment or for fashion reasons.
Yoga pants were introduced by Lululemon in the 1990s and were specifically designed to be worn in yoga studios. While yoga pants often have a flat waistband and flared bottoms, they can be found in other styles as well.
Only some leggings are suitable for workouts, but virtually all yoga pants can be used for exercise. Both leggings and yoga pants can be worn for running as long as they're made from a breathable, moisture-wicking material.
Only some leggings are suitable for workouts, but virtually all yoga pants can be used for exercise. Both leggings and yoga pants can be worn for running as long as they're made from a breathable, moisture-wicking material.
What to Look for When Buying Leggings
The right material is key when buying leggings. Running leggings should be made from a breathable, moisture-wicking material that can move sweat to the outer surface of a fabric. Seek out features that improve breathability, like mesh panels.
Leggings with compression panels can apply light pressure to your legs, improving blood flow to your muscles while you exercise. This can help to prevent muscle fatigue, allowing you to run for longer.
Lastly, you'll need to consider the fit of the leggings. While any leggings you wear during a workout should be comfortable, you'll also want to make sure that the leggings will stay in place as you run. Leggings with a high waistband are less likely to slip down as you move.
The Best Running Leggings That Don't Fall Down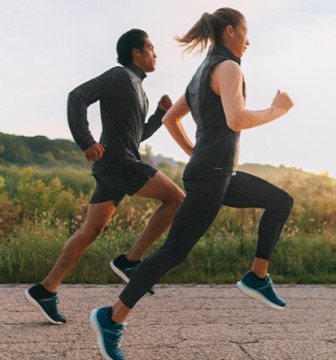 Running leggings are more likely to fall down when they're made from a low-quality fabric. Over time, the fabric will stretch, keeping your leggings from staying in place as you move.
High-waisted leggings from top brands are likely to be the best option for runners. Look for features that will help keep leggings secure, like compression panels. It can be helpful to buy leggings one size down for a tighter fit.
Top Brands of Running Leggings
Since many leggings are designed for fashion, not exercise, it's best to buy running leggings from respected activewear brands. Some of the top brands of running leggings include:
Lululemon Leggings
Lululemon offers leggings in many lengths and styles. Since Lululemon's leggings are designed for yoga, the fabric is more delicate than other legging brands. However, the brand's leggings are comfortable, durable, and extremely breathable, even during intense workouts.
Fabletics vs Lululemon
Like Lululemon, Fabletics is primarily focused on making yoga gear. Lululemon leggings are slightly more durable, but Fabletics has a wider size range, with sizes from XXS to 4XL.
90 Degree by Reflex vs Lululemon
90 Degree offers some options not offered by Lululemon, such as leggings for men and cold weather leggings. The Cold Gear line is a great option for customers looking for running leggings they can wear in the winter.
Fake Lululemon vs Real
Lululemon is a luxury leggings brand, which means there are many knock-offs on the market. Fake Lululemon leggings will usually have some tells, like an unusual hang tag. With that said, buying directly from the retailer is the safest way to buy Lululemon products.
Gymshark Leggings
While Gymshark is famous for their flattering designs, the brand offers durable, comfortable leggings that are well-suited to any type of exercise. All of their leggings are made from breathable, moisture-wicking fabrics that are suitable for intense activities.
The best Gymshark leggings for running include the Pulse leggings, which have a drawstring to keep them in place, and the Energy Seamless leggings, which are made from a sculpting and compressing fabric. Runners should avoid Gymshark leggings with a lower rise, like the Flex leggings.
Other Brands to Consider
Lululemon and Gymshark are two of the biggest names in athletic leggings, but there are many other brands worth considering, including Eco Yoga Sustainable Organic Clothing, Iuga, Aybl, and Athleta. Many well-known sportswear brands offer high-quality running leggings as well, including Nike, Asics, and New Balance.
FAQs
Are Leggings Good for Running?
Leggings are fitted and compress the legs, which makes them an excellent option for activities like running. However, it's important to choose leggings that are designed for workouts rather than fashion.
Is It Better to Run In Leggings or Sweatpants?
Leggings are more likely to stay in place while you run than sweatpants, making them a better option. Since sweatpants tend to be made from warmer materials, they could also leave your legs overheated.
Should You Wear Compression Leggings for Running?
Wearing compression leggings while running can help to reduce muscle soreness. In addition, compression leggings can reduce impact on your knee joints, helping to prevent injury.
Should Running Leggings Be Tight?
Your leggings shouldn't be so tight that they restrict your movement, but they should be fitted. Many experts recommend buying leggings one size down for a better fit.
Will Running Leggings Stretch Out?
Leggings naturally stretch to fit your body. While cheaper leggings may become stretched out over time, leggings made from high quality materials are more likely to keep their shape.
About the author