Testosterone boosters exist in a market that is obsessed with "manliness." The marketing is gimmicky, and a lot of the science is shady. Trying to find a product that does what it's supposed to is difficult, even more so if you also happen to be vegetarian or vegan.
I've spent a lot of time reviewing testosterone boosting products and gauging their merit.
In this Testojack 200 review, we're going to take a detailed look at the product itself and compare it to the rest of the market to see if it's worth parting you with your hard-earned cash or not.
What Is TestoJack 200?
NOW Foods are a trusted brand that specializes in manufacturing no-nonsense, natural supplements. They are almost exclusively vegetarian and vegan.
NOW TestoJack 200 sits in between TestoJack 100 and TestoJack 300 - and you shouldn't mix the three up. They are not just different concentrations of ingredients but different formulas completely.
TestoJack 200 is primarily a libido enhancing supplement designed to create "a dynamic one-two punch for the overall promotion of reproductive health and sexual drive."
This means it is used primarily by older men looking to improve their game in the bedroom, as well as the gym.
TestoJack 200 Ingredients

TestoJack 200 reviews often slate the product for focusing too much on sexual performance and not enough on testosterone. Still, the botanical formula and the product never made any claims to be something they're not.
Let's look at the TestoJack 200 ingredients in a little more detail.
Tongkat Ali (Root) (Eurycoma longifolia Jack Extract) 200 mg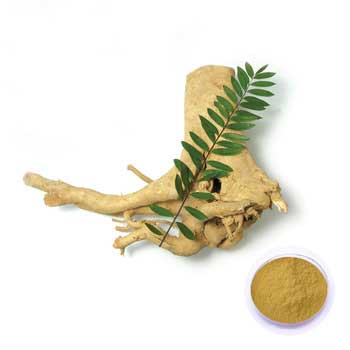 The ingredient that puts the jack into TestoJack is tongkat ali or as it's otherwise known - longjack.
Longjack is a herbal aphrodisiac and the name tongkat ali roughly translates as "man stick," so it should come as no surprise it has a big reputation for the overall promotion of reproductive function. If you're concerned by your low desire for sex, check out Tongkat Ali extract from Real Herbs.
Besides being the Barry White of the herbal medicine world, tongkat ali boasts some potential t-boosting properties as well.
It is said to do this largely by suppressing cortisol levels, which inhibit testosterone production, but there is also evidence of it stimulating new testosterone production.
Though, it should be noted that the science to back this up is nowhere near as definitive as many claim it to be [1].
Organic Maca Root (Lepidium meyenii) (6:1 Concentrate) 500 mg
Maca root is an ingredient included in many male booster products to give an immediate feeling of efficacy. It is used to improve male sex drive and overall energy levels and can leave you feeling infinitely more manly [2], even if it does nothing for actual testosterone levels. But if you want to bring your sexual health to another level, try Mighty Maca Plus by Dr. Anna Cabeca.
TestoJack is often marketed as a sexy time booster only, but if you see it in other t-boosters, make sure there are other ingredients in there that work, so you don't just swallow a boner boosting energy tablet.
Epimedium Extract (Horny Goat Weed) (Aerial Parts/Leaf) (Epimedium brevicornum) (min. 3% Icariin) 250 mg
Horny goat weed was charmingly named by the Chinese goat farmer who observed the plant's effects on his herd, before presumably trying it out for himself. Epimedium extract mimics certain effects unique to testosterone, primarily in sexual activity and overall virility.
The science behind the extract is sound, but its effect depends on the icariin percentage of the horny goat weed extract, and while 3% is good, we'd like to see it stronger [3].
Tribulus terrestris Extract (Fruit) 250 mg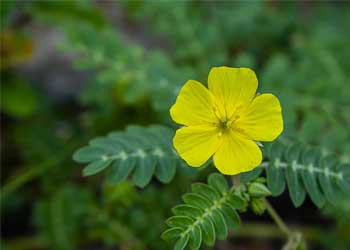 While it might not actively upgrade your testosterone levels overall, tribulus terrestris has a good reputation for improving two aspects of perceived manliness.
It can help you out in the bedroom and also down at the gym.
Tribulus terrestris is known for its effect on the libido and virility, but lesser-known for the increase in overall energy and muscle recovery [4].
It can help you go for longer and harder and recover quicker, whether that be lifting weights or making whoopie.
Round Out Ingredients
American Ginseng Root (Panax quinquefolium) 75 mg
Panax Ginseng Root (Panax ginseng) 75 mg
Muira Puama (Ptychopetalum olacoides) (Root/Stem) (12:1 Concentrate) 50 mg
The final three ingredients are all included with the same effect in mind, and it's to do with increasing energy levels. American ginseng, muira puama, and panax ginseng are like herbal Red Bull. Still, their efficacy is somewhat limited, and apart from the muira puama they are at a fairly low dose and low quality.
Other Ingredients: Cellulose (capsule), Magnesium Stearate (vegetable source), Cellulose Powder, and Silica.
PROS
Provides a great natural boost to sexual performance
A natural way to increase activity and overall energy levels
Non-proprietary with nothing to hide in their formula
CONS
The ingredients provided are at fairly low doses
Doesn't do much in terms of actually boosting testosterone levels or production
Has a fairly neutral review by the majority of customers
TestoJack 200 Side Effects
Due to the natural ingredients, there are few reported side effects to taking TestoJack 200. There are no potential allergens or known problematic ingredients such as ginkgo biloba [5], which is included in Now Foods' other testosterone boosters like TestoMax.
It should be safe to take at the recommended dose. Still, as with all things, if you encounter any adverse effects, you should stop taking TestoJack immediately and consult with a medical professional.
For those experiencing side effects, check out other vegan test boosting products:
Where To Buy This Testosterone Booster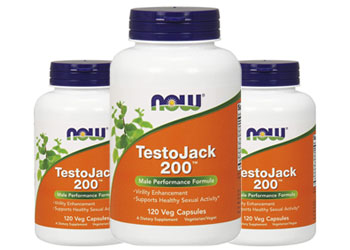 You can find TestoJack 200 online through the NOW Foods website or trusted third-party retailers.
You may find it cheaper through a third party, but be warned, there will be no satisfaction guarantee.
You can also use the NOW Foods website to put in your zip code and find the closest store to you that stocks TestoJack 200 if you prefer to buy things in person.
User Reviews
The TestoJack 200 user reviews online are a mixed bag. There are rave 5-star reviews, scathing 1-star reviews, and many fairly neutral reviews in the middle. Most users leave positive praise, with one commenting that "after a year of taking these I have seen my testosterone levels increase from 487 Ng/Dl to 618 Ng/Dl".
There are plenty of praise-filled testimonies attributed to the product's instant and pronounced effect on healthy sexual activity, too, with one user claiming "it made me horny in just a couple of days, if sex drive is what you're after, this really works."
On the negative side of things, people are claiming that it doesn't work at all. "I took the capsules as directed and didn't notice any changes at all." Others claim the product does serve up some worrying side effects such as "terrible headaches," "hot sweats at night," and "anxiety and insomnia from day 1" to list a few.
FAQs
How do you take TestoJack 200?
TestoJack 200 comes in pre-portioned doses with around 120 capsules or sixty servings per container. They should be taken daily with food as needed and swallowed as you would any other pill or supplement.
What is the recommended dose for TestoJack 200?
You can take two capsules servings of TestoJack 200 1 to 3 times daily. It is recommended that you start with a lower dose and work up to a larger amount if you feel it is necessary. Do not exceed this dose and consult with a healthcare professional if you feel any unexpected side effects.
How long should you use TestoJack 200 for?
You should expect to use TestoJack 200 for the long term if you wish to see an increase in testosterone. Most users recommend using for up to a year or more to see an increase in testosterone.
The increase in sex drive can be felt much sooner, perhaps within days or weeks. Regardless of intended effect you should take the supplement with one month on and one month off to avoid building tolerance.
How quickly will you see effects from TestoJack 200?
Many users claim to feel the effects of TestoJack 200 within a week or less. The same is true for the increase in overall energy levels. If you are looking for an increase in testosterone, it can take a lot longer; months, possibly even years of use.
Should You Buy TestoJack 200 Testosterone Booster?
TestoJack 200 is not the best testosterone booster out there, far from it. But it doesn't claim to be. It claims to be a sexual energy enhancer, and its effects as a sexual aid are quite widely praised.
The science behind the ingredients list backs that claim up; ingredients like tongkat ali having a great herbal reputation and at least some decent research to back it up.
However, if you are looking to increase your testosterone levels to improve your day-to-day life or performance down the gym or in the boudoir, I would recommend Centrapeak Testosterone Booster.
This scientifically-backed ingredient list is tailored to that exact purpose. I've used it myself and can feel the difference in energy, drive, and performance, not to mention my rugged smoochy charms.
If you're looking for a mild energy boost and a little help in the bedroom, TestoJack 200 might be the perfect product, and it is incredibly affordable. If you're after something a bit more substantial, read our Centrapeak Testosterone Booster review.
Got any TestoJack reviews you'd like to share? Have you tried this product out?
Let us know in the comments below.
Centrapeak
Our #1 Recommendation
​Delivers ingredients that are claimed to reduce cortisol levels
​Increased cognitive function
​Might just be able to increase sperm count
​Can increase endurance and stamina
Get the BEST PRICE until the end of May
Click For Best Price
About the author