Being a vegan makes it hard to find a delicious protein bar that you can enjoy with a clear conscience. There's plenty of *insert ingredient here*-free snacks, but I haven't found the one that tastes good.
As I'm always trying and testing new things, I decided to try out Square Organics protein bars and review.
What is the Square Bar?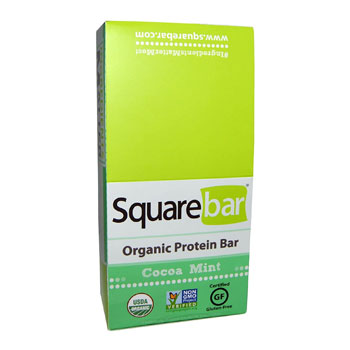 Square Bar is a chocolate-coated protein bar made from organic and vegan ingredients. Unlike other cheap protein bars, Square Bar contains high-quality brown rice protein, which is naturally gluten-free [1].
Moreover, it's rich in healthy fats.
Square Organics bars are all-natural. They don't have any refined sugar that would cause your blood sugar levels to spike and crash like crazy.
These protein bars are also non-GMO, gluten-free, and have no added flavor.
Vegan protein bars are a great quick bite when you're short on time, running late, or want a healthy treat.
Are They Healthy for You?
Square Organics are USDA-organic certified, which is another major plus. Their protein bars are also certified gluten-free, verified non-GMO, and dairy-free.
But, let's see if these brown rice protein bars are healthy for you. Let's see some more details on nutrition.
Nutritional Info
Square Organics doesn't add vitamins and minerals to its protein bars. All micronutrients come from the whole grain brown rice protein.
What caught my eye while going through the ingredients list is that Square Organics chocolate-coated vegan protein bars have no added salt.
Typically, protein bars have added salt to counter the flavor of vegan protein or excessive sugar.
The Square Bars have 30mg of naturally occurring sodium, which is great if you're watching your sodium intake.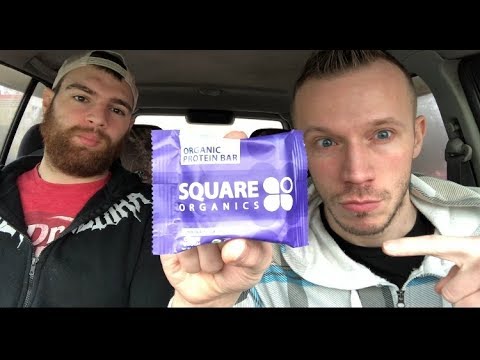 1. Calories
Each chocolate-coated bar has about 200 calories, which makes it an excellent snack option. But, you can also pair it with a fruit for a light and healthy breakfast.
You can also use it as a quick pick me up before a workout or a quick bite in the late afternoon when your sugar cravings kick in.
2. Protein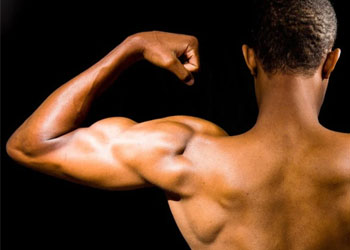 Square Organics packs a fair amount of protein in every Square Bar. Each protein bar contains between 10 and 13 grams of protein from whole grain brown rice.
For comparison, many other brands use the same amount of protein for twice as large a protein bar.
They also use soy-based protein or soy-based ingredients, while Square Bars are soy-free.
Kudos to Square Organics for using brown rice protein, one of the highest-digestible allergy-friendly proteins [2].
3. Fat
Depending on the flavor you choose, your Square protein bar will have between 9 and 11 grams of fat. As one of the first ingredients in each Square Organics bar is coconut nectar, the amount of fat isn't surprising, as coconut consists mostly of fat.
However, what concerns me is that 30–50% of that fat is saturated fat. While saturated fat isn't the worst thing ever, it's still not the ultimate healthy food. Too much saturated fat can clog up your blood vessels [3] and result in heart problems. Not to mention it can also cause weight gain.
4. Sugar
I already mentioned this, but I like that Square Bars are free from added sugar. The coating is made with dark chocolate and dried cane liquor, which results in a pretty low-carb bar with about 2 grams of fiber that controls the glycemic response.
6 Square Bars Vegan Flavors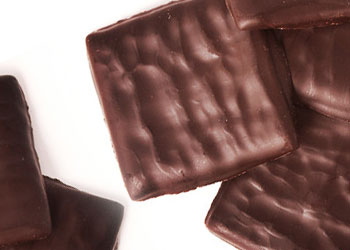 Square Bars come in a variety of flavors, which is a major plus!
As you're aware, vegan protein bars usually have a questionable flavor. They're typically too sweet because of added sugars or too bland and leave a weird aftertaste.
Now, Square bars don't taste like a candy bar, but they're far from bad.
I tried their most popular flavors and did a mini bar review for each, so you can choose a bar that best suits your taste.
1. Cookie Dough Chocolate Coated Bar
The cookie dough chocolate bar is the latest flavor and a huge hit. Organic cashew butter makes the base for this flavor. It's enriched with oats, cacao nibs, vanilla extract, and almonds. All this is covered with a coat of dark chocolate that adds to the overall taste.
The soft, buttery texture and almonds will make you feel like you're eating a tasty chocolate bar.
You'll get 90mg sodium, 10g protein, 11g sugars, and 2g fiber per 200-calorie serving.
2. Coconut Mint Chocolate Coated Bar
Coconut mint bar comes with peppermint oil, which gives it its distinct mint flavor. Additionally, the bar also contains organic oats, organic coconut liquor, and organic brown rice crisps — all wrapped in a chocolate coating.
The texture is a cross between soft and crunchy, and the minty flavor is a nice twist on the classic chocolate.
You'll get 12g protein, 40mg sodium, 2g fiber, and 13g sugars per 210-calorie serving.
3. Peanut Butter Chocolate Coated Bar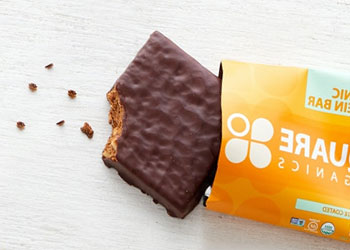 The chocolate-coated peanut butter bar is Square Bars' top-selling bar and my favorite. The combination of chocolate, almonds, and peanuts is a classic.
It's also coated with extra vegan peanut butter for the ultimate chewy, buttery texture. The chocolate-peanut combo tastes like Reese's Peanut Butter Cups.
You'll get 13g protein, 120mg sodium, 3g fiber, and 12g sugars per 230-calorie serving.
4. Crunch Chocolate Coated Bar
The mysterious crunchy ingredients in the chocolate-coated crunch bar are rice crispies. This unusual combination gives a fascinating taste. The texture is creamy and crunchy simultaneously, and the flavor is intense without being too sweet.
You'll get 12g protein, 40mg sodium, 2g fiber, and 13g sugars per 210-calorie serving.
5. Nuts and Sea Salt Chocolate Coated Bar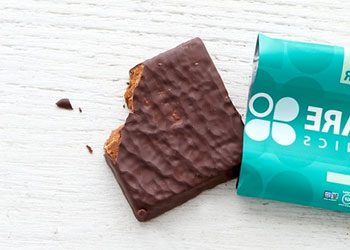 The nuts and sea salt bar could be a big hit if you like the taste of sweet and salty food combos.
This vegan protein bar contains almond butter full of dark chocolate and cashews.
It results in a nutty flavor that people love, but the sea salt adds an unexpected twist.
You'll get 10g protein, 140mg sodium, 2g fiber, and 11g sugars per 210-calorie serving.
6. Cherry Coconut Chocolate Coated Bar
Out of all flavors, I liked the coconut cherry chocolate bar the least. Now, it doesn't taste bad. The dark chocolate and coconut oil create a nice, silky texture, but the cherry flavor is too mild. Nonetheless, it's equally tasty as other Square Bars I tried.
You'll get 10g protein, 30mg sodium, 2g fiber, and 14g sugars per 210-calorie serving.
Square Bars Benefits and Highlights
Square Bars are an excellent way of adding extra great-tasting protein to your diet. On average, they cost less than other vegan bars and are all-natural. All bars tasted great, but here are some of my thoughts and the main pros and cons of the product:
PROS
The bars are vegan-friendly and have a substantial protein amount.
They're free from soy, gluten, corn, and GMOs.
They're available in lots of different flavors.
They contain no added sugars or flavors.
CONS
The bars aren't suitable for individuals who suffer from nut allergies.
Some flavors are high in sodium.
All bars are high in saturated fats.
Customer Reviews

I was interested in how other people liked the taste of these healthy bars, so I searched the internet for different opinions. The overall reviews are pretty positive. It seems like people like the taste of these coconut bars. Here are a couple of comments:
"I was looking for an organic protein bar that was delicious and did not hurt my stomach. I finally found it! I have tried both the coconut and the peanut butter and love them. They keep me full for a while, I do not crash from them like I have from some of the others. They do not hurt my stomach and they are delicious. These will be my go to."

— Kelly K.
"These are some of my favorite protein bars now! Excellent, top quality ingredients, soy free and vegan. Not chalky. Very delicious. Dangerously tasty."

— K. Goyette
I love these. They're easy on the stomach and full of flavor. I eat one or half of one before my morning workout. It curbs my appetite as well, which is a plus. Can't wait for them to put more in stock.
Should You Buy Square Organics Bars?
Square Organics are a good, healthy treat available in a couple of very delicious flavors. Even though they're packed with protein, I like the Orgain Organic protein bar better. It's also protein-rich and flavorful, but it has much less saturated fats — about 1.5g.
Orgain Organic is also available in a couple of flavors, is also certified kosher, and it's even more affordable. Finally, it has fewer calories, so you may want to check that out if you're tracking your caloric intake.
Orgain Organic Protein Bar
Our #1 Recommendation
100% Plant-Based
10g of protein, 3-5g of fiber, and 140-160 calories per bar
USDA Certified Organic
Get the BEST PRICE until end of May
Click For Best Price
About the author