Some people see running as something they must do. And some run because they love it.For any runner, it can get boring if you do the same route every day without new challenges to test your limits.
We will jog quickly through a few sprint exercises for runners:
Why Run?
Love or hate running, running is good for your physical, emotional, and mental health, and people do it for various reasons.
Doing any cardio will help you lose weight. But, running is the best way to hit those burn zones.
We mentioned it improves your overall wellness, but it bears repeating.
Are you a competitor? Because running is one of the most competitive individual sports out there.
You might be a beginner runner trying a new thing.
Love or hate running, running is good for your physical, emotional, and mental health, and people do it for various reasons.
Workouts for 400 Meter Runners
A 400m race is about endurance, pacing, and fatigue management. It means the workouts can get complicated and push every limit you have and beyond.
Run 100m as near full speed, then fully recover.
Run 300m at the same speed, then fully recover.
Run 400m at the same near full speed, this time with a short recovery.
Sprinting vs Distance Running
Sprinters tend to be heavier and rely on fast-twitch muscle muscles when doing their thing. For them, it is all about short bursts of speed.
Distance runners are typically leaner and rely on slow-twitch muscle fibers. Long-distance runners have to consider more than speed.
Sprint Exercises for Runners
Speed is everything to some runners, and achieving it can get tedious when you've felt you hit a plateau.
Take a leisurely 5 to 8-minute jog to get your body and mind ready.
Do any of these drills as fast as you can, and run 20 yards. Each time try to increase your speed.
Walking lunges (20)
Knee hugs (20)
High knees (50)
Butt kicks
Straight-leg kicks
Ankle pulls
Lateral shuffle (60 seconds)
Best Army Running Cadences
Army cadences help to remind a soldier to keep their head up, remind them to take deeper breaths, and exhale forcefully. It is all meant to build endurance while distracting from the physical exertion of running.
It would stand to reason that army cadences are an excellent way to train if you're a runner, and there are some pretty great ones.
No Sweat
One mile – No Sweat
Two-mile – Better yet
Three miles – Gotta run
Four miles – Just for fun
Come on – Let's go
We can go – Through the snow
We can run – To the sun
We train – In the rain
A-I
R-B
O-R
N-E
Can you be – Like me?
Airborne – Infantry
Is Creatine for Runners??
Age will inevitably diminish muscle mass and function. Creatine is meant to offset that process because it is a naturally occurring amino acid.
Research into creatine is ongoing and still in the early stages. However, it does show effectiveness for runners who are focusing on speed.
4 Best Running Workouts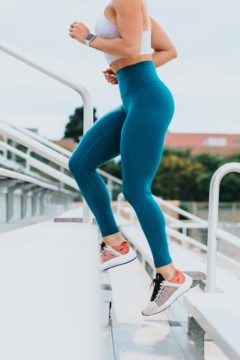 Repeating the same workouts doesn't do a lot for runners training to hit goals, both physically and mentally. You will get bored, and your body will adjust to a single workout and never go beyond it.
Easy run: 6-10 miles at a conversational pace.
Progression running workout: Fifteen minutes at a slow pace. Fifteen minutes at a comfortably difficult pace. Fifteen minutes at the most brutal pace you can achieve.
The hill run workout: Sprint up the heal eight times. Jog down for recovery. Then take an easy-going 3-mile run on a flatter surface.
The long run: Starting by running 1 mile at marathon speed once you've warmed up. Followed by a running 1 mile on easy mode. Run two miles fast and two miles easy. Finally, run three miles at a marathon pace and three miles at an easy pace.
Best Stopwatches for Running
Stopwatches and fitness watches are two different things. While you can use your Fitbit or Apple Watch to keep up with time, sticking to an old-school stopwatch ensures that you are getting the best performance evaluation.
You can also set realistic goals using the best stopwatches for running and keep up with your progress.
ULTRAX 496 - 500 Dual Split Memory - It has a lot of memory and can measure for ten hours. The ULTRAX is super user-friendly and sweat resistant.
FINIS 3X100M Stopwatch - While FINIS has less memory than the ULTRAX, it is still one of the top stopwatches. It automatically calculates your stride rate and displays cumulative time in real-time.
Best Virtual Running Races
You can find all sorts of virtual running races.
Route 66 Virtual Challenge
St. Jude Memphis Marathon Weekend
Disney Virtual Run
Seawheeze Virtual Half Marathon
Flying Pig Virtual Half Marathon
FAQs
Is sprinting a good workout?
Sprinting does a lot to strengthen your muscles and skeletal structure and helps develop power and speed. You will even find you can jump higher.
How long does it take to see results from sprint and speed exercises?
Training is not done overnight. Yes, it is tedious, but it is always worth it. You should start noticing changes in 4-6 weeks.
Does running change your body shape?
Running only does so much for muscle building. Once you've increased lean muscle from running, they don't develop any further.
You will need to throw in some weight training if you're trying to bulk even a little.
About the author