Answer me this. How do you find the time to find new exciting healthy recipes, shop, cook, and enjoy your food?
Meal delivery services serve to eliminate the tedius process of getting food on your plate. They do so simply by bringing pre-prepared nutritious meals right to your front door.
But questions are a-plenty: does it work? Are they better than what you could cook for yourself? Can it help you to eat healthier? Is it worth the cost?
To find out, we'll be reviewing one of today's most popular online food deliveries - Sakara Life Meal Delivery Service.
What Is Sakara?
Sakara Life is a high-end plant based meal delivery service that focuses on healthy eating. They promise to deliver a three or five day meal plan packed full of meals made up of whole organic foods.
Forbes magazine quite aptly described it as "a meal delivery service for aspiring Gywneth Paltrow types."
It has positioned itself at the top-end of the meal delivery service and has a price tag to match. It's a premium service that provides an even more intense and niche detox package once a month, especially for those looking for a health kick.
"It's our mission to figure out what it means to eat in the healthiest way possible. No extremes, just hard work that has to taste good."  - Whitney Tingle, Sakara Life Co-Founder
Check out our recent reviews of the best meal delivery services:
3 Benefits And Highlights Of Sakara
1. Organic Whole Food Plant Based Meals
The ingredients for every meal are of the highest quality. The company focuses on food that packs a serious nutritional punch. Expect to be eating lots of Instagram health buzz friendly superfoods like jackfruit.
Have to admit, with menu items like Spicy Harissa Chard Abundance Bowl and Superfood Breakfast Cookie with Chrysanthemum Jam, we got pretty excited to try it out.
2. Interesting Add-Ons 
Besides the Sakara meal plan itself, they also offer an abundance of add-ons and treats. If you feel peckish, items like the Beauty Chocolates, Probiotics, Detox Tea, or Metabolism Super Powder might appeal to you. They're good for keeping the calories down when they snack.
They also offer a selection of detox teas available for those looking to cleanse, thus catering to the health and fitness crowd.
3. Tailored Meal Plan
If you have allergies or any other specific dietary requirements, they offer a more tailored meal plan for an extra cost.
Sakara doesn't let you choose your meals for the week: what you get is what's on offer. But if certain ingredients don't sit right with you, they will kindly tweak the recipe without lowering its nutritional worth of flavor.
The edits are more bespoke and a far cry from just removing the troubling ingredient. It will always be matched and mixed with an equally fresh and viable alternative.
2 Sakara Shortfalls
1. A Lot Of Plastic And Space
This is a problem that is rife in the meal delivery sector, but other companies have tackled it a lot more successfully than Sakara Life seems to be doing. Every meal comes packed in plastic, sometimes three separate containers for one meal's different components, plus a smaller pot for any dressings or seasonings.
On their website, the company claims and emphasizes that they recycle as much as possible, but the fact of the matter is it takes up a lot of room in the fridge and is likely even more on a landfill.
2. Eating Elite Is Expensive
You are what you eat, and if you want to eat like a Victoria Secret's supermodel, you're going to have to pay for that privilege.
Sakara Life is marketed to a very elite and health-conscious clientele. There is an exclusively select price tag to go with that far surpasses the quality of the organic and fresh ingredients.
These plant based meals will set you back at least $60-$80 a day, and that's before you've made any amendments or add-ons to the service.
What's The Menu Like?
With Sakara, users will subscribe to a regular light breakfast, light dinner, and heavy lunch.
Breakfast is usually something with at least one superfood ingredient and lots of flavors, like the Chaga Chai Detox Bowl, a firm favorite from our box.
Lunch is the big hitter and more often than not contains a superfood bowl of veggies, carbs, and proteins. That paired with an amazing selection of dressings was probably my favorite meal every day, and if I had to order just a lunch box for the week, I still would.
Dinner had unfortunately some disappointing meals on the menu. While I expected it to be even bigger in flavor than lunch, I felt there were lots of swings and misses. It might be a curry, burger, or pasta bolognese, and it's certainly made from the healthiest ingredients, but it was somehow bland and chewy. Dinner should feel more exciting than this.
How Does Sakara Compare To Its Competitors?
People at Sakara know their niche, and they know it well.
Having successfully positioned themselves as an elite meal delivery service, they hold a reputation as a service for people who want to feel great, look great, eat great, and lose weight. Basically, they are as much a beauty brand as they are purveyors of fresh foods and healthy nutrition.
But I still have to note that it's not the only meal delivery brand suited to giving your body the best day to day nutrition.
Nonetheless, Sakara is well-established on the market. Anyone looking for a food program that adapts to their full time work schedule will find them quite appealing. Interesting, to say the least.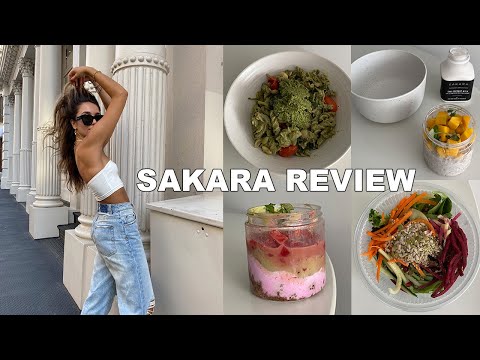 Sakara Life In-Depth Review
1. Cost
There are no two ways around it; as we mentioned before, Sakara's cost is incredibly high. Now whether it is of good value for that money is more subjective. For someone like me, the convenience of having delicious and convenient healthy meals delivered to my door is appealing.
My goals lie in the gym, and that Sakara does not believe in nutrition labels or calorie counting would make it a confusing and worrying prospect - a point we will cover more below. For someone looking to shed a few pounds but doesn't have time to invest, a personal dietician can be a lifesaver [1].
2. Nutrition
There is no doubt that Sakara's breakfast, lunch, and dinner options are as fresh as they are healthy, but exactly how beneficial is another question. The brand doesn't believe in calorie counting or nutritional labels citing research that tends to cause stress [2]. For someone like me who needs to strictly monitor my macros, this meal plan is a non-starter.
I understand the reasoning, though, and for the more casual health freak or someone just looking to eat and live a little better, I think the plan offers an excellent insight into what healthy and enjoyable meals should look like.
3. Flexibility
The company does offer a certain degree of flexibility in the meal plan. You can let them know of any specific dietary requirements or allergies you have, and they will tailor the meals with that knowledge.
This is a nice feature, but it does add a high cost to the service, which is already fairly expensive. If you are gluten-free, diabetic, or have a nut allergy, the company will charge you more, but the meals will feature food that felt like it was made with just you in mind.
In terms of flexibility on substituting meals or snacks, the plan is again fairly strict, never more so than when on the detox week, and you can expect kefir coconut for your snack with liquids for every meal of the day on the final day of the detox.
4. Taste
We tried the five day meal plan, and I have to say that except for one or two meals that were a little bland, I enjoyed my breakfast, lunch, and dinner every day.
The meals are incredibly inventive and utilize a great deal of variety and flavor from different sources.
The dressings and toppings set this apart from other meal delivery services, and the meals inspire you to get a little more creative in the kitchen yourself.
It's the little things that you can add to your meal that not only make it more nutritious but delicious too. I'm convinced Sakara pays lots of attention to taste.
5. Variety
There was a good deal of variety - repetition seems out of the question here. The salad features quite heavily, but it felt like something new every time with the different dressings and base ingredients. I give the chef credit for providing every dish a distinct twist, and I must admit I've recreated quite a few for myself since.
I'd be interested in how the menu changes and evolves over a month, but I was never bored for the week I tried it. Also, the Detox Tea add-on was an absolute joy day after day.
6. Choice
When it comes to choice, there is none. Apart from the gluten-free or allergy edits we mentioned above, there is little you can do to choose the meals that you will be eating day to day. This means you may receive a week of meals that you hate if you're a picky eater. No matter how they season it, if you hate artichokes, there's still a chance you'll receive some.
For the experimental or adventurous amongst us who like to try new things, Sakara might tickle your fancy. But if you're bent on sticking to your eating habits, maybe try some other, more customizable meal deliveries.
7. Impact
As we mentioned earlier, the impact on both the environment, your fridge space, and your wallet is all fairly big. Everything comes in its plastic container, and even those containers have their own smaller containers. With a wealth of alternatives now available, this is unforgivable [3].
That said, if this was the first time you've tried organic plant based eating, you may experience a slight offset of the impact. IF it opens you up to a more vegan way of eating in the future, that is. But a company that advertises itself as whole foods forward and organic centric should be doing more in terms of carbon-neutral packaging.
Customer Reviews
The Sakara Life Plant Based Meal Plan has been met with a great deal of praise online. The convenience, taste, and health benefits seem to match the price tag for those who can afford it.
It's difficult to find any negative reviews for the food service as it's only available through their website. We can't help but feel a bit cynical as the majority of positive praise online tends to come from models and lifestyle gurus - some of which are likely on commission or ambassadors for the brand.
"With Sakara I am nourishing my body in the way I want to, but that I never have the time to."

- Clo Cohen
"Food really is medicine and Sakara Life are the best doctors I have ever known."

- Client, New York City
FAQs
How long do Sakara meals last?
With proper refrigeration, the meals can stay fresh for up to 3 days.
Yes, Sakara is legit. The quality of the food is high-end. Sakara recipes use fresh ingredients only.
Sakara is a word in Sanskrit meaning "thoughts become things."
Would We Recommend Sakara?
Unfortunately, no. We at Vegan Liftz would not recommend Sakara - and not just because it's more on the expensive side.
We'll give them that their meals are delicious and made up of whole food and organic ingredients. But anyone who takes fitness seriously will likely find that Sakara lacks nutrition. Put another way: there are people whose concern is to know exactly what they're getting out of their food.
When it comes to a meal plan specifically designed for athletes or those who need to hit their macros down the gym, Trifecta Nutrition is the option I'd recommend.
It's much better value for money and provides more detailed and tailored nutritional breakdowns for your specific goals. The food is just as delicious, but unlike Sakara, Trifecta also serves to aid you on your fitness journey.
Trifecta Nutrition Meal Delivery
Our #1 Recommendation
Offers large meal plan varieties - Keto, Paleo, Vegetarian, Vegan, and Classic
​Organic ingredients
​Utilizes low carbon footprint
​Delivers fully-cooked meals at your doorstep
Get the BEST PRICE until the end of July
Click For Best Price
About the author