Life is busy, and most of us don't have the time to spend drafting up detailed nutrition plans and analyzing the data of our diets.
A good multivitamin is a daily dose of what we need in a straightforward supplement—allowing us to worry about other important things, like whether we will ever trust HBO again after the final series of Game Of Thrones.
In this review, we're going to take a closer look at the Rainbow Light Men's One Multivitamin and the Rainbow Light Women's One Multivitamin and measure them against other competitors on the market.
What's Rainbow Light Multivitamin?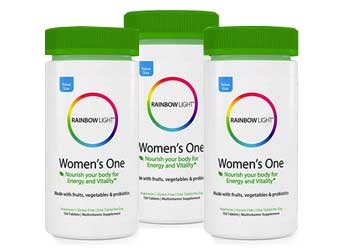 The Rainbow Light Men's One Multivitamin and the Rainbow Light Women's One Multivitamin are formulated and distributed by Rainbow Light Nutritional Systems.
The pills themselves are made by a contract manufacturer in Columbia, South America.
They are a daily multivitamin supplement that claims to be all-natural.
The Ingredients List
While the dose and some specific vitamins and minerals are different, the basic foundation of both the men's and women's one multivitamins is the same.
The scientifically proven health benefits derived from taking multivitamin supplements are still debated. [1] When it comes to supplementation products, the most crucial metric to consider is the absorption rate per serving. A study done about vitamin C absorption rates seems to indicate that it does not matter if the ingredients are synthetic or natural in that respect. [2]
The reason why both products over serve the RDA of minerals and vitamins in the formula is to boost the absorption rate.
Pros and Cons
Here's a quick run down of the pros and cons of the Rainbow Light Multivitamin based on our research.
PROS
Convenient and easy to swallow, you only need to take one tablet per day
Super affordable and is one of the cheapest multivitamin options
The beautifully sleek and simple design helps it to stand out from the crowd
CONS
Misleading marketing with claims of "natural" and "food-based" ingredients being mostly synthetic
Made in Columbia where they are far less strict than the US on product quality guidelines
Organic ingredients make up a negligible portion of the formula
Possible Side Effects

The vitamins and minerals in the formula are well measured at safe doses in formulas both for men and women. They both claim to provide an energy boost and an overall feeling of vitality derived from their nutritional support.
There is nothing in either formula on the bottle label that should cause concern. However, there are a few customer product reviews that mention taking the Rainbow Light multivitamin can turn your pee bright yellow. Now that's an interesting piece of information, isn't it?
Here are other multivitamin alternatives you can check out:
Where To Buy Rainbow Light Multivitamin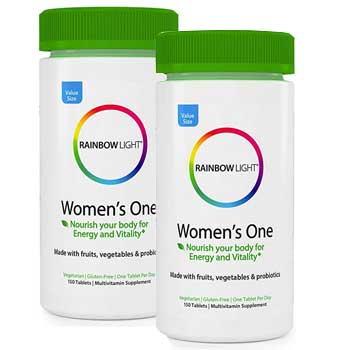 The supplement product is available over the counter in health shops and grocery stores all over the USA. If you are looking to buy them online, it is recommended you do so from their website.
They offer free shipping if you meet a certain order amount. They also frequently offer sales and promotions to make the product even more affordable.
You can typically find 90 tablets in one bottle and you can make a saving and bulk buy 150 tablets for a cheaper per tablet price.
User Reviews

If you skim the reviews for Rainbow Light Multivitamins, you'll find around 75% of them rate the product at 5 stars. The positive reviews speak about increased health and energy levels, while the negative tend to focus on pricing.
"I feel more energetic and haven't had so many colds etc.... but I have to warn you, they make your wee go bright fluorescent yellow. I think this is pretty common in multivitamins."

-Wayne Lee Harris

"This vitamins make me feel really good. I have depression, anxiety, and memory issues and this daily multivitamin have helped me feel and function better everyday. It's completely plant-based and nutritionally balanced."

-J. Chaves

"This could have been good but the smell is intolerable. It's disgusting and makes the pill hard to swallow because of the stench. The smell is so weird and tastes strong. It's literally made me puke. I'm done with it. I just can't."

-I.K.

"As a vegan, I'm admittedly deficient in Vitamin B12 so I had to look into a product that I can use to supplement. I was disappointed when I found out that this vitamin while has vitamin B12, but it is the synthetic form (cyanocobalamin) which my body will not absorb. I don't recommend this at all, and people should look into the labels of their supplements to make sure they're getting the good thing."

-J.C. Brown
FAQs
How Do You Take Rainbow Light Multivitamins?
Rainbow Light Multivitamins are easy on the stomach and can be taken anytime with or without food. It is recommended to take alongside food as digestion can aid with the absorption of the nutrients in the pill.
Is Rainbow Light FDA Approved?
Yes, Rainbow Light claims that all their supplements are manufactured in compliance with the GMPs (good manufacturing practices) set by the FDA. However, it should be noted that they are made outside of the USA in Columbia, where those guidelines are less strictly enforced.
Do We Recommend Rainbow Light Multivitamin?
Bluntly put, no, Rainbow Light is not the mens best multivitamin, nor is it the women's best. The main problems we have in reviewing the supplement is in the bald-faced lies that they make in the formula.
They claim the multivitamins are food-based, organic, and natural. Still, even a cursory glance at the ingredients list reveals those claims to be greatly exaggerated, if not entirely false.
The next major problem I would have in recommending this multivitamin over another is that it is manufactured outside of the USA, and the formula and price are continually changing. This is a worrying indication, one that is unlikely to benefit the consumer.
It might be a cheap product compared to others, but it doesn't offer good value for money.
If you want to try a great multivitamin that is scientifically backed, organic, tailored for both men and women's needs, and boasts high potency, I'd recommend the NutriGenesis multivitamin. We also have a full review of this product.

Out of all the products we've reviewed, it consistently scores highest in every metric that matters.
Performance Lab NutriGenesis
Our #1 Vegan Multivitamin
Packed with 17+ vitamins and minerals to boost overall health
Male and Female formulas available
​Supports cardiovascular health and metabolic performance
​Promotes healthy skin, hair and nails
Get the BEST PRICE until the end of May
Click For Best Price
About the author