People generally tend to focus more on strengthening their bodies and taking supplements to improve overall health. This may explain why we often forget the importance of brain health and cognitive performance. After all, our brain is the most important organ in our body.
On paper, nootropics work to increase your mental performance but the reality is that not all of them are effective - and in some cases even safe.
If you've read any of our nootropic reviews, you'll know Mind Lab Pro is one of the favorites. This explains why we're so excited to put together this Performance Lab Mind review as well.
So how does it measure up compared to it's more cost-effective alternative?
Read on to find out more.
What Is Performance Lab Mind?
Performance Lab Mind is a cognitive enhancer supplement designed to boost all aspects of brain function and mental health. It's a comprehensive stack that doesn't limit itself to just one function.
It's made by the UK based company Opti Nutra. Essentially, it is a stripped and more cost-effective alternative to its big brother - Mind Lab Pro.
It features a few of the same ingredients and effects, but it's less comprehensive and much more affordable.
Some of the key claims are: 
Increased brain energy
Enhanced cognitive function
Boosted focus
Promotes neural flexibility
Enhanced memory
Increased cerebral blood flow
Enhanced performance in high-stress situations
Performance Lab Mind Ingredients
Performance Lab Mind features a good dose of four of the key ingredients from the Mind Lab Pro formula. Each of these focuses and delivers on a different aspect of cognitive enhancement and work together synergistically to provide essential comprehensive brain health support.
250 mg Citicoline as Cognizin®
Citicoline is an excellent ingredient for any cognitive enhancer formula and the one with the most research to back up its effect.
Performance Lab Mind contains very close to the optimal dose of citicoline, which, when taken daily, can enhance memory, improve cognitive function, and heal brain injury. [1]
Cognizin is a respected branded form of citicoline, one of the most effective ways to raise the acetylcholine levels in the brain. [2]
Many studies have documented its effectiveness in treating brain disorders such as Alzheimer's but is also a great preventative and regenerative ingredient that boosts overall brain health.
100 mg Phosphatidylserine (PS) as Sharp PS® Green
Phosphatidylserine aims to boost working memory, stimulate attention, and reduce stress. [3]
It's an essential cell protein in our brain cells that declines naturally as we age, and so supplementing can help offset this process - something which Performance Lab Mind claims to do, a do so effectively.
Phosphatidylserine is a phospholipid that makes up 15% of our brain cell membranes. It maintains cellular fluidity, optimizes neuro-receptors, and promotes acetylcholine and dopamine levels for a healthy brain.
100mg of Pohsphatidylerine a day is a near-optimal dose, and it's an excellent choice to supplement long-term mental health and brain function. [4]
250mg Ajipure® Tyrosine
In an ever-increasing amount of studies, the amino acid tyrosine shows immense nootropic importance, and lots of nootropic supplement formulas include it in the stack.
Its main application is to increase mental performance in incredibly stressful situations. [5]
Even outside of stressful situations, tyrosine promotes dopamine production, which is mood-enhancing and beneficial to a healthy mind.
Performance Lab Mind includes more tyrosine than Mind Lab Pro does and is at the upper end of the perfect dose of 150mg to 300mg a day.
75mg Maritime Pine Bark Extract (95% extract)
Performance Lab Mind uses the highest quality maritime pine bark extract, which is an incredibly potent antioxidant.
This delivers oxygen and glucose to your brain cells and increases nitric oxide levels that dilate blood vessels. Increasing blood flow provides you with more brain energy, which aids learning, memory, focus, and mood.
In several studies, maritime pine bark extract has been shown to have positive physiological effects. The potent antioxidants have ongoing health benefits to both the brain cells and the body.
Maritime pine is an ingredient you should supplement yourself with even if you prefer not to get it from the Performance Lab Mind stack. [6]
PROS
Completely honest about ingredients and dosing
Highest quality ingredients
Vegan with no additives or allergens
Ships in recyclable packaging with biodegradable packing peanuts
Empty bottle money-back guarantee
CONS
Lacks the vitamin support of other nootropic stacks
Dosing is too low if you are already using racetams or ADHD medication
Side Effects
Performance Lab Mind only uses the highest quality ingredients, and all of those ingredients have been rigorously tested in various trials and studies. They are also put through 3rd party testing by Opti Nutra themselves to evaluate the synergy and cohesion of the stack.
With Mind Performance Lab, there is very little chance of enduring any side effects. There are no accounts of adverse side effects in the many customer reviews either.
However, if you do happen to experience any adverse side effects, its best to talk to a health care professional.
Other nootropic alternatives you can try are: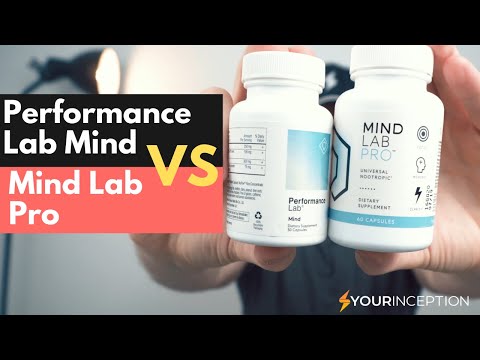 Where Can I Buy Performance Lab Mind?
You can buy Performance Lab Mind directly from the Opti Nutra website.
They offer discounts for buying in bulk and also a relatively generous empty bottle money-back guarantee if you're not completely satisfied.
You might be able to find "cheaper" bottles elsewhere, but if it isn't from official sources, it shouldn't be trusted.
Always buy directly from the official website to ensure you get the most bang for your buck.
User Reviews
The only drawback of the product from the company's website is the lack of authenticity in the user reviews. It's hard to search through for specific reviews on a product or find a 1-star review.
Each Performance Lab Mind review I checked was massively complimentary and quite in-depth. I don't doubt their truthfulness, it's just that it would be nice to be able to look at both sides of the same coin.
"Seems to be good quality products for sure. I bought Mind, Energy, Sleep, Stim and the Men's health capsules as well as the MCT oil that I put in coffee and on my food - I especially think the Energy one is really good and the ingredients of it are massively underrated as far as health and optimisation goes. Stim is also very good with the l-theanine dose in it. My only suggestion (to the company) is that I wish they had a somewhat higher dose of citicoline in the Mind tablets, but even then I will still re-buy since the overall formulation with the other ingredients in it is pretty good."

- Christopher, 5-Star Review
"Honestly, I was rather desperate. Difficulty focusing like I've never had before due to the stress of current Covid-19 crisis I guess. Within a couple of days, of taking just one pill in the morning, I found myself able to complete tasks again. You still have to be mindful, and use strategies and tools, but with "Mind", you're able to put the pieces together. Clarity without jitters. I'm a believer."

- Jolene, 5-Star Review
FAQs
When Should I Take Performance Lab Mind?
You should take 1-2 capsules of Performance Lab Mind in the morning with your breakfast. You can take more during times of increased mental need but shouldn't regularly exceed the recommended dose.
Is There No Caffeine In Performance Lab Mind?
There is no caffeine in Performance Lab Mind because it is purposefully made to be stimulant-free and instead uses Cognizin to increase mental energy and alertness. You can still enjoy your regular coffee alongside taking Performance Lab Mind if you need that extra boost.
Is Performance Lab Mind safe?
Yes, Performance Lab Mind is considered safe. But due to the fact that there is a lack of evidence from larger, controlled studies about the effect of nootropics in general, we recommend that you start slow and monitor any changes to ensure consistency.
Does Performance Lab Mind Really Work?
Yes, Performance Lab Mind works. It doesn't work quite as well as Mind Lab Pro, but it does much better than expected.
It is ideally designed to be paired with the other products from the Performance Lab assortment and could form the base for a powerful and individually curated nootropic stack.
It works perfectly for users on a budget and provides an affordable way to get the same high-quality ingredients for brain cell formation that are featured in the Mind Lab Pro. It offers comprehensive support for overall brain health and cognitive performance.
I would still recommend Mind Lab Pro over Performance Lab Mind as a primary brain supplement.
Not only is it an excellent introduction to the Opti Nutra brand but it's also perfect for new nootropics users who want to get the most bang for their buck.
Note that a cognitive enhancement nootropic supplement is not intended to diagnose or prevent any disease.
Mind Lab Pro
Our #1 Recommendation
Full information of all ingredients and doses
Only uses high-quality ingredients and at optimal dosing
Vegan capsules and all-natural
No known allergens or additives
Get the BEST PRICE until the end of June
Click For Best Price
About the author