If you are seeking for proof that veganism isn't a lifestyle reserved exclusively for the meek and moderate, then look no further.
Pamela Anderson, a longtime animal activist and PETA promoter, not to mention - universally acclaimed "bad girl" - is also vegan.
What lessons might we learn from Pamela Anderson's life story? How did this blonde bombshell grow up to be a fierce advocate for animals and one-should-not-wear-fur ideologist?
Why Did Pamela Anderson Go Vegan?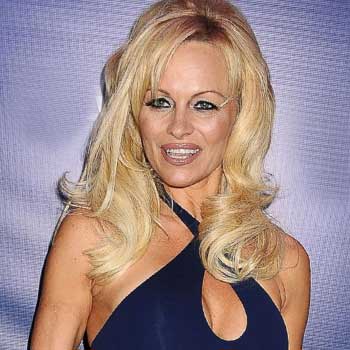 Pamela Anderson (53) became vegan in her early teens.
Much like the famous actor and Academy award winner Joaquin Phoenix, she witnessed animal torture fist hand at a young age.
Her father was a devoted hunter. One day, she saw a decapitated deer hanging in front of her house, it's blood dripping into the bucket, and that was basically it.
She cried for days, utterly devastated. But it was not hard for a future Canadian star to ditch meat and even convince her dad to quit hunting.
Former Baywatch actress turned to a plant based diet and eventually became a full vegan.
[thrive_leads id='11437']
"It wasn't hard for me to give up something so cruel", said the celebrity to the news reporters. It was more than an image thing from the day one, but her environmental sentiments somehow changed throughout adulthood.
From East Coast to Westwood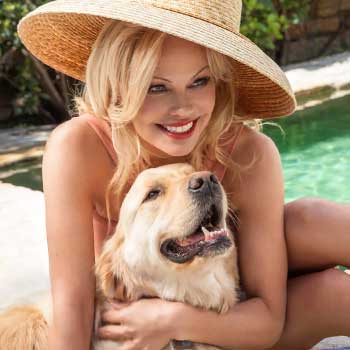 Growing up on a Canadian coast, it was hard for Pamela to consider fish as an animal equal to mammals.
Anderson had to come a long way from a pescaterian to a PETA sweetheart and legendary fashion designer Vivienne Westwood's kindred spirit. Animals got themselves some powerful allies. Pamela isn't the only vocal celebrity animal advocate. Other notable animal enthusiasts are Leona Lewis, a British singer and American soccer star Alex Morgan.
Pamela Anderson's personal views and values evolved for the better. It took time, support and help from others for Pamela Anderson to fully become a champion for animal rights.
It was a heavy duty leather costume she wrapped herself in as the main protagonist in the 1996 movie Barb Wire. Never again.
Pamela Anderson now is a totally different human being. Once best known for her voluptuous body and provocative sex appeal, she adopted a new way of life and philosophy.
She went so far as to pressure Canadian prime minister Justin Trudeau to become a vegan and even send some faux fur coats to the now first lady of The United States Melania Trump and celebrity provocateur Kim Kardashian. Bold and beautiful!
Pamela Rejected Ice Bucket Challenge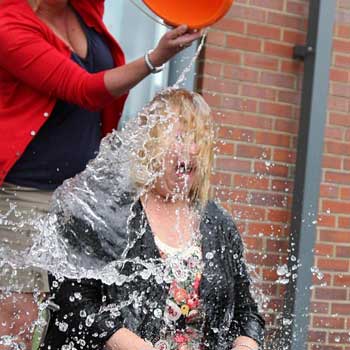 Outspoken vegan Anderson claims that a plant based diet made her healthier, improving her sex drive as well.
While we can't vouch for that, Pam Anderson now is a person you don't want to come in public conflict with when it comes to animal rights.
The news went crazy when she pulled a bit of a show tuning down the hype behind the Ice Bucket Challenge [1].
Why? She finds ALS Association's research methods to be cruel on animals.
Although recognising this charitable idea itself to be a noble one, she told the press that celebrities immersed in cold water are in fact supporting inhumane treatment of rodents and monkeys alike.
Like that's not a reason good enough for us to support her, she refuses to be a zealot.
Perfectly aware of how hard it is for some of us to turn vegan, or avoid meat for that matter, she encourages people to take small steps first:
No meat Monday" is okay and you ARE "doing something good.
Pamela Anderson: The Good, The Bad, & The Vegan
Honestly, did you ever assume that Pamela Anderson was bound to become one of the fiercest animal rights activists and a vegan pop icon? When we say fierce, we mean it, big time.
Her story arc, her personal and moral development has shown that you can be "a bad girl" and a vegan at the same time. I mean, everything changes: our moral values, technology, customs, and so does the image of a modern famme fatale.
Once depicted as a shallow Baywatch hottie, Pamela Anderson today is a no-bullshit PETA promoter and a true fighter for animals and their rights.
Her impact on the fur industry and people all around the world looking up to her, recently made Anderson a force to be reckoned with.
She once wrote this quote, which was later published by the Guardian [2]:
As for thinking you've done something because you've worn a slogan T-shirt or used a hashtag? You still have to take action.
Now, that's the Barb Wire we need today. We need more Pam Andersons everywhere.
[thrive_leads id='11437']
---
Reference:
https://www.theage.com.au/entertainment/celebrity/pamela-anderson-refuses-ice-bucket-challenge-20140822-1072f6.html
https://www.theguardian.com/fashion/2018/sep/19/pamela-anderson-on-never-wearing-leather-again-i-call-myself-a-naughty-vegan
About the author