Testosterone boosters are often unfairly associated with overly-macho posers who care more about their "image" than being genuinely fit and healthy.
Outbreak Nutrition's Rise is a booster that does itself no favors in this regard. I'll admit to being quite cynical about their heavy-handed branding. Pictures of gas masks and nuclear explosions adorn the bottle. They even use the phrase "this post-apocalyptic world" in their web copy.
Fortunately, I managed to overcome my prejudice and put together this genuinely unbiased review of my experience with Outbreak Nutrition Rise.
What is Outbreak Nutrition Rise?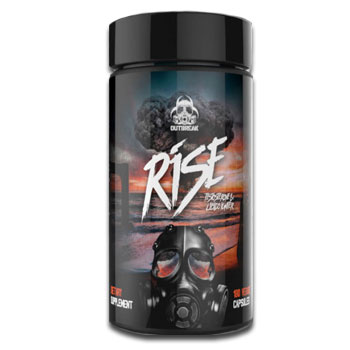 Little about the actual effects of taking this supplement is published on their webpage.
Outbreak doesn't position Rise as a testosterone supplement that'll help with specific pain points that regular health-conscious dudes deal with. It's branded as a "survival weapon" that'll see you "DOMINATE" the world, "taking no prisoners" in the process.
I agree that dealing with prisoners presents an administrative headache that I'd much rather avoid, so that part of the branding resonated, at least.
Like I said before, their website kinda goes through the motions when discussing its benefits. Aside from the ingredients section, the usual marketing jargon abounds.
It's described as "extremely potent." It promises to provide "strength, power, aggression, and drive"; all the qualities a man needs to "repopulate the earth."
The closest they come to making a measurable claim is in saying that you'll experience a lift in your testosterone levels and sex drive within 3-7 days of taking it.
Other plant-based test boosters you may like:
Outbreak Nutrition Rise Ingredients

1. Zinc (30mg)
Zinc is another solid ingredient that's common in a testosterone booster. It helps your pituitary gland produce those luteinizing hormones necessary to maintain a solid reproductive system [1].
The results indicate that exercise decreases thyroid hormones and testosterone in sedentary men; however, zinc supplementation prevents this decrease.

- Mehmet Kilic, Researcher at Selcuk University
3. Fadogia agrestis (1200mg)
There's no scientific evidence to back up anecdotal claims that Fadogia agrestis assists with your sex drive and physical performance in the gym. Nevertheless, Outbreak Nutrition Rise contains a lot of it.
4. KSM-66™ Ashwagandha Extract (500mg)
Ashwagandha is a popular ingredient in several "alternative medicines" because of its wide range of benefits. I'll admit to being quite surprised to find scientific evidence backing up claims that it boosts muscle development [3].
5. Fenugreek - Trigonella foenum-graecum (500mg)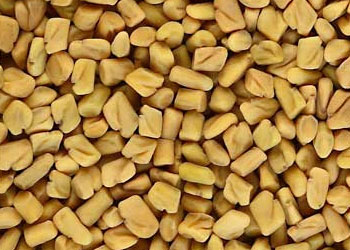 A clinical study conducted in 2015 [4] measured the testosterone levels in males participating in an eight-week resistance-training program.
Positive short-term results were visible, with the Fenugreek group showing higher free testosterone levels than the placebo group.
However, once the study was concluded, there were no measurable differences between the two groups.
6. Longjack - Eurycoma Longifolia (300mg)
In Southeast Asia, Longjack has such a reputation for a sex drive enhancer that the plant is now officially a protected species. Is there science to back up these claims? Sadly, not much.
7. Boron Citrate (100mg)
Boron is clinically proven to reduce estrogen levels and boost free testosterone in men. It's also a terrific supplement if you're focusing on muscle development [5].
8. Red Seaweed - E. cottonii Extract (500mg)
I was able to track down some studies on the positive effects of Red Seaweed on the sperm-production in male rabbits, but none relating to humans. The jury's out on this one.
PROS
Rise contains some ingredients scientifically proven to boost testosterone and libido.
The supplier's website offers free shipping for orders over $50.
Rise is slightly more affordable than competing testosterone boosters.
CONS
The absence of vitamin D isn't ideal.
Taking six tablets every day is a bit of a pain.
Rise may contain ingredients that are banned by certain sporting federations.
Are There any Side Effects?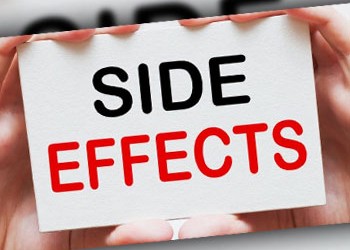 To their credit, Outbreak is quite upfront about the fact that a testosterone booster can have general side effects like mood swings and skin conditions.
They also make it extremely clear that Rise should not be taken in conjunction with any medication without consulting a doctor.
People with known psychiatric conditions are very likely to face serious side effects if they take Rise. If you are receiving treatment for blood pressure, thyroid problems, heart-related issues, or if you've ever had a stroke, steer clear of Rise.
For those having any of the side effects, consider using next supplements:
Where can You Buy Outbreak Nutrition Rise?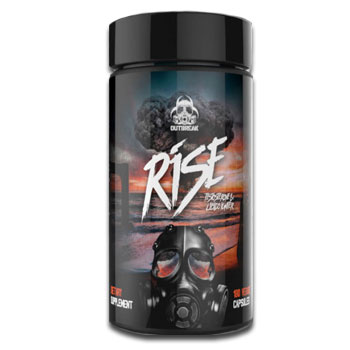 While Outbreak Nutrition has a presence on third-party retailers - it's best to head over there, since most of them tend to offer free shipping as well.
Rise is also available at several brick-and-mortar locations all over the world.
Outbreak's website has a very convenient location tracker to help you find the spot closest to you.
Customer Reviews

Strength was definitely increased. In the one month I used Rise, the number of strict pull-ups I was able to do increased by about 4." - Kenny747
Definitely works. Had very good size gains...until I came off, then it was back to normal." - pullaztunt
I have about two months of using this product, and I really didn't feel any changes in me. - Nevill9shortbttm
It would have been far beneficial if more proven ingredients were included. As it is, there's some really obvious and highly effective ingredients missing." - GymBeam
FAQs
How much Outbreak Nutrition Rise should I take?
The recommended dosage is six tablets daily.
When is the best time to take Outbreak Nutrition Rise?
No specific time is mentioned on their site. The only recommendation is that it's taken at the same time every day.
Can I stack Outbreak Nutrition Rise with other supplements?
There's a conspicuous absence of Vitamin D, which is a common ingredient in a testosterone booster. Stacking Nutrition Rise with this supplement would be a good move.
Should You Buy Outbreak Nutrition Rise Test Booster?
I promised that this would be an unbiased review and I'm gonna prove it now. There are better products on the market to boost your testosterone levels.
The absence of some crucial ingredients is my main gripe with Outbreak Nutrition Rise. Taking six tablets every day was also kind of annoying.
While I'm certain Rise did boost my testosterone levels, I have to stick to my personal preference for Centrapeak Testosterone Booster.
Not only does it provide the optimal combination of ingredients for improved testosterone production, but it also had a markedly positive impact on my cognitive function.
Sure, it may be on the expensive side, but you get what you pay for, and Centrapeak is simply unmatched in this arena.
Which do you think is the best vegan testosterone booster? Got any experiences you'd like to share?
Let us know in the comments below.
Centrapeak
Our #1 Recommendation
​Delivers ingredients that are claimed to reduce cortisol levels
​Increased cognitive function
​Might just be able to increase sperm count
​Can increase endurance and stamina
Get the BEST PRICE until the end of May
Click For Best Price
About the author