Now Probiotic 10 is an up and coming probiotic supplement that claims to offer a host of health benefits.
In our Now Probiotics 10 review, we will look at this supplement in more detail. That means which probiotic strains are used, whether there are any side effects we need to be aware of, and what do customer reviews have to say about the product.
Let's dig in!
What Is Now Probiotic 10?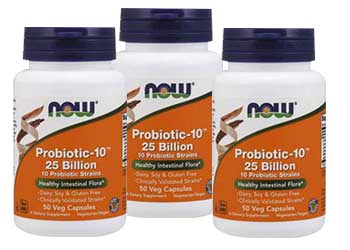 Now Probiotic 10 is a supplement that is made using a balanced spectrum of 25 billion live organisms that will help to naturally colonize your GI tract. No doubt, 25 billion may sound overwhelming, but when it comes to probiotic strains, that's a fairly small colony. Yet it just might be enough to jump start proper digestion.
With a serving size: 1 - 2 capsules per day, Probiotic 10 helps promote:
A healthy digestive system
Better maintenance of your intestinal lining
Improved intestinal motility
Your detoxification process
The Ingredients

As the name suggests, this supplement contains 10 different probiotic strains, which include:
Lactobacillus acidophilus
Lactobacillus plantarum
Lactobacillus rhamnosus
Lactobacillus salivarius
Lactobacillus casei

Lactobacillus paracasei
Bifidobacterium breve
Bifidobacterium lactis
Bifidobacterium longum
Streptococcus thermophilus
As you can see, the primary strains among 25 billion colony forming units (CFUs) are Lactobacillus and Bifidobacterium, which are reputed to offer a range of health benefits, such as:
Now Probiotic 10 is not manufactured with wheat, gluten, soy, milk, egg, fish, shellfish, or tree nut ingredients. However, it should be noted that the facility that manufactures this probiotic may manufacture other supplements that contain these ingredients.
If you are pregnant, or nursing, or are taking any medication that may compromise your immunity then it is worthwhile speaking to your doctor before using Probiotic 10.
PROS
Offers numerous health benefits
Safe for vegetarians and vegan users
The product does not contain dairy, wheat, soy, fish or shellfish
CONS
Only 25 billion CFUs
Not evaluated by the Food and Drug Administration
No money-back guarantee
Potential Side Effects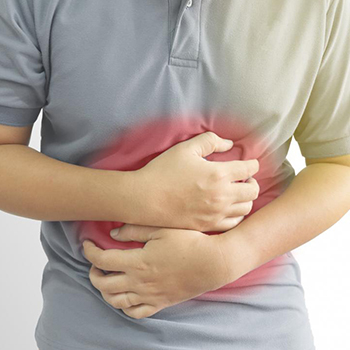 This probiotic is GMP Quality Assured and has an NPA A-rated GMP certification, which means that the manufacturing processes have been examined thoroughly. This includes how the probiotics have been tested and manufactured.
Despite thorough testing, it is worth stating that using probiotics is not completely without risk. There are some side effects associated with their use, which include:
An increase in gas and bloating. This is usually a temporary side effect that will subside after a few weeks of using the probiotic.
An increase in histamine levels. Probiotics can cause symptoms similar to an allergic reaction, especially in those who are intolerant.
Risk of triggering allergic reactions. This is why you should always check the label before use. This particular probiotic is free of dairy, soy, and gluten, so there is less risk of encountering this problem.
Risk of infection. Those with a suppressed immune system, or who have recently had surgery should be extra careful with probiotics.
Where To Buy Now Foods Probiotics-10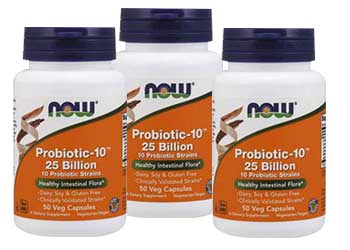 You can buy this probiotic from a variety of online health stores, it also has its own official website.
One of the best places to buy is from e-commerce sites, who have this probiotic listed for a fairly affordable price, with FREE shipping available on your first order.
The one issue we have is that there is no money-back guarantee offered, so if there are any issues you won't be able to get a refund. Nowadays, a money-back guarantee is important and shows that the manufacturer has the belief that their product works.
User Reviews

Over 70% of those who have left a review for Now Probiotic 10 have given it a 5-star review, with many stating how effective this product was:
"It's great when mixed with almost yogurt. I puree blanched almonds, let them cool, add the probiotic and put everything in the yogurt maker for 12 hours. Bifidobacterium breve and lactobacillus paracasei galore!"

- Mozafamily
"This product is an everyday must for me. It helps me manage my mood and drive for the day. I also remember the first time I took one of these. Within 30 minutes, I started to feel this overall sense of well-being. Highly recommend!"

- CapeCod
However, not everyone is so pleased with Now Probiotic 10, as some customers have revealed that the bacteria was dead when it arrived after delivery:
"I did a yogurt test on the probiotic and turns out the bacteria was dead. This review is not necessarily a criticism of the product as much as I question the shipping of the product. The stuff's temperature sensitive, which may increase your chances of end up with a worthless probiotic."

- MoreWheat
"There's no point in talking about billion CFU if the bacteria is dead on arrival, right? The bacteria can die out if they get too hot so extra care is needed when storing and shipping. Probiotic 10 may be formulated to deliver potency, and the price point is quite attractive - BUT I would recommend purchasing your probiotics from a retailer who understands how to care for this kind of product."

- Oceanus L
FAQs
Is Now Probiotic 10 Only Suitable For Women?
No, Now Probiotic 10 is not only suitable for women. Both men and women can experience the benefits of this probiotic.
Does Now Probiotic 10 Require Refrigeration?
It is recommended that you refrigerate Probiotic 10.
The reason for this is that the live bacteria or colony-forming units will slowly start to decline as the month's pass. Typically you will see a drop of 5% each month without refrigeration. Putting Probiotic 10 in the fridge will prolong its potency and viability.
Should you take Probiotics 10 on an empty stomach?
No, it is not advised to take Probiotics 10 on an empty stomach. The GI tract can be quite hostile to probiotics.  This is due to the acidity of the gut which isn't necessarily affected by the time of day you take the probiotic strains.
Additionally, if you wonder when is the best time to consume probiotic supplements, you can check out our blog for a detailed explanation.
Should You Buy Now Foods Probiotics-10?
Now Probiotic 10 is a good probiotic, but it is certainly not the best.
It contains 25 billion CFUs, which is a good amount for a serving size: 1 capsule - 2 times a day. Strains like Lactobacillus plantarum and Lactobacillus casei providing numerous health benefits.
Now Probiotic 10 is also safe for both vegetarian and vegan users, with no dairy, wheat, gluten, soy, fish or shellfish to be found in the formula either.
The problem is that there are supplements available with more CFUs available, such as 1MD Complete Probiotics Platinum. This particular daily probiotic has a guaranteed 51 billion CFUs and 11 potent probiotic strains, providing even more potent health benefits than Now Probiotic 10.
What is your favorite daily probiotic supplement? Got a review to contribute? Share with us in the comment section.
1MD Complete Probiotics Platinum
Our #1 Recommendation
Helps relieve you from gas, bloating, and indigestion
​Includes 1 NutraFlora Prebiotic Fiber for enhanced nutrient absorption
​51 billion living CFUs
​Gluten, soy, and preservative-free
Get the BEST PRICE until the end of May
Click For Best Price
About the author