I love the idea of getting a big serving of superfood nutrition in the morning and giving my day a healthy kick start.
But the problem is:
There are a lot of greens powders out there all claiming to be the best there is, while the reality is different. Truth is, it's hard to find one that is transparent with its ingredients and per serving amounts.
That's why I was surprised to find Macrolife Naturals Macro Greens - and at such an affordable price, too.
"Greens powders are best consumed mixed into a low-sugar smoothie or vegetable juice, Usually 1tbsp a day is sufficient additional nutrition. An ideal combination would be frozen banana, frozen spinach, fresh or frozen berries, almond milk, super greens powders, ground flaxseeds, and ground cinnamon."

- Jenny Tschiesche, nutritionist and creator of lunchboxdoctor.com
While Macro Greens Superfood has an impressive amount of ingredients in the formula, do they come in servings that will actually be beneficial?
Let's take a closer look and find out.
What Are MacroLife Naturals Greens?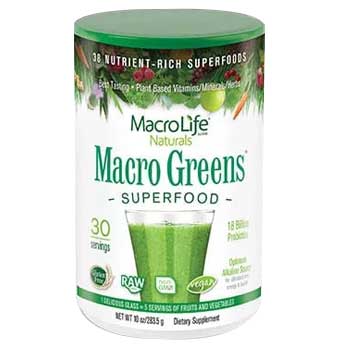 Created by fitness expert Sylvia Ortiz, MacroLife Naturals Greens certainly deliver when it comes to the natural part of its name.
It's a certified organic, gluten-free, non-GMO, vegan product that promises to alkalize, energize, and vitalize.
The juice powder contains a blend of 38 nutrient-rich superfoods full of antioxidants, natural plant enzymes, vitamins, minerals, and amino acids.
It isn't just fruits and vegetables - there is a fair serving of much harder to obtain and source ingredients which back up some of the products bold claims to provide health benefits.
List of Ingredients

One of the things that instantly helps Macro Greens to stand out from the rest of the market is the fact that they don't hide behind proprietary blends. This is so incredibly rare that it deserves praise.
Reading the label, you can be sure that the Macro Greens formula contains all-transparent ingredients.
Nutrient-Rich Super Food Blend (1735mg)
It contains 1250mg of organic barley grass juice powder, an ingredient that is said to alkalize the body and has proven in studies to be an effective preventative medicine [1]. The blend also contains 300mg of organic spirulina powder, 100mg cracked cell chlorella, 83mg of spinach leaf powder, and 2mg of policosanol.
Non-Dairy Probiotic Cultures
Which they claim contains over 18 billion probiotics from five different strains of bacteria.
Antioxidant Proprietary Blend (1430mg)
Containing acerola, which is gaining interest as a superfruit in the scientific community for its high concentration of ascorbic acid and its other health benefits [2]. Other antioxidant-rich ingredients in the blend include milk thistle, green tea extract, grape seed, and ginkgo Biloba.
Bonus tip: If you are struggling with weight problems, add the best green tea extract from the list.
Adaptogenic and Metabolic Herbs Blend (2808mg)
Contains horsetail, which has proven anti-inflammatory properties [3] and other ingredients commonly found in ayurvedic and herbal medicine such as licorice, ginger, parsley, astragalus, and echinacea.
Natural Fibers (1225mg)
These include apple pectin cellulose powder, apple fruit powder, and certified organic flaxseed meal.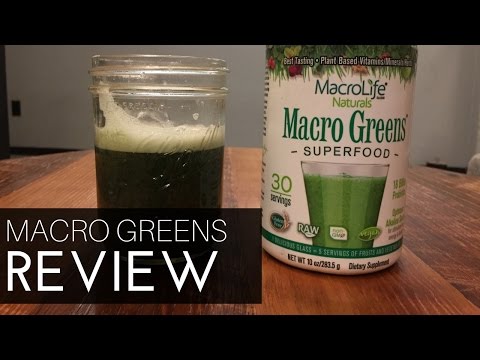 Harmonizing and Support Herbs (1475mg)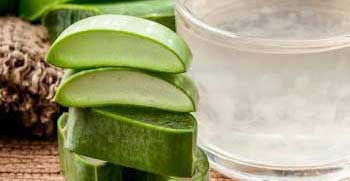 Contains aloe vera leaf powder which has a long and proven history in ayurvedic medicine treating a whole host of health complaints from constipation to skin disease [4].
It also contains beetroot powder which has been shown to treat mental stress as well as body stress and inflammation due to its promotion of nitric oxide availability [5] and watercress leaf powder.
If you're an experienced lifter, you probably love the feeling of the pump after a grueling workout. For that purpose, add the best nitric oxide supplement into your pre-workout mix.
Digestive Enzymes (200mg)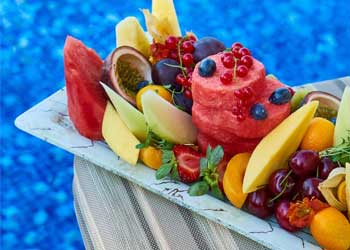 They have been shown to improve gastrointestinal health, which can have a big impact on the entire body's overall health when supplemented daily [6].
There is one issue that I have with the ingredients list, and that is that the Macro Greens Superfood product claims to provide 5 servings of fruits and vegetables in every glass.
This is true if you look at the ingredients list, but there is so much else going into it that I doubt that they could be full servings of fruits.
If you are determined to improve your gut health, feel free to check out my list of the best vegan digestive enzymes.
How Does The Macro Greens Superfood Taste?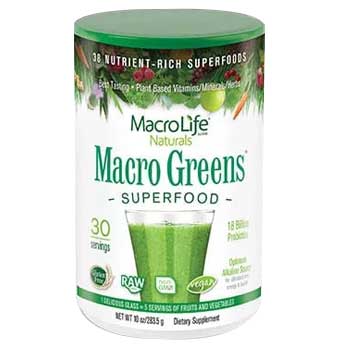 The MacroLife Naturals Macro Greens Superfood powders have been voted one of the "best tasting greens." They advertise this on the packaging.
It's an award that is quite hard to prove to be entirely subjective, but I have to admit they're probably right. Given that it's dairy-free, it has a fantastic creamy texture and also a deep fruity flavor to it, similar to a berry smoothie.
I'd happily admit that Macro Greens is one of the best tasting greens powders I've tried, and given that they don't add any flavorings or additives, it's even more impressive.
It is only available in the one flavor, though, and if it isn't to your liking, you can mix it to taste with other ingredients in a smoothie. Although the company advises not using any citrus fruits as it might kill the probiotic bacteria.
PROS
18 billion probiotics for a healthy gut as well as a healthy body
One of the best tasting macro greens superfood powders on the market
Incredibly cost-effective and affordable compared to similar products
CONS
Makes some claims that might be provably false such as the fruits and vegetable servings
Doesn't have any ingredients that would aid with weight loss other than generally eating healthier
While more honest than most on the label the Macro Greens still use proprietary blends
The Side Effects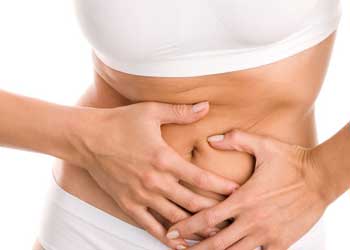 The probiotics included in the mixture can help users regulate and enjoy a healthier digestive and tackle certain specific gastrointestinal issues.
However, many find a certain amount of upset when they first start taking a probiotic as you adjust to it.
This can mean a week of "tummy grumbles" in the politest term. If the upset persists longer than a week, you should consult with a medical professional.
Alternatively, you can try Paradise Orac Energy Greens powder and see if it suits you.
Where To Buy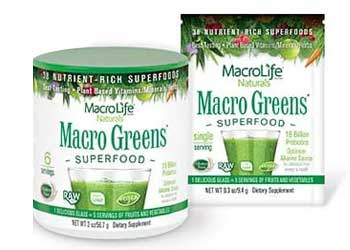 The Macro Greens are available from a few different online retailers.
Still, it's best to buy them directly from the MacroLife website where if you participate in the frequent buyer scheme, you can enjoy a 30% discount and free shipping.
They also offer a 14-day money-back guarantee if you are not satisfied with the product as long as it is 90% unused when returned.
Again, this offer is only available if purchased from the company website.
Should You Buy MacroLife Macro Greens?
MacroLife checks a lot of boxes with its impressively delicious and nutritious superfood powder. They are more honest and open with the labeling than most other products on the market, and many of the ingredients have proven benefits.
Moreover, it tastes great and costs a fraction of what other lesser greens powders do.
That said, some of their claims are hard to substantiate, which casts some doubt on the efficacy and research done into the ingredients and formulation.
I would recommend the powder to someone trying greens for the first time, but if you want a proven and effective greens powder that is guaranteed to have a positive impact on your health, I'm still sticking with Organifi.
It does everything that MacroLife Naturals does but with a bit more research and legitimacy behind the plant-based formula itself. I've used both and wouldn't make a switch to MacroLife full time.
Organifi simply brings better results and helps reduce stress levels, while also curbing hunger.
Read any MacroLife Naturals Macro Greens reviews? Got experience with the product you want to share?
Let us know in the comments below.
Organifi Green Juice
Our #1 Recommendation
Packed with 12 amazing superfoods
USDA Certified Organic
Nutrients are readily available for absorption
Taste great and is very smooth
Click For Best Price
About the author