Grocery stores can be a bit of a downer. Especially after a tough day at work when all I want to do is get home, get fed, and try to forget that the rest of the world exists for a while.
Enter HungryRoot - an alternative to the nightmare I described above. In fact, it's more than an alternative. It's a breath of fresh air in the food delivery market. I tried HungryRoot for a couple of weeks and was extremely pleased with the experience.
Let's see why.
What is HungryRoot?
HungryRoot offers something unique in the crowded meal delivery service niche. Unlike their competitors, they don't provide a pre-packaged meal kit along with a recipe card for each meal.
They also don't offer a pre-cooked meal that simply needs heating.
Their service's target audience are people who want more freedom to prepare healthy meals that suit their moods when opening the fridge.
The way HungryRoot compiles its deliveries means that "cooking" is as simple as mixing and matching pre-prepared, pre-cooked ingredients directly from their packages onto your plate.
HungryRoot also prides itself for  the effort they put into the nutritional composition of their ingredients.
They're all about finding that delicate balance between health and convenience, and as far as I'm concerned, they've come pretty close to nailing it.
Their philosophy is "health is personal." They reject the norm of making customers stick to a predetermined meal plan that so many food delivery services have adopted. Using HungryRoot is like being given a selection of healthy, delicious paints in the form of ingredients , and a blank canvas in the shape of a plate.
Yes, I need to work on my metaphors, but you get the idea.
Check out our recent reviews of other meal delivery services:
4 Benefits And Highlights Of This Service
Onto the "opinions" part of this article. There's a lot I could say about the benefits of using HungryRoot - so let's take a look at where they hit the mark.
1. Easy Meal Preparation
I can't overemphasize how easy meal preparation is with HungryRoot. You'd think that a food delivery service that uses a specific recipe and pre-packaged "meal kit" would result in less time spent in the kitchen, but you'd be wrong.
They leave the decision of combining the ingredients in the customer's hands which is their secret in getting it right.  While each shipment is intended to create specific recipes and meals (instructions for which are included), you're not receiving a meal kit that will have ingredients go to waste if you're not in the mood for them.
Preparation is always as simple as opening a specific package and placing its contents onto my plate along with whatever else I choose. I seldom used more than four ingredients per serving, and not a single thing I prepared took me longer than 10 minutes.
Here's what someone who knows a thing or two about convenience and nutrition had to say about HungryRoot.
"I love Hungryroot because they make it simpler to make a healthier choice — without additional time for meal planning or settling for a sad salad. Their sauces and spices are nutrient-dense, filled with antioxidants, and provide unique flavor to their already-unique veggie options."

- Jaclyn London, MS, RD, CDN - Nutrition Director - Good Housekeeping
2. Grocery Delivery Options
Since HungryRoot is predominantly a grocery delivery (as opposed to meal delivery) service, what you use their ingredients for is entirely up to you. While compiling your eating profile on their website, HungryRoot even asks if you want to see grocery options that include breakfast and lunch.
This will be a big bonus for certain people who aren't happy with meal delivery services that focus only on providing dinners. The days of only cooking at night after "a day at the office" are behind us. This concept is something HungryRoot embraces.
3. The Personalization Process is Extremely User-Friendly
After a quick signup process that's mostly just about capturing your name and email address, you're taken through a lengthy, but very simple, almost fun, personalization process.
Here you specify things like:
How many people you'd be feeding: one, two, or more.
What your dietary goals are: weight loss, improved health, less meat, etc.
Your dietary designations: vegan, dairy-free, pescatarian, etc
Morning, afternoon, and evening eating habits: Full meal, snacks, both, or neither.
The sweetness of your tooth: Determines whether you'll receive yummy sweet options like their black bean cookie dough.
Using all this information, HungryRoot compiles a predetermined list of groceries for you, which you can either accept as-is or customize with selections from their full menu.
4. Healthy Ingredients
Every single ingredient delivered by Hungryroot carries the promise of:
Whole ingredients from trusted sources
No partially hydrogenated oils
Zero high-fructose corn syrup
No artificial sweeteners, colors, or preservatives
On top of these promises, customers also have the option to personalize their nutritional intake when "shopping." Want to eat soy-free? Dairy-free? Prefer to eat an entirely plant-based diet? Like a little bit of fish, but don't do red meat?
No matter what your nutritional needs are, they're likely to have you covered. Plus, the nutritional composition per serving is super easy to figure out.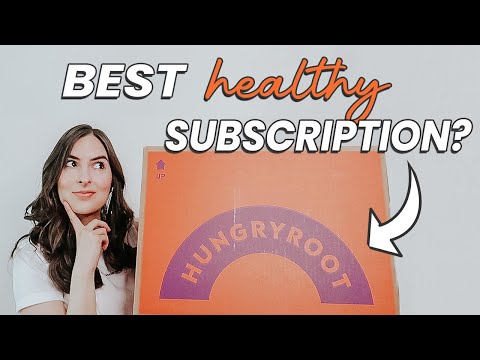 4 HungryRoot Shortfalls
Being super convenient comes at a cost, as does focusing on being a grocery delivery service rather than delivering pre-prepared meal kit selection. Let's take a look at areas where HungryRoot can improve a little.
1. Recipes can Be Boring and Redundant
Even though HungryRoot's deliveries don't include full meal kit selections, each shipment is intended to create a set  of specific meals.
Because their focus is on maximizing convenience and limiting preparation time, HungryRoot recipes can sometimes feel a little underwhelming in the creativity department.
I'm no expert in the kitchen, but give me a complex recipe, and I'll follow it to make something interesting and exotic. Sadly, HungryRoot never really gave me this opportunity.
2. It's More Expensive Than Shopping at a Grocery Store
What does HungryRoot cost per meal? It really depends on the number of items you select and the number of people you're feeding. So it's difficult to say exactly what it'll cost you per meal.
I can say that it costs quite a bit more than simply buying these ingredients yourself at a store - especially if you factor in shipping costs.
However, HungryRoot is a meal delivery service. You're paying specifically NOT to go to the store, so it's hard to penalize them for this. Depending on your ingredient choices, you'll also probably find that each meal works out cheaper than meal delivery services that deliver pre-prepared meal kits.
3. Surprise Ingredient Substitutions
Substitution of ingredients without confirming with the customer was a common complaint I found while researching HungryRoot reviews online. It never happened to me, but too many customer reviews made me mention this.
It seems that HungryRoot will frequently replace a particular ingredient that was ordered with another. Presumably, this happens because of supply chain issues or because the quality of that specific ingredient wasn't up to standard.
Even though it would be easy to kinda let this go, given how challenging it must be to ship thousands of orders of fresh produce and cookie dough across 48 states, you still need to deliver what you say you're gonna deliver. And when you can't, making substitutions without getting the customer's agreement first is not ideal.
4. Complicated Delivery Customization
As mentioned in the "What they get right" section above, you're not forced to stick to the meals, recipes, and ingredients that HungryRoot compiles for you each week. This is one of the benefits of choosing a meal delivery service that doesn't create pre-packaged meal kits.
However, the customization user experience leaves a lot to be desired. If the suggested order contains items you don't want, making changes is not an easy or obvious process I was quite frustrated when trying to swap out meals and individual grocery items, and their website designers would do well to relook at this functionality.
However, this is entirely an issue with their website and shouldn't reflect on their customer service or the quality of their food.
Customer Reviews
Believe it or not, Vegan Liftz isn't the only site to review HungryRoot. In fact, there are dozens of customer reviews to be found online. Here are a couple of highlights that are quite in-line with my experiences.
"The element of "surprise" is kind of fun. They come up with dishes and recipes based on your preferences. It's fun to see what they give you."

- h0neybuns
"You can get real meat if you want. Even though they are mostly plant based, if you like real meat, they offer chicken, salmon, tuna, meatballs, turkey, etc."

- galadrieldiet
"No notice was sent to me that the menu had totally changed so I was unpleasantly surprised when I opened the box."

- JFrum
"The meals were very tasty, but the portions were small and we ordered the four person portion. The recipes are excellent although very repetitive."

- pisces96
FAQs
How Does HungryRoot Work?
HungryRoot compiles a weekly list of grocery items based on your personalized eating profile. You have the option of using these items to prepare meals of your choice or follow the recipes they provide.
Is HungryRoot a Meal Kit Delivery Service?
No. HungryRoot delivers a selection of groceries that can be used freely to make meals that you're in the mood for.
Is HungryRoot Food Gluten-Free?
Not all of the ingredients HungryRoot offers is gluten-free. However, customers can specify this requirement on their profile to ensure that they only receive items free of gluten.
How Often Does HungryRoot Deliver Their Groceries?
HungryRoot deliveries happen once a week. Customers can make changes to the groceries for the upcoming week until 9 am (Pacific Time) on the Thursday before the scheduled delivery day.
Would We Recommend HungryRoot?
Despite how much I love the convenience of having fresh, nutritious groceries delivered to my house every week, this is a "no" from me. Don't get me wrong, there's a lot to like about their service, and I can imagine many Vegan Liftz readers loving what they offer.
However, if I'm going to be paying for convenience, I want REAL convenience. I want healthy, delicious food inside my face with as little time as possible spent staring blankly into the fridge, thinking about possible ingredient combinations, especially if ingredients are repeated so frequently.
This is why Trifecta Nutrition remains my number one choice for any food delivery service. Every week I get a pre-cooked selection of meals that's been tailored specifically for my nutritional needs. All I have to do is heat and eat.
On top of this, Trifecta delivers nationwide at no additional cost. That's right. Free shipping. Anywhere in the US.
Specifying your dietary requirements on Trifecta's website is super easy. All you do is select from one of their seven eating plans (keto, paleo, vegan, vegetarian, clean, macro-counting, a-la-carte), choose the meals for the following week, and… well... that's it.
When everything arrives, pop into the kitchen, open the meal pack, put it on a plate, heat it up, and eat it. Trifecta Nutrition is where the time-challenged, health-focused person will find true convenience.
Trifecta Nutrition Meal Delivery
Our #1 Recommendation
Offers large meal plan varieties - Keto, Paleo, Vegetarian, Vegan, and Classic
​Organic ingredients
​Utilizes low carbon footprint
​Delivers fully-cooked meals at your doorstep
Get the BEST PRICE until the end of July
Click For Best Price
About the author