Not all superfoods wear capes.
Green Magma is one such heroic green drink that claims to offer a whole slew of health benefits.
In this Green Magma review, we will examine this product and its ingredients more closely to see if its superpowers truly work.
What Is Green Foods Green Magma Powder?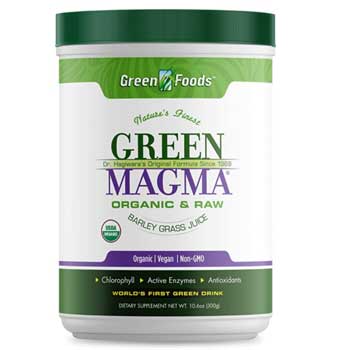 Created by Dr. Hagiwara, Green Magma Powder has been around since the 1960s. Since its inception, this product has been sold in over 50 countries to thousands of customers.
The green foods powder contains over 100 beneficial phytonutrients derived from organic barley grass and other green ingredients, including various enzymes, vitamins, minerals, amino acids, protein, carotenoids, flavonoids and chlorophyll.
It is believed that the following benefits will be experienced:
A gentle cleanse of your body
Balanced pH levels
Improved digestion
Better able to fight free radicals
A faster metabolism with increased energy production
Enhanced mental acuity
Better looking hair, skin, and nails
Other superfood drinks you can try:
List of Ingredients

Green Magma Powder is powdered juice produced from organic barley grass, organic maltodextrin, which is a complex carbohydrate that comes from tapioca, as well as organic brown rice.
These 3 ingredients will provide you with the following vitamins and minerals:
Carbohydrates (4 grams)
Protein (1 g)
Vitamin A (1000IU)
Vitamin C (9 mg)
Vitamin K (18 mcg)
Folic acid (29 mcg)

Calcium (35 mg)
Iron (0.5 mg)
Sodium (52 mg)
Magnesium (12 mg)
Potassium (238 mg)
Chlorophyll (13 mg)
Unfortunately, only 3 of the nutrients mentioned above are sufficiently dosaged to be of any benefit. These include Vitamin A with 20% of your daily allowance, Vitamin C with 15% and Vitamin K with 23%.
Vitamin A - may help lower the risk of developing certain cancers [1] and helps support a healthy immune system [2]
Vitamin C - may help manage high blood pressure [3], which may lower the risk of developing heart disease [4]. It has also been shown to boost immunity [5]
This green powder contains no added sugar, salt, colorings or fillers, and is free of any animal products, corn, soy, wheat and yeast.
How Does The Product Taste?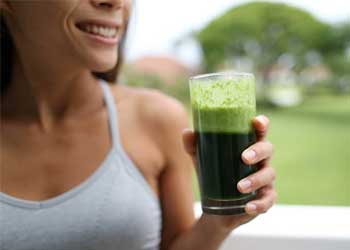 Super green foods powder typically has a natural grassy flavor, and Green Magma Powder is no different.
It may not have artificial flavoring or added sugars, but it does contain maltodextrin that makes the formula taste a bit sweeter. In all fairness, it does take away a little of the bitterness of the organic barley grass.
If you have never used a super greens supplement before, this product may be a little too strong for you.
Alternatively, you can test the green superfood drink by MacroLife Naturals.
PROS
Completely natural ingredients used
No sugar or added sweeteners
Does not contain animal products, corn, soy, wheat or yeast
CONS
Needs more superfood ingredients
Does not provide a huge amount of nutrients
No money back guarantee
Potential Side Effects

Green Magma Powder is made from organic ingredients, and is free of many potential allergens. This means that encountering any side effects might be low, but far from non-existent.
Organic barley grass may cause a stomach upset in some people, while maltodextrin may cause the following side effects:
Weight gain
Gas
Flatulence
Bloating

Rash/skin irritation
Asthma
Cramping
Difficulty breathing
Potential side effects of organic brown rice include:
Digestive problems
Bloating
Diarrhea

</td width="50%">

Constipation
Leaky gut syndrome
It is always worth checking the label and the ingredients used before use to ensure you are not allergic to any of them. Also, if you do encounter any problems you may want to discontinue use and to speak to your doctor.
If you experience side effects, here are other superfoods you can check out:
Where To Buy Green Magma Powder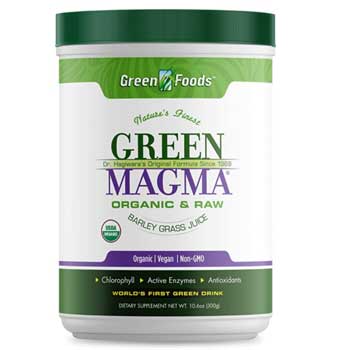 You can buy Green Magma Powder from a variety of health food stores online.
It also has its own official website that lists the 10.6 ounce tub for about half a Benjamin. There is an option to "subscribe and save" available on the official website, which will ensure you save 20% off the RRP.
Unlike e-commerce stores, one particular benefit of shopping via the official store is that you can subscribe to receive deliveries whenever you wish.
Options range from every 2 weeks, up to every 12 weeks, thus ensuring you do not run out of your greens supplement anytime soon.
User Reviews

Most customer reviews submitted online have been 5 star reviews, with many people claiming to have been using this product for many years and experiencing various benefits:
"In the 80s, Green Magma was actually Barley Green - and I've been using it ever since. Getting that improved flavor is also simple: just add a couple of tablespoons of fresh squeezed lemon juice, spring water, or honey served over crushed ice. Yum! If you ask me, I would highly recommend this green foods powder."

- JDC

"I've used this organic barley grass product for 15 years now. Ever since I was a kid, I had digestive, acute gastritis and reflux issues. Really tedious stuff. But with quality green foods products I've managed to get my gut under control. Great stuff!"

- S Marcum
However, there are also those who have not been so impressed with the results experienced:
"This is just brown rice powder with heaps of green foods thrown in to color the rice green! Don't waste your money."

- Anonymous Customer
"I've been happy with this brand for about a decade, but the taste got pretty salty lately. I have no idea what the company did with the mix. I'm also suspicious of the provider. Had to ask for a refund multiple times - to no avail."

- SG Allure
FAQs
How To Take Green Magma Powder
You can take Green Magma Powder by dissolving 6 g (approximately 2 teaspoons) of powder into 6-8 oz of water, or your favourite juice. It is recommended that you don't use a hot beverage as it will neutralise the active enzymes found in this supplement.
You should use this greens powder on an empty stomach, either 20 minutes before or 2 hours after a meal.
Can Green Magma Powder Be Used As A Meal Replacement?
No, Green Magma Powder is not designed to be used as a meal replacement.
Does Green Magma Powder Use Sugar Or Artificial Sweeteners?
No, Green Magma does not contain sugar or any artificial sweeteners. It does contain maltodextrin, though, which adds a little sweetness.
Should You Buy Green Magma Powder?
Green Magma Powder has a long history in the green foods industry and has sold to various customers around the globe.
Unfortunately, having looked more closely at the product, it is clear that it needs additional superfood ingredients. At present, it only contains 3 ingredients that simply does not provide a massive amount of the nutrients you need for good health.
There is also no money back guarantee, so if you are not happy with your purchase there is no way to get your money back.
A better option would be Organifi Green Juice, as it contains more beneficial nutrients per serving, plus unsatisfied customers get a money back guarantee. This shows that the manufacturer has faith in their product and also inspires customer loyalty with all the perks they provide.
What organic green foods do you prefer? Got any interesting reviews to share? Hit us up in the comments below.
Organifi Green Juice
Our #1 Recommendation
Convenient Source of Nutrition
Boosts Immunity
Decreased Stress Levels
Detoxification
Overall Health Improvement
Use code: VEGANLIFTZ for 15% Off until end of May
Click For Best Price
About the author