Mind over matter - I find this to be the key to losing weight. But a little outside help is always welcome, isn't it?
Indeed, a diet pill that has the power to take care of your brain just as well as your body is what I would call a well-rounded weight loss supplement.
Like most products on the market, Genius Burn supplements claim to do exactly that. While this sounds fine and dandy on paper, the reality with diet pills is often much different. This begs the question: is Genius Burn really that good or is it yet another hyped-up weight loss product?
I decided to review Genius Burn and see if this supplement and its ingredients truly work or if it's yet another faux pas.
What Is The Genius Brand Fat Burner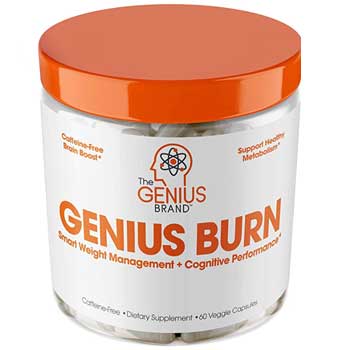 The Genius Brand claims to have been borne out of desperation because of an industry run by well-disguised profiteers.
While everyone else was peddling proprietary blends of legal amphetamines, they placed an emphasis on science rather than meeting the profit margin no matter the costs.
Genius Burn is a nootropic weight-loss dietary supplement. For those looking for a good regular fat burner, we recommend checking out PhenGold or PrimeShred.
Combined with a healthy diet, it promises to improve brain health, help boost your weight loss game, crank up the metabolic rate, and burn fat in the process.
"I've been so fortunate to come across Genius Brand Supplements. I now recommend them to all my patients as well."

-Dr. Heather Spalding, Doctor Of Pharmacy.
If you look at their ingredients list, you'll see those ethics are indeed reflected in the product. They use premium ingredients (which are not often found in other dietary supplements) and the dosing and efficacy are well researched. But before we delve any deeper...
What Is A Nootropic Supplement?
If you're unfamiliar with the term, a nootropic supplement stimulates mental performance and mood. [1] Genius Burn supplement reviews do well at pointing this out but treat it as a gimmick. It can be a potent fat burning tool in its own right.
The mental benefit it provides can also translate into physical advantages, such as boosting your focus and energy.
Most users remark upon a shift in the way they think and feel, and the product seems to work well in that regard.
Genius Burn vs Genius Burn 2.0
If you've spent as much time as I have trawling other Genius Burn reviews, you may have noticed that there has been a reformulation of the product. The new formula shows that the company is listening to feedback and refining and researching to improve the product, which is awesome.
Version 2 swapped in KSM-66 ashwagandha in place of the previously used Sensoril ashwagandha.
It got rid of iFAS503 camellia sinensis and Alphasize Alpha-GPC and added 20mg of LeanGBB. The last change was from regular theanine to TheaKalm natural theanine.
They claim the new formula is more effective, and the reviews largely reflect this. This is more impressive, given how very unwelcome changes usually are in the supplements industry.
Ingredients Breakdown
Genius Burn claims that they were born out of the need for more honest labeling that worked. Rallying against the proprietary blend and the filler ingredients, what does that change look like?
KSM-66 Ashwagandha Extract 150mg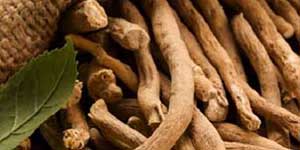 Ashwagandha root extract is included to aid and boost focus and stamina.
It's an ayurvedic ingredient that has had a lot of research done into its effects, and most of those studies back up the big claims. [2]
Cognizin 100mg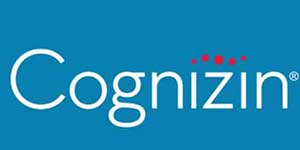 Cognizin is used in the treatment of memory disorders. It can help your brain restore cell lipid structures and also neurotransmitter functions.
You don't just have to take it reactively, and taking it proactively can boost your brain health. [3]
TheaCrine 50mg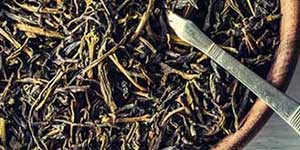 TheaCrine is a gentler alternative to caffeine. It's a stimulant that will boost energy and focus but without the jitters, crashes, or other unwanted side effects.
Caffeine is a problem ingredient for many people, and it's far from the only viable option for a powerful stimulant. [4]
Genius TruLean System-1 25mg
While it may sound a little worryingly like a proprietary blend, it's actually just a mixture of a specific amount of paradoxine.
The ingredients in efficacious doses are clearly written on the label. Interestingly enough, paradoxine is also used to treat dementia, slow brain aging, and boost cognitive function. [5]
Capsimax Capsicum 12.5mg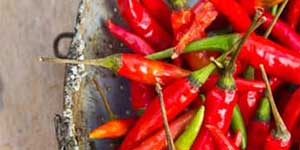 Capsicum is found in chili peppers and is rich in the compound capsaicin, which has proven fat burning and weight loss benefits. [6]
The strong thermogenic qualities of the ingredient at the right dosing can help your body to burn more calories every day.
GS4 Plus Gymnema Sylvestre 50mg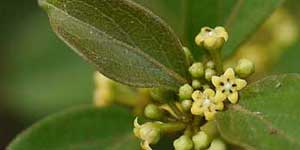 Gymnema Sylvestre has seen reliable weight loss results in its testing on animals. The anti-obesity properties of the compound make it an excellent choice for a scientifically-driven fat burning supplement. [7]
We would like to see more research on its effects on humans before we get too excited, though, but at least there are less fat rats in the world.
TheaKalm Natural L-Theanine 50mg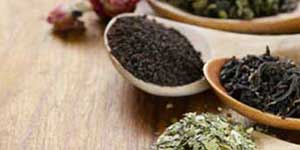 Most commonly found in green or black tea, this compound has a calming effect on the mind. [8] It's included here for its effect as a nootropic mood booster.
I knew there must be a good reason I was addicted to tea, and I'm not even English.
AstraGin 12.5mg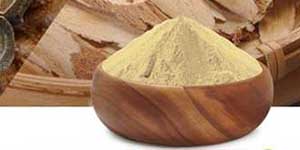 AstraGin is one of those ingredients that ties the whole formula together. It's included for its roles in making the other nutrients more bioavailable.
There is a strong link between the gut and the brain, and it will improve your overall digestive health. [9]
Huperzia Serrata 2.5mg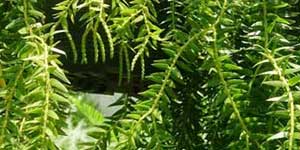 The final ingredient is another one that bolsters the strong cognitive element of the supplement, boosting memory, focus, and brain health.
Huperzia serrata has been used in Chinese medicine for centuries, and we're finally starting to see its great potential in the West. [10]
PROS
More than just a fat burner and provides nootropic benefit too
Premium ingredients scientifically proven to aid fat loss
Completely transparent labeling and ingredients list
Caffeine-free fat burner
CONS
Premium ingredients come at a premium price, and it's more expensive than most alternatives
Lack of focus on fat loss means the formula may be less potent as a whole
The increase in mental energy doesn't necessarily translate to better weight management
Side Effects
Looking through the reviews and comments, it doesn't seem that side effects are likely to happen when consuming Genius Burn. That being said, it does have the same warnings as most fat burners do.
Potential side effects include:
Headaches
Dehydration
Nausea
Anxiety
Jitters
The weight loss supplement can be hard on an empty stomach, and it is recommended that you take it half an hour before a meal.
Here are fat burner alternatives you can check out:
Where To Buy Genius Burn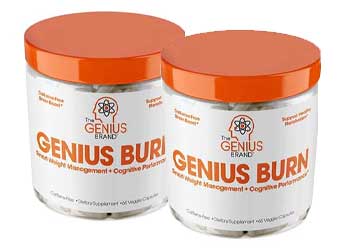 Genius Burn can be purchased directly through the Genius Brand website or on Amazon (check current price).
There are savings to be had if bought in bulk, and they also offer a money-back guarantee, so if it doesn't deliver the weight loss and brainpower you were expecting, you can send it back.
Genius Burn User Reviews

The feedback for Genius Burn is overwhelmingly positive. There are over 2,000 reviews online, and over 75% are 5-star.
"LOVE IT. It may be hard to believe that this product is all-natural - but it seems to do the job. Personally, I'm down 9 pounds in a month. I'm well aware that some of that is definitely water, but I noticed a clear physique change as well, which really got me excited. "

-John, 5-star review
"After suffering a thyroid disorder, my metabolism rate has plummeted. My wife recommended I try a pre-workout, and Genius was one of two she recommended. I chose it solely because of her recommendation, and I don't regret that decision. Also, it did not have caffeine and seemed to contain more natural ingredients, which is a huge plus in my book."

-Jennifer, 5-star review
Only 10% of the negative reviews are as bad as 1-star.
"So I did an InBody scan sometime on May and I did the scan again on June. I actually GAINED 3 LBS of fat. Now, I do a lot of heavy lifting and running, but seems that Genius Burn simply doesn't work for me. It's just too expensive for something that doesn't bring me the best results."

-Sharon, 1-star review
"I was left no other choice but to return the product as it made me extremely uncomfortable. Although the company was very cooperative about the return, I wouldn't recommend it to anyone."

-B MacCameron, 1-star review
FAQs
How Do You Take Genius Burn?
You take Genius Burn in one to two capsules three times per day, half an hour before your meals. To find the right dose, it is recommended to start small and gradually work your way up.
Is Genius Burn 2.0 Better Than Genius Burn?
Yes, the product reformulation was intended to have a positive effect based on feedback, and it seems to have worked.
Genius pride themselves on doing things differently from their competitors. They live up to their marketing hype and deliver original products with clinically backed ingredients.
Should You Buy Genius Burn?
I like Genius Burn, and I love the company behind it, the clear labeling, the dosing, and even some of the proven ingredients included in the formula. The problem is, I don't love it.
Although its ingredients are 3rd party tested for safety and bring enviable results, I'm not convinced it's sturdy enough. I just don't think it's one of the best fat burners on the market.
Again, that's just me, but I think it falls victim to the old adage "jack of all trades, master of none."
I find it a bit overstretched, and it doesn't quite deliver on either front. I would buy a great nootropic supplement and a fantastic fat burner and take them separately, rather than combine them both and get the best of neither.
If you're looking for a fat burner that is thoroughly researched and gives great results, then I would recommend PhenQ.
PhenQ focuses on science to provide a formula that is guaranteed to work, except they are laser-focused on weight loss, and are successful at that.
If you do want to try a fat burner with the safest and most potent ingredients, then PhenQ is the way to go.
Other users have also found it effective for fat loss. The images here speak for themselves: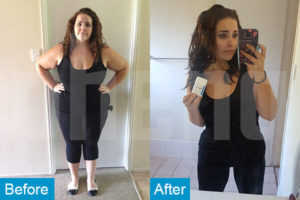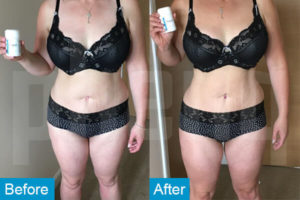 PhenQ
Our #1 Recommendation
Burns fat and replaces the body's lost electrolytes
Contains effective fat burning ingredients such as green tea leaves and cayenne peppers
No hidden ingredients and fillers
Ideal for losing fat while building lean muscle
Click For Best Price
About the author