The rise in popularity of the plant-based diet has brought us numerous vegan meal delivery service providers.
In this review, we're going to look at Fresh N' Lean meal delivery service and how it compares to other brands on the market.
For me, the mark of a great meal delivery service is in providing convenience alongside delicious, low carb, and healthy meals. They have to be as easy to cook as well as order, and suitable for a 100% vegan breakfast, lunch, and dinner.
Read on our Fresh N' Lean review to find out more about their tasty vegan meals delivered right to your doorstep.
What Is Fresh N' Lean?
Fresh N' Lean is a meal delivery service based out of California.
Founded by Laureen Asseo and her brother Thomas, they make pre-cooked, pre-prepared, pre-packaged, vacuum sealed, ready to go meals made from fresh and whole ingredients so that all you have to do is heat them up.
Fresh N' Lean is a little different from some of the other vegan delivery options we've reviewed in the past. They are not an exclusively plant-based company as Fresh N' Lean caters for other diets as well.
They also send out oven-ready meals - literally no prep needed whatsoever.
I chose the (Fresh N' Lean) meal plan that I'm on because I wanted to slowly start eliminating meat and focus mainly on a pescatarian diet before going completely vegan.

- Santia Deck, Professional WFLA Player
Other meal delivery services similar to Fresh n' Lean:
What's On Fresh N' Lean's Menu?
THe folks from Fresh N' Lean meal delivery pride themselves on having the freshest, most organic ingredients on their menu.
They do not like to freeze or fry, letting the whole foods speak for themselves. The content in the box comes in ice packs, although they do have a fairly static menu, relying on the logic that good simple cooking is all you need.
Of course, they have gluten-free meal plans for breakfast, lunch, and dinner, which are low on carbs and easy to make. As part of this Fresh N' Lean meal delivery service review, here's a sampling of their plant-based menu from a user's perspective:
Vegan Entrees
Chickpeas With Sumac Carrots And Broccoli
Thyme And Rosemary Stew With Quinoa
Quinoa And Veggie Bowl With Chipotle
Spinach Pesto Pasta
Sweet And Spicy Zucchini With Brown Rice And Tofu
Balsamic Tofu With Brown Rice And Potato
Arroz Con Vegetales
Mushroom Pasta With Beyond Patty®
Broccoli With Rice And Beans
Beyond Patty ® With Lemon Brussels Sprouts And Rice
Southwest Chili With Roasted Cauliflower And
Beyond Beef® Crumbles
Creamy Vegan Alfredo With Broccoli
How Does Fresh N' Lean Compare To Other Vegan Meal Delivery Services?
Let's see how the Fresh N' Lean meals compare with other vegan meal delivery service options.
How Much Does It Cost?
When compared to other plant-based meal delivery service providers, Fresh N' Lean is fairly affordable on a per meal basis.
When choosing the cheapest meal plan available and ignoring any delivery costs, it works out to be about $8 per meal. Which may sound like a lot, but is significantly cheaper than most.
With a meal delivery service, you are paying for convenience and time saving. When you factor in the fact that every Fresh N' Lean meal is prepped for you and all you have to do is chuck it in a microwave then its value in time-saving is by far and away one of the best on the market.
Is The Fresh N' Lean Menu Flexible?
Fresh N' Lean is fairly rigid with their menu. I find it strange, considering they cater for the widest range of different diets out of all the meal delivery service providers we've reviewed.
But that is where the flexibility ends, in choosing your overall plan. From there, you can pick a few ingredients you don't like, state any allergies you might have -- but you pretty much get what you're given.
This is in contrast to other meal delivery services and meal kits that will bend over backward catering to your specific tastes.
One part of me likes it and it does force you to try new things, also the convenience of not having to pick from new menus every week is noted.
However, the other side of me does tire of the lack of choice.
How Does Fresh N' Lean Taste?
Fresh N' Lean meals taste healthy. These are simple, low-calorie meals designed to be nutritionally balanced.
It comes as no surprise that when compared to other meal delivery kits that range in calories from 500-800 on average, their 300-500 calorie meals are a bit less exotic. This impacts the rating recipe people may give.
They do have some very enjoyable recipes which certainly aren't bland, but it's far from adventurous cuisine.
Dishes like the creamy alfredo or the sweet and spicy zucchini give insight into the kind of decadent meals you could be eating per day - every day. No doubt, this sound flavor-forward and moreish.
But the large majority of the meals are simply variations on steamed veg which is something I could do for myself.
Check out how meals from other delivery services taste:
Are The Meals Easy To Prepare?
Yes, Fresh N' Lean meals are easy to prepare. In this category, Fresh N Lean is a clear winner, as they come completely pre-prepared.
All you have to do is heat up your vegan meals and you have a healthy ready to eat lunch and dinner. It couldn't be made any easier bar them sending someone round with a fork and knife to cut it up and feed it to you.
Other plant-based delivery services will deliver you a recipe and the components may be pre-portioned, but you still have to do a bit of prep and cooking.
This is still much more convenient than shopping and planning out the meals yourself, but Fresh N Lean has taken it to the next logical step - fresh whole foods, prepared hiand delivered straight to your door.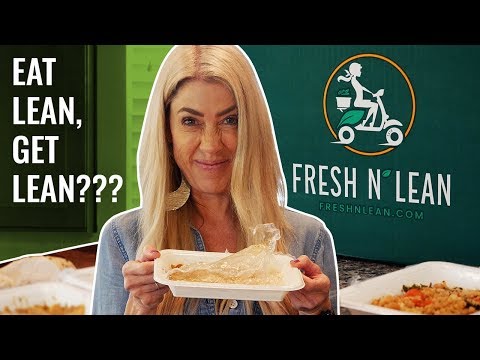 Is Fresh N' Lean Environmental Friendly?
Ordering from a meal delivery service might not be as bad for the environment as you might think. In fact, it may actually be better than shopping is [1].
But this doesn't mean it isn't without its faults. Like most other companies, Fresh N' Lean claims to be thoughtful and responsible about its packaging but it still individually vacuum seals the ready meals in reams of plastic.
Seeing as each meal is ready to cook and isn't comprised of all its separately wrapped components, there is a strong argument for the fact that Fresh N' Lean is considerably more eco-friendly than other meal delivery services.
The lack of freezing and sourcing of only local produce is further evidence that the company is at least on the right path.
Fresh N' Lean Pros And Cons
PROS
Each Fresh N' Lean meal comes pre-prepared and all you have to do is heat it back up
No frying and no freezing means you get the most nutrition possible from the whole food ingredients
Caters to a wide variety of different dietary requirements
Delivers nationwide with meal plans to serve your taste and budget
A great way to ease yourself into a new diet
Simple no-fuss recipes that champion the ingredients
CONS
There is a lack of flexibility in the meal choice
There is a similar lack of flexibility in the meal plan, cancellation and breaks
Is Fresh N' Lean Worth Buying?
Subscribing to meal delivery services by submitting your email address is definitely convenient. The time you save from not having to plan meals or prep them at all is huge, and Fresh N Lean offers that convenience.
However, I wish they could be more flexible with the meal options. It would be a much engaging process if consumers are allowed to personalized their menu. I honestly find it weird that they don't allow it. I find this lack of flexibility and variety of choice in the healthy meals ​limiting as a consumer.
​Also, while they clearly care about the health benefits of a whole food plant-based diet, they also cater to other dietary choices such as paleo and keto and this lack of focus can make each seem a little lacking.
If you're looking for healthy and convenient meals though, you should​ give ​Trifecta a try​. It's another vegan meal service that's convenient and offers a lot more variety of meals specifically catered to plant-based nutrition.
Is Fresh N Lean Expensive?
Fresh N Lean is not expensive depending on your order. Their meals cost around $10 per meal. The meals that incorporate protein have an additional fee.
Trifecta
Our #1 Recommendation
Offers large meal plan varieties - Keto, Paleo, Vegetarian, Vegan, and Classic
​Organic ingredients
​Utilizes low carbon footprint
​Delivers fully-cooked meals at your doorstep
Get the BEST PRICE until the end June
Click For Best Price
About the author