Nowadays, people tend to frequent the local takeout restaurants more than a couple of times a week. Some of us even find ourselves living off microwave meals. I know - it's a vegan nightmare!
Goes without saying, too much junk food can lead to weight gain and a host of other health problems. This is where meal delivery options come to save the day - and one such up and coming hero is Daily Harvest.
In our Daily Harvest review, we will answer all the burning questions, examine their pre-made meals made from fresh fruits and vegetables, and see what people think about Daily Harvest's service.
Let's get to it!
What Is Daily Harvest?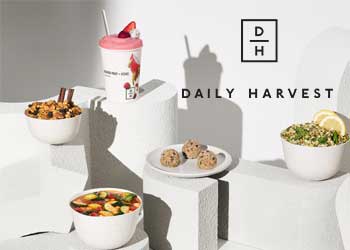 Daily Harvest is a meal delivery service that delivers pre-meals that places emphasis on fruits and vegetables.
They make eating plant-based dishes more accessible, with various delicious and healthy meals available that can be prepared in just minutes with minimal culinary skill.
Each Daily Harvest's meal is made from organic ingredients, which are directly sourced from local farmers. That relationship ensures that the best crop is harvested at the peak time, which is then frozen to keep the taste and nutrients locked in [1].
"You can store them in the freezer for a year and the nutrient level pretty much stays the same."

- Hazel MacTavish-West, Plant Scientists and Food Industry Consultant
Daily Harvest works on a subscription basis that offers flexible deliveries and provides the possibility to alter your subscription. This means you can both add or subtract meals based on your individual needs.
Considering that no animal products are used, their products are 100% plant-based and safe for use by both vegetarians and vegans.
The packaging is also almost 100% compostable and recyclable, with the boxes and cups made from cardboard, the liner that holds the dry ice is made from recycled denim, and the harvest bowl made from molded pulp.
Read our reviews of similar meal order services with vegan options:
Benefits And Highlights Of Daily Harvest

For this review of Daily Harvest, we have abstracted a variety of benefits and reasons why you may want to sign up to this service.
First up, you get healthy and delicious pre-made meals delivered to your front door. Compared to eating takeout or microwavable meals, it's a godsend.
Meals require very little preparation time, which makes these meals quite convenient for people who live a busy lifestyle. Of course, top quality ingredients are used - all fruits and vegetables are frozen to maintain freshness, flavor and nutritional value.
As for the customer reviews, most were pretty positive. We've noticed a lot of commendations about the taste of products available. Another perk is the flexible subscription option that allows you to add or subtract items based on your own individual needs. Also, subscriptions are easy to cancel.
Finally, products on offer contain no animal ingredients, which is good news for us vegetarians and vegans. The packaging is 100% compostable and recyclable, ensuring that nothing goes to waste.
And if you want to keep track of your plan, there is an app that can help you do that, plus discover new and exciting meals as seasons change.
Daily Harvest Shortfalls
Even though there are lots of reasons why you may want to subscribe to this service, there is also a number of reasons why people tend to get second thoughts:
There are some Daily Harvest reviews that were less than impressed with the taste of the products on offer.
This is not a cheap service. It is much cheaper to buy the individual ingredients from your local grocery store.
You cannot see the price of the products without giving away your contact information first. This is likely done for marketing purposes - and expect emails in the future.
At the moment, there is not a massive selection of products available. Perhaps in the future more meals will be added.
Some of the meals, and smoothies have a surprisingly high number of calories. The Cacao + Avocado smoothie for example has 530 calories per serving.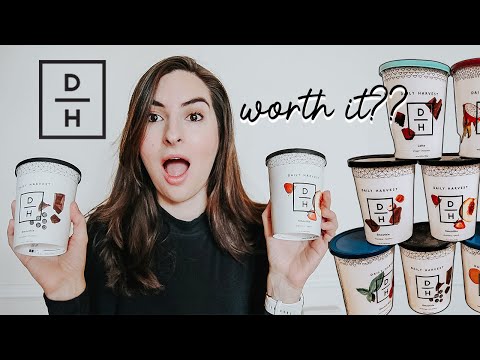 Check out how it compares to other food ordering companies:
User Reviews

As you would expect with a meal delivery service like this the user reviews of Daily Harvest customers are quite varied.
Some people love the taste of the meals on offer.
"I really like their smoothies, harvest bowls, soups, and other healthy food options. It tastes so fresh and has just enough heat to keep things interesting."

- Ruaceann, Verified Buyer
"It's a nice big bowl of mixed green veggies; makes me pat myself on the back!"

- Awarya, Verified Buyer
There are those who do not like the taste of the food too.
"I was eager to try Daily Harvest but was pretty disappointed. Since my very first box, each healthy meal still had this odd flavor. Don't want to deal with it anymore."

- Jessica F, Verified Buyer
"Ate as much as I could to give it a chance, but gave up and trashed the rest."

- Amanda C, Verified Buyer
Looking at the customer reviews, it is clear that the majority of people are impressed with the flavor of the foods, and those who don't were not disgusted but were able to eat them after adding a few of their own additional herbs and spices.
How Much Does Daily Harvest Cost?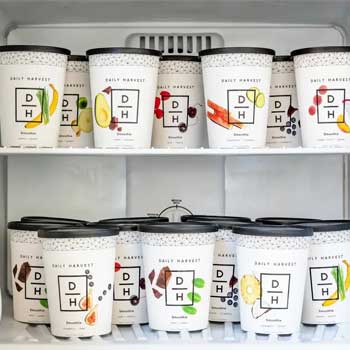 Daily Harvest has 4 plans available, 3 weekly plans where you get to choose from either 9 items, 14 items or 24 items. There is also a monthly plan that offers 24 items from its menu.
The cost of each plan will depend on what products you have chosen to place in your box.
Oat bowls for example are the cheapest meal to add to the box, with harvest bowls and flatbreads being the most expensive.
It is worth noting that there are no prices available on the website. It is only after you provide your zip code and email address that this information becomes available.
Daily Harvest is more expensive than buying the individual ingredients yourself from the local grocery store, but the convenience of home delivery and the time it takes to prep everything beats having to make food from scratch.
How Flexible Is Daily Harvest?

Daily Harvest offers 4 plans, 3 weekly and 1 monthly. They are flexible and you can change the number of items you receive each week to suit your own needs.
By clicking "Update Plan" in your account, you can change from receiving 9 items up to a maximum of 26 items per delivery. The only limitation is that you must modify your delivery before 6 PM EET on a Sunday, otherwise your shipment will include the previously ordered number of items.
As Daily Harvest have their own iOS app, you can easily manage your account and discover new products with just a few simple clicks.
Are The Meals Tasty?
Of course, the taste and flavor of the meals is always going to be subjective. What is certain is that due to the way ingredients are packaged (frozen), they will arrive fresh at your door.
You won't experience any surprises when tasting fruits, vegetables and other ingredients. However, the final result will still depend on your skills in the kitchen.
For those who want to check out how meals from other delivery services taste, read these:
Is There Much Choice?

There are a few different types of foods available from Daily Harvest ranging from vegan smoothies, lattes to flatbreads and various oat and chia bowls. However, chances are you will not be spoiled for choice.
At the present time there are:
22 Smoothies to choose from
16 Harvest bowls
5 Flatbreads
9 Soups
4 Oat bowls

3 Chia bowls
4 Ice cream scoops
5 Bites
4 Lattes
Admittedly, this is not a massive number of meals to choose from, and if you tire easily from eating certain foods over and over again, there's a high probability you will eventually get bored with Daily Harvest, too.
Why Is Meal Delivery So Handy?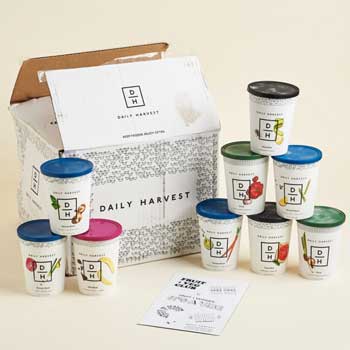 If you lead a busy lifestyle, or have trouble balancing between work and family, a meal delivery service like this just might be a lifesaver.
For instance, a Daily Harvest box will spare you from having to pop to the grocery store to pick up all of those individual ingredients, especially now during the coronavirus pandemic. Moreover, spending all that prep and cooking time to make a delicious home cooked meal will be significantly reduced.
These meals are also far more nutritious than your average takeout or microwave meal. Takeout food is typically full of trans fats and sugar, with trans fat linked to an increased risk of heart disease [2] and type 2 diabetes [3].
Last but not least, even if you are not the best cook around, a service that provides you and your family with delicious and healthy meals will certainly help you improve your cooking game. After all, it sure beats having to make bland and unappealing meals over and over again that no one will enjoy.
FAQs

Is It Easy To Cancel Daily Harvest?
It is easy to cancel your Daily Harvest subscription. After your first order you can cancel future orders by sending an email to contactus@daily-harvest.com. You will then be sent instructions via email that you will need to follow.
While it is possible to cancel whenever you wish, you will be sent another package if you fail to cancel after the weekly cutoff. This package will be charged at full price.
How Big Are The Daily Harvest Cups?
The size of the container will depend entirely on the item chosen. There is no set size.
For example, if you were to choose the Mulberry + Dragon Fruit Oat bowl the serving size would be 129 grams. However, if you chose the Apple + Cinnamon Oat Bowl the serving size is 149 grams.
Can You Microwave Daily Harvest Cups?
Yes, you can microwave the Daily Harvest Cups as they are microwave safe. However, it is recommended that you transfer the ingredients to your own microwave safe tableware to be absolutely certain.
Can I Put Daily Harvest Cups In The Fridge?
Yes, once prepared the meals can be stored in your fridge. The smoothies can be kept for up to 12 hours in the refrigerator.
Keeping the meals frozen as delivered is a good idea for storage, with the meals staying fresh for 6 months after freezing.
Are Daily Harvest Bowls Filling?
Certain foods are more filling than others, so it is impossible to comment on every meal available from Daily Harvest.
If you are looking for a meal that promotes satiety look for those foods with high fiber or protein content. Foods that have a lot of water can also be incredibly filling.
It is best that you avoid high processed foods, or those full of sugar as they only satisfy you short-term.
Can You Bake Daily Harvest Bites?
There is no need to bake the Daily Harvest bites. They are ready to eat straight from the freezer.
Can You Add Protein Powder To Daily Harvest Smoothies?
If you need to increase the protein content of your chosen smoothie then there is no reason why you cannot add your own protein powder.
Make sure to choose an unflavored variety of protein powder to avoid altering the flavor of the smoothie.
Does Daily Harvest Have Keto?
Rachel Drori, the founder and CEO of Daily Harvest has stated that due to customer demand they have launched a range of harvest bowls suitable for those on the keto and paleo diet.
"We launched a new collection of vegetable-packed harvest bowls inspired by brunch favorites."

- Rachel Drori, founder and CEO of Daily Harvest
Does Daily Harvest Have Protein?
Almost every Daily Harvest smoothie contains an ample amount of protein.
The smoothie with the highest amount of protein per serving would be the Cacao + Avocado variant that contains 22 grams in each 220 gram serving.
To increase your protein intake you could always add some of your own whey protein to the smoothie for that little extra kick.
Would I Use Daily Harvest Again?
Daily Harvest certainly offers convenience and top quality ingredients, plus looking at the customer reviews there is little doubt that those who sign up for a subscription will get what they
There are a few problems, however, the main one being a lack of meals available. In fact, at the time of writing this review, there were only 72 meal options available.
Our suggested alternative would be Trifecta Nutrition Meal Delivery, a service that offers an even greater selection of healthy meals.
Interestingly enough, Trifecta is endorsed by world-class athletes, such as Brooke Ence, Rich Froning and Bradley Martyn - so you can count on receiving nothing but quality ingredients all packaged and delivered safely to your front door.
Do you agree with our review? Got any experiences with vegan meal delivery services you'd like to share?
Let us know in the comments below.
Trifecta Nutrition Meal Delivery
Our #1 Recommendation
Offers large meal plan varieties - Keto, Paleo, Vegetarian, Vegan, and Classic
​Organic ingredients
​Utilizes low carbon footprint
​Delivers fully-cooked meals at your doorstep
Get the BEST PRICE until the end of May
Click For Best Price
About the author