On a scale from 1 to 10, how grossed out would you be if I told you that most BCAA supplements out there contain traces of duck feathers, pig fur, and human hair?
Being a clean eater, I was somewhere close to 10, but choosing the right vegan alternative was quite a challenge because I needed something effective but 100% natural.
Some of my workout buddies praised the Clean Machine (CM) amino powder supplement as being one of the purest products they have tried.
Is it really that good? Let's look into the details.
What Is Clean Machine BCAA?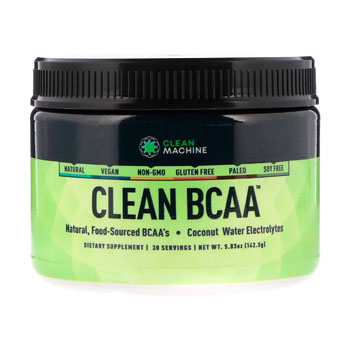 As the name suggests, the company doesn't use any synthetics at all. The rave reviews on their website were almost as convincing as the CEO, Geoff Palmer.
He's a guy who has been a bodybuilder and vegan for more than 25 years. So, go figure how reliable the brand is.
This supplement contains a holy trinity of essential branched chain amino acids (leucine, isoleucine, valine) responsible for protein synthesis in your muscles.
It contains a BCAA ratio of 2:1:1, which is considerd as the optimum amount that can help you reach your gym goals without going overboard with dosage [1].
According to the brand, you can reap all the benefits of using BCAAs without any harmful effects, and it's gluten-free.
Get 10% off. Use code: VLCMA
The great news is that all essential ingredients are 100% plant-based, so it won't leave you all wired and jittery, like similar products that rely on caffeine and artificial stuff.
Depending on what you are trying to achieve, it can be used as a pre-workout or post-workout drink to prevent muscle soreness and give you extra strength and endurance. This can also be a great choice for those who are fasting but trying to prevent muscle breakdown.
These protein powders come in three different flavors: lemonade, fruit punch, and unflavored. Naturally, I went for the last one, which can easily be mixed with shakes, smoothies, or some juice.
Ingredients

Hats off to the brand for being transparent in labeling the source of the ingredients and clearly indicating the exact dosage.
1. L-leucine (2,000 mg)
Yes, this is what you need the most if you're after muscle growth because it is crucial for muscle protein synthesis. This moderate dose helps build lean body mass, but it works best when taken with two other essential components.
2. L-isoleucine (1,000mg)
L-leucine's step-brother regulates sugar levels in your system. This ingredient promotes stamina and boosts energy, allowing you to train longer and harder. Its role in tissue repair and recovery after a strenuous workout routine should not be underestimated.
3. L-valine (1,000mg)
This one lessens the fatigue and adds to your endurance and mental focus, so you can go an extra mile with your weightlifting session. When taken after workouts, it prevents breakdown or 'wasting' of muscles [2].
4. Coconut water (400mg)
It's super hydrating and contains galore of natural electrolytes so you don't have to take additional electrolyte pills. Coconut water is also rich in calcium and magnesium.
5. Potassium (20mg)
It helps preserve carbohydrates that are used by your muscles as fuel, but it also functions as electrolyte that lowers blood pressure and maintains the proper fluid balance in the body.
To prevent muscle ache, a bit more electrolytes won't hurt. Flavored versions of this supplement contain purified sea salt.
As a bonus, their products are soy-free. Unflavored version is free from citric acid, while beet root powder and turmeric are used as natural colorants in flavored versions - how neat is that!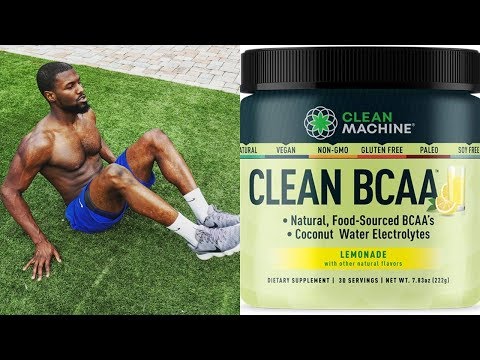 How Does Clean Machine BCAA Taste?
Yes, unflavored BCAAs can taste a bit weird when mixed only with water, and this one is no different. Adding some pineapple juice to my blender bottle solves the problem for me.
For those of you who are more sensitive, there are fruit punch and lemonade versions available.
PROS
100% plant-sourced ingredients.
Good for both before and after workout
No harmful effects makes it good for long-term use
CONS
Taste a bit unpleasant
Chalky texture
Side Effects
With the right dosage, you will likely avoid any harmful effects. Aside from tree nuts (coconut), it doesn't contain common allergens, but be sure to double-check the list of ingredients just to be on the safe side.
If you are pregnant or breastfeeding you should steer clear of leucine-rich supplements [3].
Where Can You Buy Clean Machine BCAA?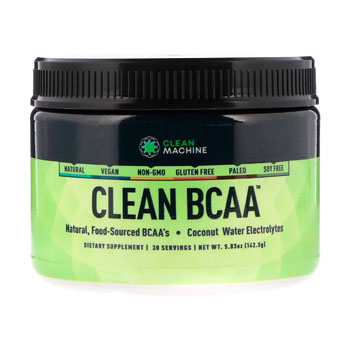 The product is available directly from the manufacturer's website. You can also buy it from other reputable online retailers.
The price is a bit expensive compared to most BCAAs, but if you buy from their official website, you can get a 5% discount for bulk orders of 2 bottles, which is 60 dosages in total.
If you opt to subscribe, you can save an additional 10%.
There is also a 60-day money-back guarantee.
Get 10% off. Use code: VLCMA
What Do People Say About It?
We went deep into looking at people's experiences with this brand. Some from the gym love it, while others are on the fence.
Based on the feedback we found, it's mainly the taste and texture that throw some people off.
"First time using this product and I'm in love. I'm vegan and do Crossfit and this stuff really boosts both my recovery and energy."
"The taste is less than pleasant but I mix it with some green tea, it's drinkable. I would take a great product over the unpleasant taste any day though."
 "I thankfully only used a half dosage. It's chalky like a mashed up aspirin. It made me sick to my stomach for an entire day."
"The flavor takes getting used to, but with limited options for vegans it's a good choice. Unfortunately, a bit pricey compared to other brands."
FAQs

The unflavored version is completely sugar-free, but you can find it in flavored versions.
How many calories does it contain?
The unflavored version has exactly zero calories, while flavored versions come with 5 calories per dosage.
Dissolve one scoop (4.75mg) in your favourite beverage or one of your favorite protein shakes. For optimal performance consume during and within one hour after workout.
Should You Buy Clean Machine BCAA?
First things first, more stamina without artificial components is what I got from this supplement.
I noticed solid gains but not drastically different from the brands I used before. Taste was tolerable in my opinion (I'm not very sensitive to these things).
I also enjoyed the all-natural ingredients, however, I didn't notice any significant improvement in my training. It's possibly because it only has half of the amino acid dosage compared to my regular BCAA supplement from Transparent Labs.
Transparent Labs is also cheaper on a per serving basis, so I'd still stick to this trusty brand I've been using for years. And I also highly recommend you try it out if you're looking for a clean branched chain amino acid supplement.
Transparent Labs BCAA Glutamine
Our #1 Recommendation
Provides superb muscle recovery
Complete ingredient transparency and zero harmful substances
Affordable
Get the BEST PRICE until the end of May
Click For Best Price
About the author