The elliptical machine is one of the most popular home-based exercises there is. It takes up as much or less space than a stationary bike and has the benefit of working out your arms and legs at the same time and can be a great cardio addition if you're already lifting weights and building muscle. It also offers lower resistance to your joints while still allowing you to get in a great workout. It's as close to swimming as you can get with a machine, and some of the newer models even fit under your desk while you're working.
Some people shy away from an elliptical because they're afraid it will break the bank. But the good news is that there are plenty of ellipticals on the market for $1000 or less. In this article, we'll dive into the following topics:
Let's take a look at some of them.
Best 2-in-1 Elliptical and Bike Combo
A 2 in 1 elliptical/bike combines a recumbent exercise bike and elliptical. This design is low impact, and allows you to get in a great workout while experiencing the benefits of both an elliptical and a bike.
Several models of the 2 in 1 elliptical and bike run well above $1,000, but the best model under $1,000 is the Teeter FreeStep Recumbent Cross Trainer and Elliptical, LT-1. Running at $899 on Amazon, the Teeter FreeStep is one of the best-reviewed machines on the market. Its natural striding motion follows a smooth, linear path to protect your knees and joints. A simple turn of the dial takes the near-silent variable magnetic resistance from zero to intense to accommodate a range of goals.
Compact ellipticals are great because they're, well, compact! They're able to work well in smaller spaces, and they weigh less and are easier to move when needed.
Best Commercial Elliptical
Finding a commercial-grade elliptical machine under $1,000 isn't easy, but they do exist. The larger price tags on these ellipticals are related to their longer warranties, which exist because of the expectation of greater usage (they're typically built to be used, and have warranties for, six hours a day in a gym environment). There are also "light commercial" ellipticals that come with warranties for up to three hours of use per day.
So, what's the best? The Schwinn Fitness 470 elliptical is our pick, coming in just under $1,000 at $999 on Amazon.
It offers Bluetooth connection to work with exercise pps, 25 forms of resistance, and a 10-degree ramp with a great incline
Best Compact Elliptical
Compact ellipticals are great because they're, well, compact! They're able to work well in smaller spaces, and they weigh less and are easier to move when needed.
Our pick for the best compact elliptical is the ProForm Carbon EL, with an MSRP of $799. It's 25 inches wide and about 68 inches tall, so it offers a truly compact experience. It has 18 different levels of resistance and offers a 5-inch high-contrast display. It even comes with convenient transport wheels for quick moving.
Best Elliptical for Small Spaces
This one might be a stretch, but technically it makes the list. The Sunny Health & Fitness Magnetic Under Desk Elliptical Machine Foot Pedal Exerciser is technically an elliptical, and it occupies the least space of any machine on the market! It's a foot-pedaling device that conveniently fits under a desk and provides plenty of resistance to give a true elliptical-style workout. Priced at an unreal $122, this under-the-desk machine is a space-saver's dream. It has a digital monitor to track time, speed, distance, calories, and more, and has the capacity to give you a fantastic workout.
Best Elliptical Machines Under $500
Sunny Health strikes again! The Sunny Health & Fitness SF-E905 Elliptical Machine Cross Trainer with 8 Level Resistance and Digital Monitor is an incredible elliptical machine that comes in just under $100. It offers 8 levels of magnetic resistance, a digital monitor that measures pulse, calories, and more, and on-board stabilizers that make for an even experience.
Best Elliptical Under $1000
The Sole E25 is our pick for best overall elliptical under $1,000. The E25 offers a dynamic complete-body workout with its easy-grip, pulse-sensitive handles, a sturdy 20-lb. flywheel, 20 powered incline increments and multi-direction function on the pedals. These features together offer a great mix of vigorous workouts to target your upper and lower body muscles, allowing you to work exactly what you need.
The slant of the foot pedals helps to relieve knee and joint pain. The model offers 10 different workout modes, and it offers a convenient wireless heart rate monitor. The E25 measures at 71" x 24" x 70" and offers a sturdy 350-lb. weight capacity.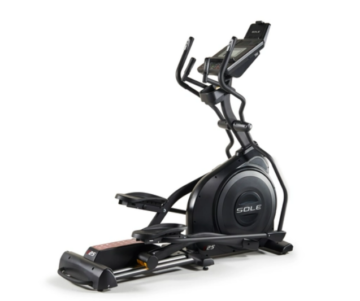 Best Mini Elliptical
Finally, let's take a look at the best mini elliptical on the market under $1,000.
The Cubii JR1 Seated Under Desk Elliptical Machine is about as "mini" as they come! At an unbelievable 23.15 x 17.56 x 10 inches, it is miniature, compact, and space-efficient like no other elliptical on the market. However, it's sturdy and robust, able to handle up to 250 lbs. for an efficient, effective workout.
The Cubii JR1 offers a "whisper-quiet" workout experience, meaning you can bike and pedal without any distractions at work, or at home. The JR1 offers 8 different levels of resistance.
FAQs
Can I use an elliptical every day?
According to the American Council on Exercise, you should take at least one rest day from exercise every seven to 10 days and incorporate strength training into your workout, as well.
When is the best time to buy an elliptical?
The best sales for exercise equipment usually happen at the end of the year or around food-based holidays like Thanksgiving and Christmas.
Should I buy an elliptical or a treadmill?
You can get an effective aerobic workout on both a treadmill and an elliptical, but the Mayo Clinic boasts additional advantages of elliptical machines, including:
Using an elliptical machine can be less stressful on your knees, hips, and back. Walking on a treadmill, however, exerts about the same force as using an elliptical machine.
Unlike treadmills, some elliptical machines are equipped with movable upper body handles or poles, similar to ski poles.
These allow you to exercise both your arms and your legs.
Most elliptical machines can be pedaled in reverse, which allows you to work your calf and hamstring muscles a bit more.
About the author