As we age, it's easy to feel like less of a "man." Without the vigor of youth, we can let our gym game and love life slip and chalk it up to getting old. But why?
We know that testosterone levels start to drop in men after the age of 30, so maybe all it takes to get that pep back in your step is to increase free testosterone. In this review, we're going to examine Clean Machine Cell Block 80.
So does it make me feel more man than gran? Let's get stuck into it.
What is Cell Block 80?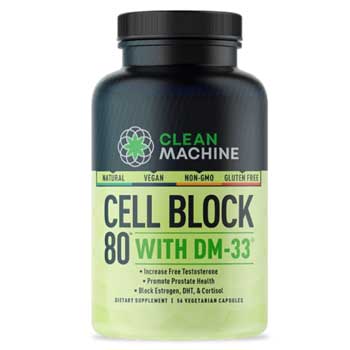 Clean Machine knows what they're doing, and they do it well. At the time of writing this Cell Block 80 review, Clean Machine still has only four products on its shelves, but it was their award-winning vegan t-booster that started it all.
As a company, they focus on making products that are all-natural and research-driven.
With a more streamlined product list, the company takes the time to perfect its formulas, whether that it's based on new research or customer feedback.
With this in mind, it can be said that Cell Block 80 is even better now than when it was first released.
Cell Block 80 Ingredients

Cell Block 80 have firmly planted their flag in the quality over quantity camp. They only have four ingredients, but out of those four; two are standardized, one is heavily concentrated, and the last is in its most absorbable form. Some say they're the best that they can be.
Let's take a closer look at what each of the ingredients does.
DM33® Prickly Pear (Opuntia Ficus-Indica) 9:1 Flower Extract 85 mg
Prickly Pear is Cell Block 80's magic ingredient, and it's easy to see why. It is the only formula to contain this exclusive refined and branded form of prickly pear.
The research cited by Clean Machine claims that the ingredient inhibits both DHT conversion and aromatase by 80% [1].
Unfortunately, the benefit to testosterone that this ingredient provides is far more theoretical than proven. But at least it's a definite improvement for prostate health.
Sensoril® Ashwagandha (Withania Somnifera) (Root and Leaf Extract (8% Withanolides)) 125 mg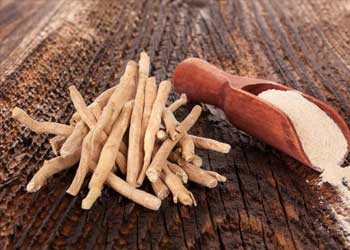 Stress support is massively important when it comes to testosterone levels in vegan males. Two adaptogenic herbs work miracles in this respect, and that is ashwagandha and rhodiola root.
Cell Block 80 uses a standardized branded form of ashwagandha in the Sensoril. This ensures quality and effect.
In studies, this form has been shown to increase DHEA levels, which help create testosterone and decrease cortisol levels, which may positively affect testosterone levels [2].
Stinging Nettle (Urtica Dioica) 12:1 Root Extract (3,4 Divanillyl Tetrahydrofuran) 50 mg
Cell Block 80 uses the highest quality stinging nettle, and to be frank, this is some premium-grade stinging nettle over here.
But the downside is that the research into whether stinging nettle benefits testosterone is far short of conclusive.
In one study in fact, the substance was shown to provide no noticeable testosterone change. Hardly the most exciting ingredient on the list [3].
Boron (as Boron Citrate) 5 mg
If rhodiola root, prickly pear, and ashwagandha are the manliest herbs, then boron and zinc are the manliest minerals.
In one study taking just 10mg of boron citrate for a week, SIGNIFICANTLY raised active testosterone levels [4].
The recommended dose is two capsules a day, so your total daily boron is at the perfect dosing to get the maximum effect.
PROS
Premium grade and high-quality ingredients
All natural, gluten-free, vegan, and clean support for raising testosterone production
Focuses on effect and has more benefits with a streamlined ingredients list
CONS
Missing a few key components like zinc and rhodiola root
Lacks the power of more focused t-boost stacks
Prickly pear has anti DHT conversion properties
Any Side Effects?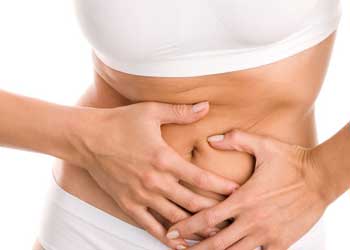 There are some complaints of upset stomachs among users, but other than that, there is nothing in the formula to be too concerned about.
Cell Block 80's ingredients are all-natural and don't pose any potential problems in allergens or known medical after effect.
Ease yourself into the supplement slowly and start with just half the dose, and should you notice any adverse effects, contact a medical professional immediately.
If you're experiencing any of the side effects, consider using next products:
Where To Buy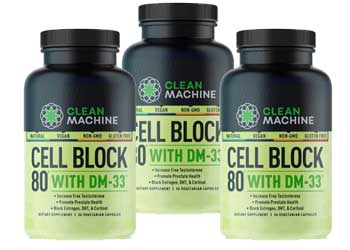 You can buy Cell Block 80 from the Clean Machine website, and many trusted third party retailers. It is also available over the counter at many stores around the country, including Wal-Mart.
I always recommend purchasing directly from the company to take advantage of any bulk discount or rewards schemes.
It is also best to do it this way to ensure quality and to be able to use their returns policy if you are dissatisfied.
Get 10% off. Use code: VLCMA
FAQs
How Much Cell Block 80 Should I Take?
You should take two capsules daily, take one capsule in the morning and one capsule in the evening. If you weigh over 200lbs, you can take a third capsule at midday.
When Is the Best Time to Take Cell Block 80?
It is recommended that you take Cell Block 80 with a glass of water with meals. One in the morning with breakfast and another in the evening with dinner.
Should You Buy Cell Block 80 by Clean Machine?
Cell Block 80 is a great all-natural t-booster, but it isn't the best. First of all, it's easily one of the most expensive that I have reviewed, which is understandable given the ingredients' high quality.
Half of the ingredients have a great deal of research to back up their effectiveness, but considering there are only four, the statement becomes less impressive.
When you put two and two together, it's a costly investment for something that might not even function as well as its cheaper alternatives.
This is why I've stuck with Centrapeak as my preferred testosterone booster.
The brand provides the same attention to high-quality ingredients, with a more research-backed formula, at a fraction of the cost. But what really sets Centrapeak apart from the rest is the fact that it has been formulated with testosterone boosting components that have also been shown to be highly effective cognitive enhancers.
What do you think? Got some Cell Block 80 reviews you'd like to share?
Let us know in the comments below.
Centrapeak
Our #1 Recommendation
​Delivers ingredients that are claimed to reduce cortisol levels
​Increased cognitive function
​Might just be able to increase sperm count
​Can increase endurance and stamina
Get the BEST PRICE until the end of May
Click For Best Price
About the author