I know what you're thinking: "Vegan running shoes? That's a thing?" Absolutely!
Just because you're not eating a particular product doesn't mean you can turn a blind eye to it coming from an animal.
Many vegans try to limit their impact on the environment and the harm their purchases inflict on the animal kingdom. Vegan running shoes are manufactured using materials and processes that don't involve animals in any way.
In this article, we'll take a look at the ten best vegan running shoes available on the market today. We'll also be giving you the inside scoop on what you should be considering as you go looking for your next pair of vegan shoes.
Our Top Vegan Running Shoes
1 - Brooks Women's Ghost 13 Running Shoes
(Editor's Choice For Women)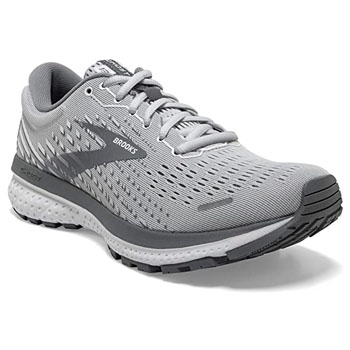 The Ghost 13 offers runners as smooth a run as they're ever going to experience with a vegan running shoe. Their "Segmented Crash Pad" technology - a system of integrated shock absorbers - ensures that your heel-to-toe transitions are as effortless as possible.
If weight is a concern for you, rest assured that the Brooks Ghost 13 is one of the lightest vegan shoes on the market. At 8.8 oz, only one other Brooks shoe weighs than the Ghost 13.
This neutral running shoe also offers supreme underfoot softness - enabled by the combination of BioMoGo DNA and DNA LOFT cushioning components.
PROS
Superb cushioning and softness.
Very lightweight, despite all the additional cushioning.
Ideal for running, HIT, and regular workouts.
16 attractive colors and styles to choose from.
CONS
Some runners may find these shoes a little tight. Consider buying a size up from your regular shoe size.
2 - Brooks Men's Beast 20 Running Shoes
(Editor's Choice For Men)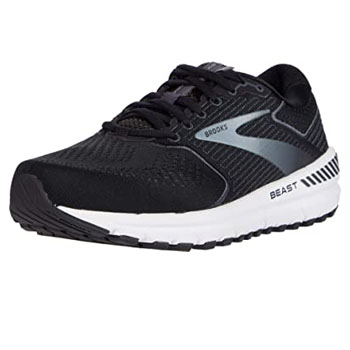 Brooks is killing it in the vegan running shoe niche! For men, the Beast is easily one of the best running shoes available today - just be aware that they're not the most affordable shoe on this list.
As with the Ghost 13, Brooks' primary focus is again on comfort - provided by the DNA Loft cushioning technology. The fit is extremely comfortable, thanks to the engineered mesh top and highly flexible embroidered saddle.
The Brooks Beast 20 also offers some of the best support for your knees. Using GuideRails technology, these shoes help keep excess movement to a minimum.
PROS
Provides additional support to protect the runner's knees.
The toe box fit is extremely comfortable.
Provides great arch support for runners with flat arches.
CONS
Some runners may find the shoe's bottom-heavy design a little jarring to look at.
3 - ALTRA Women's Lone Peak 4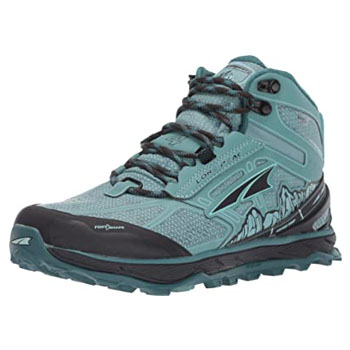 One of the Lone Peak 4's best features is how naturally it allows the runner's toes to spread during an uphill or downhill run. As most familiar with trail running know, restriction in this space can cause severe discomfort and even injury.
The sole's design ensures that your heel and forefoot are always the same distance from the ground - creating the ultimate low-impact trail running experience.
Gaiter attachment is also a breeze with the Lone Peak 4. Enabled by a hook-and-loop tab, this strapless attachment mechanism will make sure that debris buildup is kept to a minimum.
PROS
Energy-return technology minimizes impact and adds additional spring to each step.
The shoe offers extra width and comfort in the toe box.
Are very quick to dry, even after getting thoroughly wet.
CONS
Some customers may find these vegan shoes on the expensive side.
4 - Merrell Men's Trail Glove 4 Runner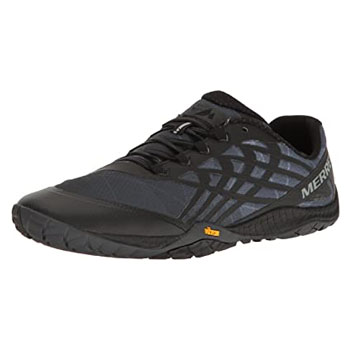 Merrell is an undisputed leader in the trail running niche, so it's great to see that they take vegan shoes seriously. The Glove 4 is everything a trail runner would expect from this trusted brand.
The Glove 4 takes barefoot running to a new level. Every component of this terrific shoe creates natural comfort without the need for socks.
The shoe has been designed for the utmost anatomic comfort and includes Merrell's trademarked "TrailProtect" underfoot padding.
PROS
Quite affordable in comparison to other vegan-friendly trail running shoes.
Weighing in at 8 oz, it's one of the lightest shoes on our list.
Vibram rubber sole with 3mm lug depth offers excellent slip-resistance.
CONS
If you're a barefoot runner that likes to "feel" the textures of the ground, the Glove 4 might not be ideal.
5 - Onitsuka Tiger Unisex Ultimate 81 Shoes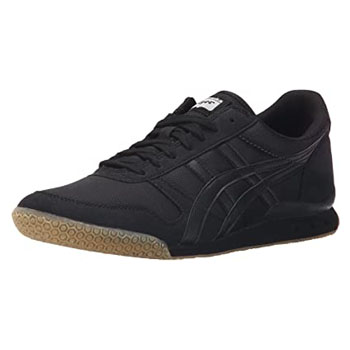 As far as vegan shoes go, I found few as attractive as the Onitsuka Tiger. Don't let their old-school sneaker design fool you, though; these shoes are fantastic for training and freerunning or parkour.
Stylish, made from 100% vegan materials, and offering excellent shock absorption, the Onitsuka Tigers are a must-have for runners who like to wear their shoes casually.
PROS
Ideal shoes for parkour.
Excellent blend of 80s retro style and running support.
Mesh, suede, and rubber composition results in an extremely lightweight shoe.
CONS
These shoes aren't the most durable on our list.
6 - Newton Men's Motion IV Running Shoes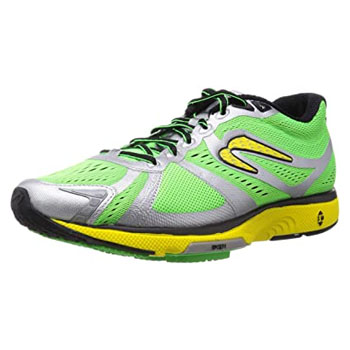 Newton pride themselves on producing running shoes made from 100% synthetic materials. Their Motion range has long been a sought-after shoe packed with innovative technology that reduces energy loss, increases responsiveness, and provides fantastic structural support for your feet.
The Motion IV vegan shoe's outsole is made from "super high abrasion rubber compound," making the shoe one of the most durable shoes on our list.
The outsole has also been designed using Newton's "Extended Medial Bridge" concept to cater to runners with a flatter arch or those experiencing pronation.
PROS
Excellent shock absorption from heel to toe.
Great fit for runners with wide feet.
Additional medial support for runners with flat arches or issues with pronation.
CONS
At 10.1 oz, these won't be ideal for some runners.
7 - Mizuno Women's Wave Creation 20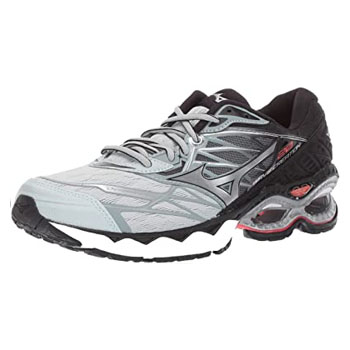 Around six years ago, Mizuno confirmed that every component of their running shoes, including the adhesives, is now vegan-friendly. Their longtime commitment to products that don't contain animal products certainly hasn't affected their shoes' quality.
The Wave Creation range has always been about comfort and support. Still, this particular model takes cushioning to another level with the strategic inclusion of heel perforations and Mizuno's brand new Infinity Wave technology.
PROS
Manufactured from an eco-friendly combination of textile and synthetic materials.
Designed for long-distance running.
Great for runners who need extra cushioning and arch support.
CONS
There may be a slight lack of space in the toe box.
8 - ALTRA Men's ALM1933G Escalante 2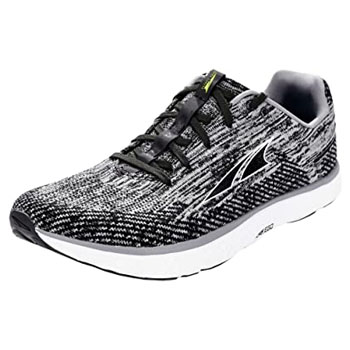 ALTRA's all-new Escalante is all about providing you with the perfect fit and comfort during your run. Its toe box allows maximum toe-spread during climbs or descents, while midsole grooves cater for superior mid-foot flexing.
FootPod technology applied to the outsole allows the Escalante 2 to map itself to your tendons and bones' unique shapes. This feature supports more natural foot movement during your run.
PROS
Vegan road-running shoes that are ideal for hilly areas.
One of the best vegan shoes when it comes to long-term comfort.
These shoes are great for runners who experience pain from bunions.
CONS
The Escalante 2 needs some time to shape itself around your feet, so expect a short "breaking in" period.
9 - Mizuno Women's Wave Rider 24 WaveKnit Running Shoe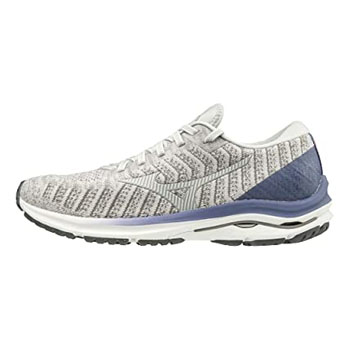 The Mizuno Wave range makes its second appearance on our list of the best vegan-friendly shoes with this awesome product.
What sets these shoes apart from the competition is Mizuno's Wave Plate technology that intelligently distributes impact across a broader surface area to create more support and enhanced cushioning.
The Wave Rider 24 is a vegan shoe that brims with next-gen technology; from the sole to the upper, Mizuno has aimed to innovate.
PROS
WaveKnit upper offers stretch where your feet expand and firmness where they don't.
X10 carbon rubber outsole offers great durability.
Smooth Ride engineering for enhanced heel-to-toe transitions.
CONS
Some runners may find these shoes are a little narrow.
10 - Inov-8 Men's Bare-xf 210 V2 Footwear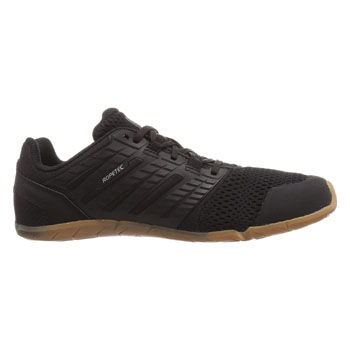 The last entry in our list comes from Inov-8, a relative newcomer to the footwear industry. These shoes offer runners an extraordinarily lightweight and stable running experience.
In fact, the Bare-xf 210 V2's heel system has been designed specifically to aid in proprioception - your body's natural sense of position and balance.
Fans of the first version of these shoes will be thrilled to note that the manufacturer has made some significant improvements. These include new materials for enhanced breathability, Meta-flex technology for a more natural flexing of the forefoot, and a larger outsole for increased grip and durability.
PROS
Very affordable vegan shoes, given the quality.
Exceptionally durable.
Designed for runners who appreciate lightweight footwear.
CONS
The sole may be a little rigid for certain runners.
Our Vegan Running Shoes Buyer's Guide

There's a lot to bear in mind when you're shopping for your next vegan running shoe. The stakes are high since it's the most significant investment a runner will make in their hobby. It's also one that has a genuine impact on their physical health. Here are some key considerations.
Are The Shoes 100% Vegan?
When researching this article, I found a fascinating quote on the PETA website. When referring to some big-name manufacturers' claims that their shoes contain no animal products, the animal rights organization said:
These companies cannot guarantee that the glue used in their shoes is vegan. We've opted to include them because their products are widely available.
When you're out looking for your next pair of vegan running shoes, bear this in mind. You may have to dig a little deeper than merely reading the manufacturer's claims.
On that note, every product I've listed here is a guaranteed vegan shoe; all of the materials used in their production, including the glue, are 100% synthetic.
What Level of Support Do You Need?
How comfortable the vegan shoe sits on your feet is a significant consideration.
Typically the tradeoff is between a heavily cushioned shoe offering maximum support and padding or a barefoot shoe that provides a more minimal running experience.
Neither side of the spectrum is objectively good or bad; it's more a case of your own personal preference and running style. If you're accustomed to a particular fit, consider sticking to it unless you've been advised by a professional to consider a different type of shoe.
Where are You Going to be Running?

The shoes we have listed in this article can be split into two categories relating to the surfaces you'll be running on. Make sure you understand the differences between these two categories before you invest in your new shoes.
The first category is road running. These shoes typically favor cushioning and support over grip and durability. Their outsoles are thinner, smoother, and flatter, while their midsoles are softer for increased cushioning on hard pavements. A road running shoe usually has a light, highly breathable upper.
Trail second category is trail running. People who run on sand, mud, rocks, and gravel need shoes that offer better overall durability over delicate padding. Shoes used on these surfaces tend to have thicker outsoles with big lugs that provide maximum grip. Their midsoles are stiff to provide additional stability, and their uppers are thicker to guard against the inevitable scuffs and scrapes.
FAQs
Can Running Shoes Be Vegan?
Yes, they can be classified as vegan. Vegans aim to limit their use of all animal-based products and shoes often made from leather or adhesives obtained from animals.
Which Running Shoe Brands Are Vegan?
The following brands' running shoe ranges use only vegan-friendly materials: Brooks (excluding the Chariot and Vanguard lines), Altra, Inov-8, Merrell, Newton, Mizuno.
Are Vegan Running Shoes Durable?
Vegan running shoes are not as durable as non-vegan shoes. The materials used in vegan shoes are 100% synthetic and can sometimes wear out slightly faster than high-quality leather used in non-vegan shoes.
What are The Best Vegan Running Shoes For Men and Women?
As much as we here at Vegan Liftz try to embrace gender neutrality, differentiating between those worn by women and men is unavoidable when it comes to specific products. This is definitely the case with running shoes. That's why we're closing this article off with two recommendations instead of one.
When it comes to vegan running shoes, Brooks is the cream that rises to the top. Both the women's Ghost 13 and the men's Beast 20 stand just a tad above the rest.
Don't get me wrong, I'd be happy to run miles in any of the products I've reviewed today, but if I had to choose one pair for myself or a female friend, it would be these two fantastic shoes.
Both of them offer innovative running technology without sacrificing comfort. They're exceptionally durable, made from high-quality vegan materials, and can be used as running shoes or as regular trainers while working out.
I recommend these two pairs of vegan shoes with the utmost confidence.
WE RECOMMEND
Brooks Women's Ghost 13 for Women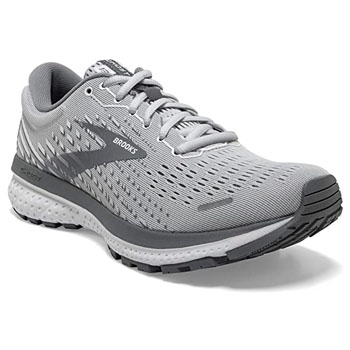 WE RECOMMEND
Brooks Men's Beast 20 for men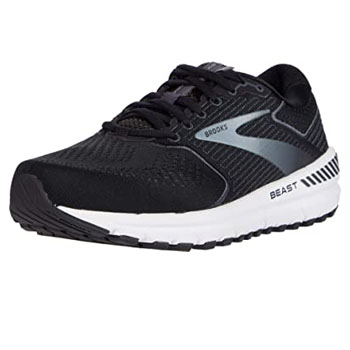 About the author