In recent years, there seems to have been a big increase in plant-based creamer choices on store shelves. But when we looked closer, it turns out that dairy-free doesn't always mean animal ingredient free.
So, if you want to avoid unknowingly adding animal ingredients to your coffee, then stick with the following vegan coffee creamers that we have carefully analyzed and tested.
Our Top Vegan Coffee Creamer Recommendations
1 - Califia Farms Almond Milk Creamer
Of all the Califia Farms vegan creamers we tested, the favorite seemed to be the vanilla one.
You can get it in hazelnut or pecan caramel as well, and it's based on almond milk.
PROS
Low-sugar almond milk with coconut cream
Soy and gluten-free makes it suitable for common allergies
CONS
Vanilla flavor could be a bit stronger
2 - Ripple Plant-Based Dairy-Free Barista Style
Ripple is another popular brand for creating dairy-free coffee creamers, and it comes with the benefit of being low in saturated fat.
Just keep in mind that it may not froth too easily.
PROS
Soy, nut, and gluten-free to avoid most allergies
Low in saturated fat makes it a healthier option
3 - Coffee Rich Non-Dairy Creamer
If you're looking for non-dairy coffee creamers with no cholesterol, then Coffee Rich might be a good one to choose.
One thing we found with this one is that it's not quite as creamy as other brands.
PROS
Zero cholesterol makes it a heart-healthy option
The frozen product makes it longer lasting
CONS
Not as creamy as other choices above
4 - Laird Superfood Non-Dairy Creamer
By combining coconut oil and milk in this dairy-free creamer, Laird claims to have created a kind of superfood that may give your body and mind a boost.
With no artificial fillers or sweeteners, it's positively reviewed as a delicious cocoa flavor.
PROS
Coconut milk powder with organic cocoa
Low sugar option with no artificial sweeteners
CONS
Could provide a creamier consistency
5 - Coconut Cloud Coconut Milk Creamer
If you like changing the flavors of your morning cup around a bit, then this Coconut Cloud pack may be a simple solution.
Despite containing coconut oil, many customers commented that even the original one doesn't taste like coconuts.
PROS
Many positive reviews about the multiple flavors included
Doesn't have a strong coconut taste to it
CONS
The powder takes some time to mix
6 - Nutpods Dairy-Free Coffee Creamer
Of all the Nutpods, hazelnut and french vanilla seem to be one of the better-reviewed flavors available.
And if you like using a frother, then this dairy-free product worked well during our testing with broccoli-powdered coffee.
PROS
Multi flavor pack includes french vanilla, hazelnut, and original
Positive comments about the dairy-free product frothing easily
CONS
It's not the cheapest option
7 - Silk Soy Creamer
Of all the soy-based products we have tested out in the past few months, Silk Soy tends to have a texture that is just a bit creamier than the rest.
This one may also be the more popular choice because it has a non-GMO certification.
If you're concerned about the soy content, then you might be interested in reading our article "Is Soy Bad for Men?" here.
PROS
Positive comments about the creamy texture
Non-GMO certified for added peace of mind
CONS
Currently only available in bulk-order packs
8 - Native Joy Superfoods Coffee Creamer
This dairy-free creamer is a popular blend of organic coconut powder and added medium chain triglycerides (MCT) oil.
To get your brain to perform better in the morning, MCT oils may help to provide the fuel you need [1].
PROS
Superfood creamer with MCT for better mental focus
Not too sweet tasting and low-calorie option
CONS
It can take a while to dissolve fully
MCT oil is easily absorbed and transported throughout the body. It can be used as an instant source of energy or can be converted into ketones to fuel your brain.

-Sharon O'Brien, Registered Dietitian
9 - Genuine Joe Non-Dairy Powder Creamer
This may be the perfect choice if you need to stock up with dairy-free coffee creamer for an office.
We usually keep a box of this in stock here at the office, and with 800 servings, it generally lasts quite a long time.
PROS
Convenient single-use packs make it easy to bring with you
Positive comments that it dissolves quickly
CONS
Only available in large bulk-order packs
10 - N' Joy Non-Dairy Coffee Creamer
The final one of our recommended vegan creamers is this N' Joy one.
The small packs are quite convenient to put in your bag for a busy day ahead, and they don't require refrigeration, so they may not end up taking up a load of space.
PROS
Unsweetened single-use packs for convenience
Doesn't require refrigeration
CONS
Not as creamy as other vegan creamer options
Other Resources You May Like: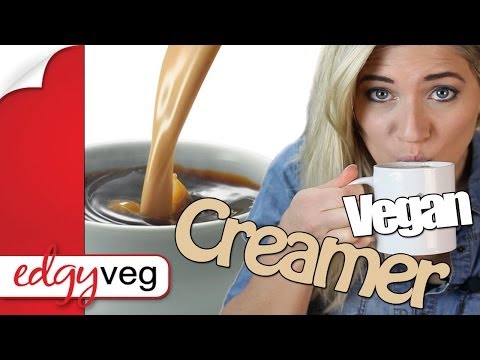 Which Vegan Coffee Creamer Should You Order?
In our opinion, you should order the Califia Farms vegan creamer option.
While we do use a few of the other non-dairy creamers, we tend to favor the Califia Farms one for its texture and taste. Because it's also low in sugar, it just makes that dairy-free coffee a little bit healthier in the morning.
If you've tried some other delicious brands, then why not share them with us on social media.
CALIFIA FARMS VANILLA ALMOND MILK
Our #1 Vegan Coffee Creamer
Low-sugar almond milk with coconut cream
Soy and gluten-free makes it suitable for common allergies
Check Current Price
About the author