There is nothing more satisfying than the crunch of a good potato chip. They are the perfect snack food, and for me, the one reason why I could never follow a strict no-allowances diet.
This is the snack I will reach out for time and time again in moderation.
Here's our pick of all plant-based vegan chips that you can share with friends or polish off by yourself with no animals harmed for your enjoyment.
Our Top Brands of Vegan Chips (2021 Updated)
1 - Lays Classic Potato Chips
The classic Lay's is the chip that has inspired many imitations, but no one can quite do it as well as Lay's.
They're light and flakey, with a perfect balance between crunchy bite and melt in the mouth texture.
The original flavor is just the right amount of salt and oil so that even if you do get a bit greedy and scoff a whole bag, your tummy won't be too angry about it.
2 - Doritos Spicy Sweet Chili
When it comes to flavor, Doritos packs a serious punch.
These delicious corn chips deliver a serious amount of taste bud-tingling bite after bite. The spicy-sweet chili flavor is the best that they do  and happens to be one of the best vegan chips with its all plant-based ingredients list.
Perfect for parties, they have the structural integrity to deliver hefty amounts of scooped salsa, too.
Read More: 6 Vegan-Friendly Doritos Flavors

3 - Fritos Original Corn Chips
Fritos claim to be the original corn chip, and it's quite possible that they are one of the best vegan chips t.
It's another brand that has truly stood the test of time. They have the perfect amount of crunch and a satisfyingly simple taste and ingredients list too.
While I personally prefer a potato chip, if it comes to dipping, I'm gonna go corn, and Fritos are simply the best vegan chips if you want to keep it fairly simple flavor-wise.
4 - Kettle Brand Potato Chips
When it comes to the crunch, no one does it quite as Kettle chips do. The ingredients list is stripped back to simplicity with only potatoes, oil, and salt in the original sea salt flavor.
They explode in the mouth with an eardrum tickling amount of crunchiness, and the oil and salt used are of high enough quality that even the simple recipe has a moreish and satisfying flavor.
Be forewarned, though; they are a little oiler than other vegan chips, which gives them higher fat content as well as the potential to unsettle the tummy if you have a handful or three too many.
5 - Original Salsitas Spicy Salsa Flavored Tortilla Rounds
It's rare to find vegan chips that you can honestly say are completely unique, and the mainstay flavors are often emulated and copied.
Salsitas Spicy Salsa Tortilla Rounds break the mold by combining the delicious savory flavor of corn with the rich butter of ripe avocado.
Enjoy them by themselves or get indulgent with the double salsa combo and use them to scoop up your favorite homemade tomatoes.
6 - Sabritones Chile & Lime Puffed Wheat Snacks
If you ask me, there is no better flavor combo than chili and lime.
Sabritones Puffed Wheat snack combines this flavor with a wonderfully airy chip that delivers hard-on flavor and satisfying mouthfeel while also clocking in a much more forgiving nutritional profile than other chips on the list.
Low in fat, high in delicious, if you give these chips a try, don't blame me if you get addicted.
7 - Pringles Original Potato Crisps
Do I have to introduce Pringles to anyone? Really? The eponymous chip brand at parties and family gatherings with the appropriate slogan that "once you pop, you just can't stop".
The original Pringles flavor is all plant-based and perfectly vegan-friendly. Although it must be said that they can't really be labeled a potato chip as they are less than 50% potato if you check the ingredients.
If you're going to treat yourself, though, you won't find many other chips that stay this fresh and still pack such a respectable crunch.
8 - Terra Original Chips
Potato and corn chips have been done to death. It's nice to see some brands pushing some healthier and more varied options onto the market.
Terra chips are made from seasonal root vegetables like taro, sweet potato, yuca, and parsnips to name a few. While they could still never be labeled as a healthy choice, you're at least making some move towards your five a day with these chips.
Also, they taste amazing, my favorite being the taro, such a sweet undertone that balances the salt and oil perfectly.
9 - SunChips Original Multigrain Snacks
Another chip that doesn't deliver the typical guilt-inducing amount of fat that others do while still serving up heavy satisfaction in flavor and texture.
SunChips Multigrain Snacks are rich in fiber and even richer in mouthfeel. The crunch comes first and then a smooth, almost melt on the tongue butteriness that is rare in other chips.
Few snacks that are this close to "healthy" taste this good.
10 - Garden of Eatin' Mini Yellow Rounds
If you like your corn chips to deliver on the corn taste, then look no further. These ridiculously delicious and moreish chips are certified kosher and all organic.
They have many different varieties and flavors to choose from, and the majority are all plant-based and vegan-friendly.
They even have blue corn chips, which is a novelty I'll never get bored of serving up at parties. Great for dipping, and if you have a favorite melty vegan cheese, even better for nachos.
11 - Beanfields Bean Chips Jalapeno Nacho
If you like your chips to pack a punch as I do, then Beanfields Bean Chips deliver on that jalapeno hallelujah.
It is just enough of a kick to open up your sinuses and taste buds to the great crunch and flavor of the chip underneath the heat.
They are, by far, one of my favorites to combo with salsa or guacamole and because they're made from beans with vegan-friendly ingredients high in fiber and low in fats.
12 - Grippo's BBQ Potato Chips
They're Cinnicinati's favorite chip for a reason, and if you're not from Cincy yourself, you should give this brand a try to see what the hype is about.
The BBQ flavor is not only all plant-based and vegan-friendly but also exploding with a rich, smokey, sweet, but savory flavor that you won't forget in a hurry.
Why not order yourself a bottle of Grippo's BBQ sauce and double down on that delicious flavor.
13 - Forager Project Cheezy Greens
No, you didn't read that wrong. That's right, we've finally got ourselves a cheese-flavored chip that is also all vegan.
While the ingredients list is a little intimidating, I can assure you that it's completely animal product free. These chips offer a flavor profile that none others on the list can match, and if only for the novelty alone, I'd give these a try.
They've got a lovely crunchy texture and an unbelievable taste.
Want more vegan chips? Check out this video: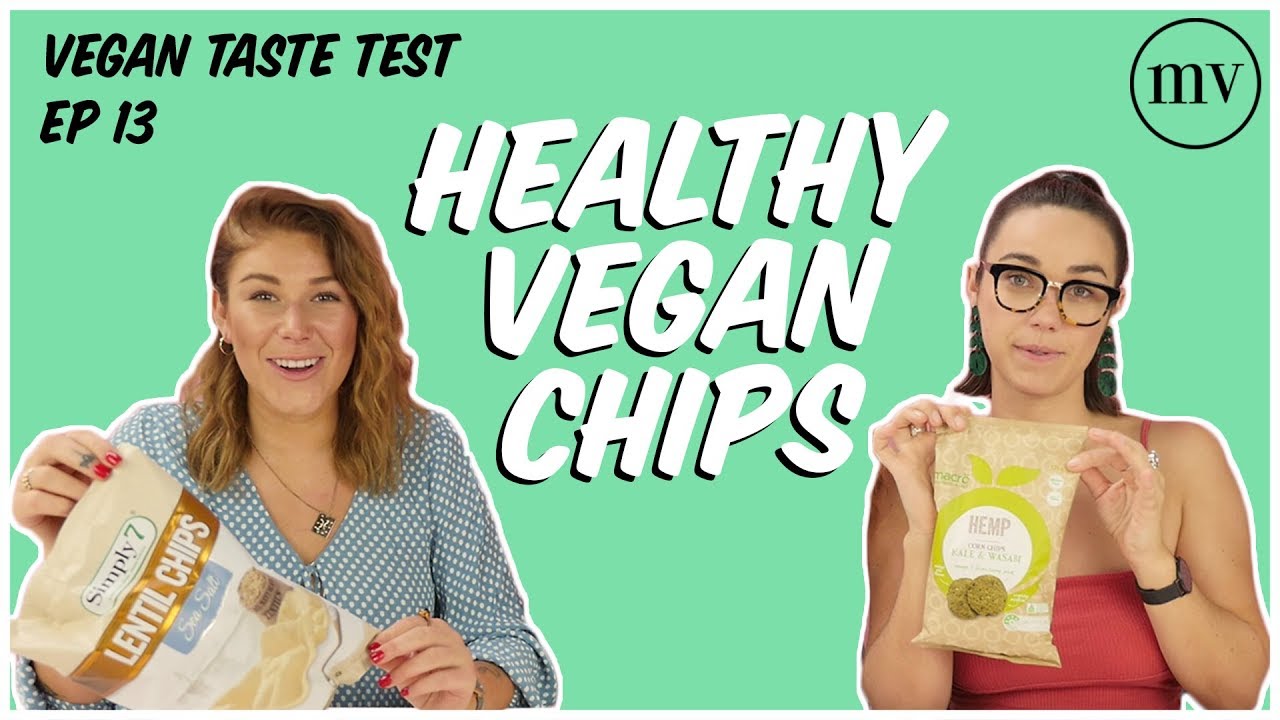 Related Posts:
Ingredients To Look Out For
When looking for the best vegan chip, there are a few ingredients to look out for, while all the flavors of chips listed above are entirely plant-based and vegan-friendly, they are often made by brands and companies that also do deal with animal products.
Just because one bag is vegan doesn't mean the next will be, and you should always check the labels, especially where chips are concerned. [1]
Another snacking staple, flavored chips, may also have animal products. For example, Lay's baked barbecue chips contain both dairy and chicken products. Oddly enough, the original fried version of Lay's barbecue chips are vegan.

- Tanya Flink, Writer for LiveKindly
One of the most annoying, confusing, and unexplainable ingredients that make most chips not vegan is milk -- even on flavors that make no sense like salt & vinegar pringles.
I've been told that they use it as an emulsifier to help the flavor stick to the chip, but it still seems bizarre and means a lot of my favorite chips from before the switch are off-limits now.
Meaty flavors such as bacon or chicken, on the other hand, often come from artificial flavors, which means you'll find variants of these flavors that are vegan approved [2]. Again, always check the label because it's not always true, and even those that are artificial may still use milk.
POST YOU MAY LIKE: Best Non Dairy Ice Cream Brands (2022 Ultimate List)
And Our #1 Recommendation Is...
If you're looking for the quintessential chip, the all-rounder, the crowd-pleaser, and you also need it to be vegan-friendly, then Lay's Original is the obvious and unopposed choice.
It's a great flavor, with a moreish texture that will keep you and your friends happy.
However, if you want a healthier chip with fewer fats or one that packs a bit more punch with an interesting flavor, then try some of the other offerings on the list.
Who said vegans aren't spoiled for choice when it comes to delicious chips?
What's your favorite vegan chip? Let us know in the comments below.
And if your craving for more vegan junk food, you can check this list here.
​Want ​some delicious candies for kids? How about some vegan gummy bears?
Lays Classic
Our #1 Vegan Chip
Made With Just Three Ingredients
Great for Packing Lunches - Just Grab and Go!
Vegan and 100% Gluten Free
Check Current Price
About the author