Cacao has been used medicinally for centuries with a long list of health benefits, including brain and heart health.
If you've ever read an article claiming "shocking news, chocolate is actually good for you," they are likely referring to cacao nibs, dark chocolate, or cacao powder. No, Karen, your dairy milk chocolate bar is not the latest health trend.
If you're looking for the best cacao powder to use in smoothies, cold-pressed drinks, hot chocolate, baked goods, or just huffing down raw (you weirdo), then we've got you covered with some of our top picks.
Our Top Cacao Powders
1 - Rasa Cacao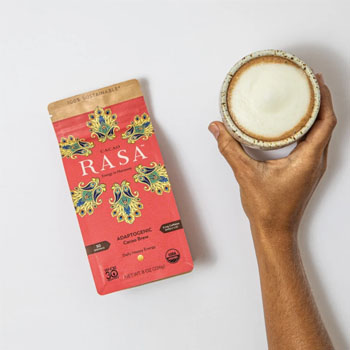 If you're looking to drink your cacao powder fix in the morning, then there is no easier or more delicious way to do that than with Rasa Cacao. They have blended the best cacao powder made from high-quality Criollo cacao beans to create a truly outstanding tasting coffee alternative.
It's a lot milder in caffeine than a regular coffee at only 5mg a cup. Yet, it still provides a significant energy boost, and the flavonoids present in the cacao powder give you a great boost to your mood that lasts all day.
The company also prides itself on great ethics with a direct fair trade agreement with their cacao bean farmers, which offers them better than a fair-trade payment.
The company offers savings to customers who choose to subscribe or order in bulk, and if you try this cacao powder drink and realize you can't live without it, I'd highly recommend taking them up on that.
PROS
Better than fair-trade ethics in sourcing their cacao powder
Low caffeine coffee alternative
Rich chocolate flavor expertly blended for a delicious hot drink
Criollo beans make for the best cacao powder rich in antioxidants
CONS
Without taking advantage of the subscription, savings can be expensive
2 - Terrasoul Superfoods Cacao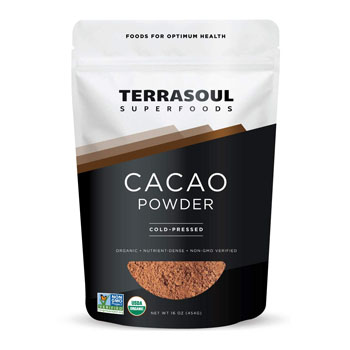 The Terrasoul Superfoods Cacao delivers high-quality organic and nutritionally dense cacao powder at an affordable price. You don't have to spend a fortune to get your healthy chocolate fix every day.
The pure cacao powder itself is very fine and blends incredibly easily into your favorite recipes. It has a smooth, mellow flavor and an excellent nutritional profile making it an ideal cupboard staple. The company also offers a money-back guarantee just in case you're not happy with the product.
PROS
High quality at an affordable price tag
Super-fine powder that blends easily with baked goods
CONS
Not as strong a flavor as the more expensive options
3 - Millard Organic Cacao Powder
Millard sources their cacao beans from Peru, and they claim that they provide a richer, more full flavor, as well as being more naturally rich in nutrients. This is an assertion that is echoed by many other manufacturers and consumers.
One thing to note about South American cacao beans is that they are higher in naturally occurring heavy metals like cadmium than cacao from other parts of the world. We'll get into this further a little later on.
PROS
Peruvian cacao beans have a richer flavor and are dense in nutrients
A versatile and smooth cacao powder perfect for mixing in any recipe
CONS
Peruvian cacao powder contains more naturally occurring cadmium from the soil
4 - Navitas Organics Cacao Powder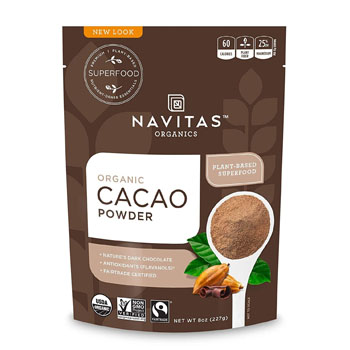 Navitas Organics Cacao Powder has topped many lists of the best cacao powders, and it's easy to see why. As well as serving up a great flavor, it also gives you a hearty dose of magnesium, iron, fiber, and antioxidants.
Like most of the other powders in this list, it is fair-trade,  non-GMO, gluten-free, and allergen-free. The Navitas Organics Cacao Powder is approved by the FDA and the USDA, which is as good certification of quality and safety as you can get.
PROS
Navitas organics cacao has a stellar reputation with a loyal customer base and excellent customer support
Has all the right labels, including organic non-GMO, gluten free, FDA, USDA, and organic certification
CONS
At the upper end of the market in terms of price
5 - Pure Natural Miracles Cacao Powder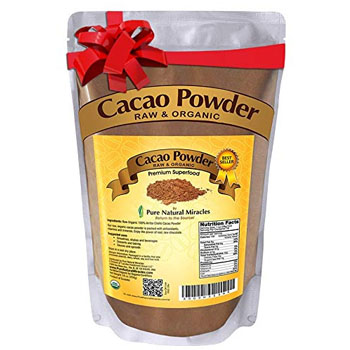 If you like your cacao powder to be silky smooth with a more mellow taste, you should give Pure Natural Miracles a try. They source their cacao beans from Ecuador, and it makes for one of the best cacao powders I've tried.
The nutrition is impeccable, and the taste unrivaled if you like it with a little less of a bitter bite. Whether you're baking muffins, spicing up your protein shakes, or just adding a spoonful of powder to your morning coffee, this superfood cacao powder is a great choice.
PROS
A smoother, more mellow cacao powder in terms of a rich flavor
Perfect for mixing into baked goods recipes you don't want to be overpowered
CONS
Not the best cacao powder if you like a strong, rich, bitter flavor
6 - Viva Naturals Organic Cacao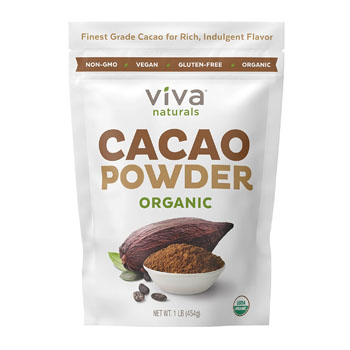 When you have a product as raw and unprocessed as cacao powder, the quality of the ingredient is super important. If you read the ingredient list for most powders on the list of viva naturals, you'll see just one component, and that's the cacao bean.
Viva Naturals take great pride in their criollo cacao bean, which is regarded by many to make the best raw organic cacao powder. They make for a slightly less bitter flavor and are still jam-packed with the superfood status and nutritional power that cacao powder has become famous for.
PROS
Criollo cacao beans are the best for making cacao powder in taste and nutrition
Delicious and smooth raw cacao powder that is a certified organic non gmo, gluten free, cacao powder
CONS
The viva naturals bag is hard to keep sealed once the powder is open
7 - Better Body Foods Organic Cacao Powder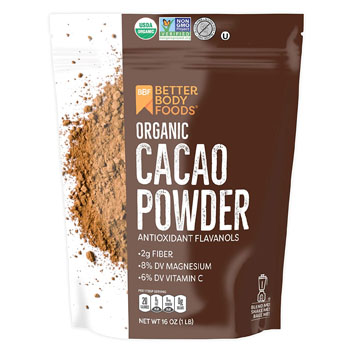 This organic cacao powder puts a lot of emphasis on its chocolatey flavor. It's a fair selling point, and it's another organic cacao powder that can easily replace cocoa powder in a 1 for 1 trade-in almost any recipe.
Not only is it more healthy and packed full of useful nutrients like vitamin C, magnesium, and tons of antioxidants [1]. It has no added sugars, preservatives, or filler ingredients, and this raw organic cacao powder will make for chocolate snacking with far fewer calories.
PROS
While some cacao powders are bitter, this powder really tastes like chocolate products
Best powder for baked goods and using as a healthy replacement to any of the cocoa powders out there
CONS
For some, the cacao powder still tastes bitter
8 - OMG! Superfoods Organic Cacao Powder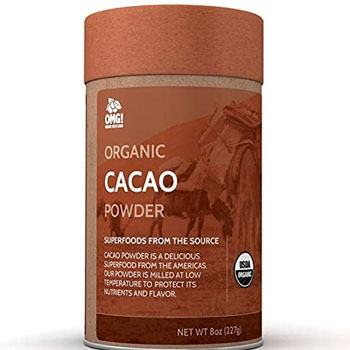 It's earth kosher, it's certified vegan, it's certified organic, it's fair-trade, it's the food of the gods, and it comes in a widely recyclable cardboard container.
If you're looking for the best raw superfoods organic cacao powder, then "OMG!" you must have found Superfoods organic cacao powder.
What sets Superfoods organic cacao powder apart from other cacao powders is the company's commitment to the raw and certified organic label.
Far from just removing filler, sugars, and preservatives, they have taken the ethic to heart from the packaging to the unbeatable organic cacao powder delicious mellow chocolate flavor.
PROS
Recyclable packaging
USDA certified organic powder
CONS
This cacao powder is made from a mix of beans from both Peru and Ecuador
9 - Zint Organic Cacao Powder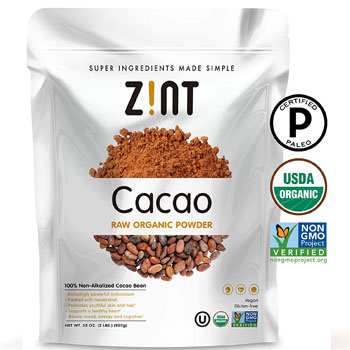 Zint has taken the antioxidant and health benefits claims of the other cacao powders and elevated them to the next level. They are claiming that their powder is anti-aging and darkly, deliciously restorative.
Ignoring the overly sexy and romantic advertising, the powder itself is genuinely quite impressive. It follows the trend of the rest of the list in being certified vegan and certified organic, it's raw and unprocessed, and it prides itself on being one of the best cacao powders in terms of nutrition.
Flavor-wise it's more bitter than mellow despite the company's claims otherwise.
PROS
Tailored as a health and beauty product
Slick and sleek marketing
CONS
Comes with a beauty brand level price tag
10 - Zen Spirit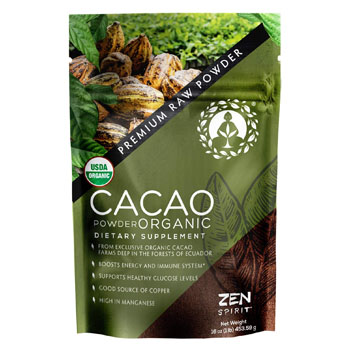 This pure cacao powder wants to elevate your mood and offer several different superfood ingredients to sprinkle into smoothies, baked goods, and your morning beverages. The raw organic cacao powder is what we're most interested in, though, and it is definitely worthy of its spot on this list.
At only 20 calories a serving and with a rich dark chocolate taste, it's clear why this antioxidant-rich cacao powder has everyone smiling in its marketing.
It's perfect for blending into a morning smoothie with your favorite fruits and topping off with a few nuts and cacao nibs for the ultimate decadent but healthy morning treat.
PROS
The best for low-calorie cacao powder
One of the best raw organic cacao powder for giving you that zenned out mood glow
CONS
Have to order the powder in bulk to get the best value
Cacao Buyer's Guide

When looking to buy the best cacao powder, there are a few things you should keep an eye out for to be sure you're getting the highest quality raw cacao beans.
Choose Raw And Organic
Check the ingredients list and make sure the only listed ingredient is the cacao beans themselves. This makes for a better organic raw cacao powder with the best health benefits and flavor of raw cacao.
If possible, choose a product that is USDA certified, FDA approved, fair-trade, and organic. You don't want or need any added sugars, preservatives, fillers, or nonsense to the powder. It will only take away from the product's intended purpose and add unnecessary calories.
Processing matters too. To get the most antioxidants possible out of your cacao beans, ensure your cacao powder is cold-pressed, non-GMO, and not dutch-pressed.
What Is Dutch-Pressing?
There are many different ways to process cacao into a powder, and not all of them produce the same high-quality cacao powder.
Dutch-pressing washes the cacao in an alkali solution to combat the ingredient's natural acidity and typically produces a dark powder with a mellower flavor. While it might be the most visually appealing, nutritionally, it is an inferior processing method, and dutch-pressing has the drawback of removing a great deal of the ingredients' beneficial properties. [2]
Cacao Powder Benefits
The health benefits that cacao powder offers are well documented at this stage and range from elevated mood and cognitive function [3] to blood sugar regulation with blood pressure reduction [4] and heart health [5].
"Not only does cacao powder add a chocolate flavor to your favorite recipes, but it's also a potent source of polyphenols that have powerful antioxidant ability as well as the ability to calm inflammation."

- Sydney Greene, MS, RD, CDN
Many people are shocked to learn how rich cacao powder is in antioxidants and healthy nutrients such as iron, protein, and magnesium. [6] Without the added sugars and fats that are usually added into the more processed cacao (cocoa powder), raw, non-GMO, organic cacao can be incorporated into a healthy diet and treated as a superfood.
Shortfalls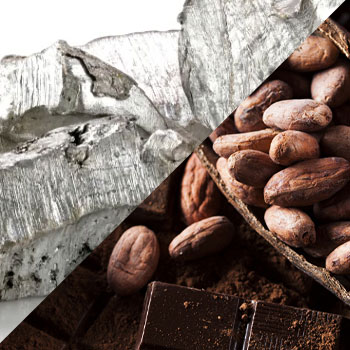 A lot of cacao powder is made from South American cacao beans. This is due to them being the densest nutritionally and also having the most decadent chocolatey flavor.
However, one of the drawbacks is that the soil in Peru and Ecuador is naturally higher in heavy metals like cadmium.
This means that many of these cacao powders have to come with a warning about the potential carcinogenic properties of those heavy metals.
For anyone worried about these labels, I would encourage you to look for a USDA-certified, and FDA-approved powder.
The levels of cadmium found are all-natural and at perfectly safe levels, but it's something to be aware of, especially if pregnant or trying to conceive.
Recommended Daily Intake
There is no set daily intake for cacao, but seeing as cacao powder is so nutrient-dense, you should base your intake around the macros you are trying to achieve.
The essential nutrients it provides in terms of overall health are antioxidants and magnesium, and so you should base your daily intake around these two and how much you're getting from the rest of your diet.
I take one to two spoons a day in the morning in either a smoothie or a superfood oats bowl. This way, I know I'm always getting a cheeky health and energy boost right at the top of the day.
If you are looking to maximize the cognitive boost that the flavonols provide, you need to be somewhere between 14 and 28 grams of cacao powder a day to achieve the same results seen in scientific studies. Luckily this works out to be around the same as 1 or 2 servings of most organic cacao powder.
How Should You Use Cacao?

There are many different ways to take your daily dose of cacao powder and reap the rewards of this superfood ingredient from drinks, baked goods, or superfood bowls. Below we'll take a look at a couple of my favorite guilt-free recipes.
1. Cacao Powder Coffee
One of the most popular ways to take cacao powder is to add a spoonful to your morning cup of joe or hot chocolate. Like adding cocoa powder and making yourself a mocha or cold-pressed drink, it adds a rich chocolatey taste, but cacao powder is vegan and much better for you.
If you want to take hot chocolate or coffee to the next level, you can try adding a few other health-focused ingredients like maca powder and cinnamon to your morning routine for the ultimate energy boost.
2. Cacao Powder Smoothie
Another option and my morning favorite is to use the cacao powder to make one of the best guilt-free smoothies you have ever had. Take your favorite smoothie recipe and just add a couple of spoonfuls of organic cacao powder to supercharge it with chocolate flavor and healthy goodness.
My personal favorite was a slight tweak to my usual morning protein smoothie and uses the best cacao powder, protein powder, frozen banana, almond butter, and a dash of cocoa powder and cinnamon. It tastes as delicious as it is nutritious, and you can play with all your favorite flavors.
3. Cacao Bowls
Suppose you're looking to get a hearty dose of good fats or fiber with your cacao powder, then breakfast bowls are the way to go. Adding the cacao powder to almond milk and oats, muesli, or porridge, you can create a rich chocolate-tasting breakfast that has no right to be as healthy as it is.
Sprinkle in some berries, nuts, cacao nibs, cocoa powder, banana, or even avocado, and you've got guilt-free, rich flavor breakfast that would make every Instagram food blog jealous, and it doesn't taste half bad either.
FAQs
Are Cacao Powder and Cocoa Powder The Same Thing?
No, cacao and cocoa are two different products made from the same base ingredient, cacao beans. Cocoa is more processed and is usually sweetened using added sugar, dairy, and other flavorings. Cacao powder is made much rawer form of the cacao bean, cacao tree, and retains more nutrients.
Is Cacao Powder Good For You?
Yes, in moderation, cacao powder can be a good health boost. It is incredibly rich in several different nutrients and has a long list of health benefits, including cognitive function, mood elevation, blood sugar regulation, weight loss, and healthier-looking skin. This is primarily due to the high concentration of antioxidants, flavonols, and magnesium found in raw certified organic cacao powder.
Yes, most organic cacao powder is as raw and pure as it can be. It's essential to check the ingredients and processing methods, but for the most part, the majority of cacao powder is considered made from raw and is non-GMO.
As with all things, not all cacao powder is certified vegan. It's important to check each product for vegan certification. As a rule of thumb, though, most raw, non-GMO, and organic cacao powder will be vegan friendly.
How Much Caffeine Is In Cacao Powder?
Cacao powder contains a relatively small amount of caffeine and won't present much of an issue even to sensitive people. In the recommended serving of 14 to 28 grams a day, there would only be 35 to 70 mg of caffeine present.
Which Is The Best Cacao Powder?
Choosing the best organic cacao powder is difficult. They all have their benefits, flavors, and unique nutritional profiles. Cacao powder is undoubtedly better than cocoa powder in terms of taste and its potential health benefits.
I often mix my cacao powder into my morning coffee, so Rasa Cacao is the best.
It comes pre-mixed in a blend that provides all of the health benefits without being a caffeine overload. It works fine as a coffee replacement and has a superior taste, so it works fine in baking too.
Whether you choose Rasa Cacao, Navitas Organics Cacao Powder, or Zen Spirit, all of the cacao powder on this list is raw, organic, and vegan friendly. I'm a big fan of everyone for the tremendous health benefits they provide and can recommend them all.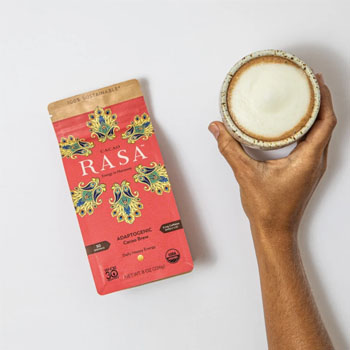 Rasa Cacao
Our #1 Recommendation
Better than fair-trade ethics in sourcing their cacao powder
Low caffeine coffee alternative
Rich chocolate flavor expertly blended for a delicious hot drink
Criollo beans make for the best cacao powder rich in antioxidants
Get the BEST PRICE until the end of May
Check Current Price
About the author