People still don't understand that veganism and sports career go together. However, Alexandra Morgan proves them all wrong. This professional women's soccer player has shown everyone athletes can follow a vegan lifestyle, win the World Cup, and go to the Olympics.
So, let's find out more about Alex Morgan, vegan inspiration to all athletes and people who struggle with going vegan.
Who is Alex Morgan?
Alexandra Morgan Carrasco is an American female soccer player. As of 2018, she's the co-captain of the U. S. women's National soccer team, along with Megan Rapinoe and Carli Lloyd.
Since childhood, Morgan's been a multi-sport athlete. She started playing as a young girl, with her father being her first coach.
She joined Cypress Elite. When she turned 14, winning the Coast Soccer League with the team. She was known for her sprinting and speed abilities.
Later, she went to Diamond Bar High School where she was a part of a three-time all-league pick.
[thrive_leads id='11437']
While studying there, Morgan was also named All-American by the NSCAA. She also played for the state and Olympic Development Program (ODP) regional teams.
At 17, Morgan became a part of the U. S. under-20 women's national team. While playing for the national team, Morgan sustained an ACL injury and didn't play again for the team until 2008.
Morgan attended UC Berkeley where she was a part of the California Golden Bears from 2007 to 2010. She led the team to the NCAA Tournament four times in a row. She was also the first California Golden Bear to be one of the top finalists for the Hermann Trophy.
Morgan finished college ranking third all-time in goals scored (45) and points (106) for California Golden Bears.
Morgan graduated one semester early with a degree in Political Economy.
Other notable vegan celebrities:
Her Professional Accomplishments
As a professional sportswoman, Morgan's had many successes. Many athletes could envy both her domestic and international sports career.
Club Career
During her club career, Morgan scored many goals and appeared in numerous matches. The clubs she played for include:
Western New York Flash
Seattle Sounders Women
Portland Thorns FC
Orlando Pride
Lyon
Tottenham Hotspur
International Career
Alex's international career is equally as exciting. She took part in the FIFA Women's World Cup three times. Furthermore, she participated in the London and Rio Olympics.
She's the first player ever to score a goal and an assist in a World Cup final.
The U. S. Soccer announced her the 2012 Female Athlete of the Year. Moreover, she earned the CONCACAF 2013 Female Player of the Year. Furthermore, Alexandra scored the fastest ever recorded goal in the history of the USWNT and the tournament history at the CONCACAF Olympic Qualifiers.
She was awarded the Golden Boot and the MVP award after the SheBelieves Cup in 2016. Alexandra was also awarded the US Soccer's Female Player of the Year award in 2018. Finally, Alexandra Morgan scored six goals during the 2019 FIFA Cup, earning the Silver Boot award.
For those interested in learning more about other athletes who ditched meat, check out Arnold Schwarzenegger's vegan story and Jim Morris's inspirational tale.
Why did She become a Vegan?
Alexandra Morgan is beyond an accomplished sportswoman—she's a dedicated vegan. Alexandra adopted a vegan diet in 2017. It was after starring in a PETA campaign with her rescue pup Blue. She went vegan because of her love for animals. As she explains:
"I'm passionate about giving animals a voice. I even adopted a vegan diet, because it didn't feel fair to have a dog I adore, and yet eat meat all the time."
But, eating vegan had even more benefits than she could have imagined.
Besides saving the animals and the environment, Alex noticed another positive side of being a vegan. She said she hasn't suffered an injury since becoming a vegan. Dedicated fans know how injury-prone she is. But, since quitting meat, the sports star says:
"I feel better all around, I feel like I have great energy, I feel like I'm sleeping really well, I feel like I'm just more clear-minded and not as reliant on caffeine as before."
She also sees a drop in her bad cholesterol, which the vegan diet is known for [1].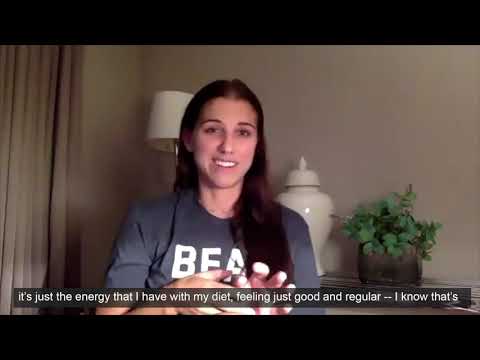 Off the Field Achievements
Besides being an incredible sportswoman dedicated to a plant-based diet, Alex is also successful in other fields. She's written a New York Times best-seller book about soccer players. Moreover, she starred in a movie, works with PETA, and UNICEF.
Morgan's Plant-Based Diet Sample
On a typical day, Morgan aims for 90g of protein. Her plant-based meals usually include:
Breakfast
Oatmeal with nut butter and berries.
Pre-Workout
Smoothie with plant protein.
Lunch
Rice with some quinoa, veggies, and occasionally black beans.
Dinner
Option 1: Chickpea Thai curry or anything Mediterranean with rice and zucchini.
Option 2: The Impossible (plant-based) Burger with veggies.
Option 3: Mexican bean and sautéed veggie burrito with guacamole.
Conclusion on Alex Morgan's Vegan Story
Alex has to thank her dog and PETA for turning to a plant-based diet. She's proof that veganism can improve your health while keeping you at the top of your game. Not eating meat doesn't mean less energy and protein, as people wrongly believe. I recommend you try the diet and see the difference it makes.
[thrive_leads id='11437']
---
References
https://www.medicalnewstoday.com/articles/317403#:~:text=A%20vegan%20diet%20significantly%20reduces%20saturated%20fat%20intake.,some%20risk%20of%20high%20cholesterol
About the author