You want to raise your child vegan. And you aren't sure where to start because of the scrutiny and conflicting ideas around vegan nutrition. But remember, everyone has an opinion.
When it comes to parenting, those opinions shift to judgments and can keep us from making the right choices for our kids.
We will give you a no-nonsense guide on raising a vegan child, including fun and tasty recipes and tips you'll need along the way.
What to Feed a Vegan Toddler for Breakfast
If you eat it as a vegan, your toddler can eat it too. The trick is tricking your little humans into enjoying the same foods.
We want to help you kickstart your child's vegan journey. Come explore a few easy and yummy vegan toddler recipes for breakfast, lunch, and dinner.
Kids wake up ravenous, and breakfast fuels them for a good portion of their day.
Two- and three-year-olds love pancakes and french toast. And, they are super easy to make even if you have special dietary needs such as no dairy and gluten-free.
Ingredients:
Cinnamon
Bananas
Milk substitute like
Flaxseed (egg alternative)
Banana rice flower
Drizzle their favorite sweetness on top of the pancakes for that extra toddler appeal.
Maple syrup
Icing sugar
Vegan whipped cream
Vegan yogurt
Vegan Protein Muffin
Kids love a good muffin, and this vegan protein muffin recipe for kids exceeds all expectations.
It's super yum! And you can serve the muffins for breakfast or dessert. Slather the muffins in your favorite berry jam, and your kid won't hesitate to gobble them up.
Smoothies
A smoothie is an excellent alternative if you've got yourself a selective eater, especially for breakfast. You will like this birthday cake vegan protein shake recipe, for sure. It is healthy, tummy-filling, and a picky eating toddler is guaranteed to choose it.
Birthday Cake Vegan Protein Shake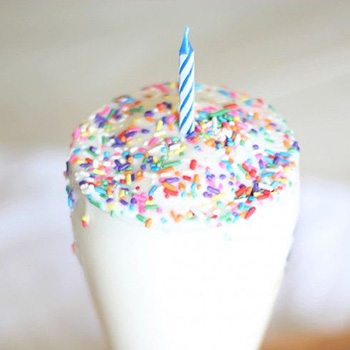 I know it doesn't sound like a birthday cake can be vegan, but it's possible. Baked goods are hard to give up when going vegan, but a protein shake like this makes it a lot easier.
This protein shake is definitely more like a dessert but is still pretty healthy for you.
The vegan ingredients for this recipe are:
1/2 cup frozen banana slices
1 cup unsweetened vanilla almond milk
1 packet vanilla protein powder
1/4 tsp. vanilla extract
1/4 tsp. almond extract
1 tsp. rainbow sprinkles
whipped cream for garnish (use whipped coconut cream to keep it vegan!)
Instructions:
Add all ingredients except sprinkles to a blender and blend until well combined. Add sprinkles and pulse 2-3 times to incorporate.
Pour into a glass and garnish with whipped cream.
Vegan Toddler Recipes for Lunch and Dinner
Toddlers, for sure, are finicky, and it's always good to have a few go-to foods up your sleeve.
Vegan Mac and Cheese
Here's a vegan twist to an old-school classic - mac & cheese.
You'll use raw cashews that you will boil and blend into a sauce. It will achieve that same cheesy base as dairy cheese. You can also try a vegan cheese.
You will also need nutritional yeast, tomato paste, and smoked paprika.
Serve with delicious mashed potatoes or pan-fried tofu.
Vegetable Stir Fry
If you need something quick and healthy, this teriyaki stir fry will make even the fussiest kid happy. It's vegan, gluten-free, and most importantly, you can make it in less than half an hour. You can use yesterday's veggies, frozen produce, or pre-cooked grains.
Lentil Soup paired with Cauliflower and Rice
We found a lentil soup paired with cauliflower and rice recipe as delicious as nutritious.
The recipe is oil-free, rich in fibers, and takes less than an hour to whip up.
Vegan Snacks
Most days, snack times are more critical than mealtime. It is when our kids refuel, and if you don't hand over the snack, there's a loud price to pay.
Vegan Pizza
Pizza is pizza, regardless of if you're a vegan. We came across this vegan option that uses plant-based substitutes like mozzarella-style cheese instead of animal-based products.
Vegan Brownies
We think these no dairy, no eggs brownies are delicious, healthy, and tummy-filling and will make a perfect addition to your child's snack list.
Vegan Sponge Cake
We love a good sponge cake, and this recipe isn't just good; it's a delicious treat for you and your kiddo.
Vegan sponge cake goes well with afternoon tea or mom's expresso shot.
Tips for Raising a Vegan Toddler
Vegan diets are perfectly healthy and nutritious for toddlers. But that doesn't mean you can just feed the baby off your dinner plate, either.
Raising your child vegan is a smart choice. It is healthy in more than one way. A vegan diet teaches children compassion towards all living things, including the impact on overall nature.
Consult a Pediatrician and Pediatric Nutritionist
Consult your pediatricians before you begin your child's vegan journey. Your doctor is who monitors nutrient deficiency.
Pediatricians can offer helpful tips regarding suitable supplementary options. While you're there, you can even sneak in a quick question on the best tummy firming cream after pregnancy.
It is a good idea to consult a pediatric nutritionist, too. They can help you plan healthy, delicious vegan meal plans for your toddler.
Find Vegan-Friendly Alternatives Where a Vegan Diet Falls Short
While vegan diets are beneficial, they come with issues you will need to address.
Lacks some nutrients.
Nutrients are present but in low amounts.
The body does not as readily absorb the nutrients available compared to meat.
For example, Vitamin B12 is an essential nutrient for kids as it's vital in cell formation and overall growth. It's mainly available in animal foods, but most fortified foods such as soy milk and cereals are often enriched with this nutrient.
You will need to monitor proteins, iron, zinc, calcium, and iodine to know how to supplement your toddler's vegan diet.
Find Supportive Caregivers
No one said it was easy raising a vegan child. Some people believe that you shouldn't impose your 'ideas' on them. Add on the fact people will argue to change your mind, and it is no walk in the park.
It is essential to have a support system. The first step is finding a nanny or caregiver who understands plant-based diets and that they are healthy and have real nutritional value.
When possible, find a vegan caregiver that fully understands the value of a toddler vegan diet.
Raising a Vegan Child
Raising your child as a vegan is a smart choice. It is healthy in more than one way. A vegan diet teaches children compassion towards all living things, including the impact on overall nature.
FAQs
How do vegan toddlers get calcium?
Fortified plant milk is a fantastic source of calcium for babies. You can include it in your recipes. An added bonus - it makes for delicious chocolate milk.
Can I substitute almond milk for cow's milk?
You can substitute cow's milk with any plant-based fortified milk. And almond milk is a favorite with little ones.
However, the same rule applies. Do not give milk (almond, cow's, pea, etc.) to a baby until they turn one year old.
How do I explain vegan to a toddler?
Kids are smart, and toddlers start asking questions. Sure, at first, it is easy to explain that it defines your diet of not eating animal or animal products.
But, by three or four, you can explain why you aren't an omnivore to introduce concepts on compassion.
About the author